From our early discussions with the BMFA at Alexandra Palace it was planned that tethered cars would be able to be run at the National Flying Centre, but on a control line circle that was extended inward to allow for the shorter car cables. Thanks to a great deal of work and negotiation, the plan was amended to allow for a purpose built car track. As you scroll down the page the story of the car track unfolds with Steve Betney and Oliver Monk providing the reports.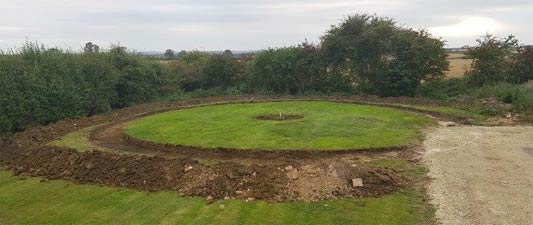 Digging work started on the construction of the tethered car track at the BMFA National Flying Centre at Buckminster on 12th September 2019. The image here, lifted from the BMFA's Buckminster NFC's blog shows the results of the initial digging works. We identified a contractor to lay the foundations and pour the concrete to get the basic track constructed and maturing, before any hard winter frosts set in.
Since Dick Roberts and I made the initial contacts with very receptive and helpful BMFA representatives some 3 years ago, much planning and design work has been done, but activity has really accelerated since May 2019. Oliver Monk and I have been working the design and project planning activities for the car circle, recently joined by a very proactive Alex Phin and also abetted by Kevin Richards, so your SAM 35 Committee are very well represented. The image here shows a line up of the usual villains, at the very epicenter of the plot, marked by the white stake in the ground, shortly before digging work started.

Manny Williamson, BMFA Buckminster's Development Official, and the Buckminster volunteers led by Richard Phillips were most actively involved. Indeed, Manny operated the digger himself between his myriad other duties to do the circle site preparation work, and Richard and the volunteers continued their stalwart works at the Centre to help with the construction phases. It was amazing what they achieved on the various building development projects there, which is very much to be applauded.
Just to get your imagination racing regarding possible car projects, articles on suitable car designs and constructional ideas can be found through the following links. Aircars, traditional and more modern designs. Russian commercial cars, freely available via eBay. Scale Cooper using Russian twinshaft motor. D type Jaguar using a standard aero engine. Harold Pratley D type ERA from published plans, also available as a kit. More advanced builds including a Galeota beginners car, a lovely GP Austin a true Pioneer, Lotus 49, Lotus Mk IX and an Oliver Busy replica. A wonderful alternative is a steam car, yes a scale Stanley steamer. John Goodall has also published details of his many scratchbuilt projects on dedicated pages.
©copyrightSteveBetney2019
---
Oliver Monk relates how The Buckminster Tether Car Track evolved
It seemed a long time ago when I was asked to represent SAM 35 on a committee that was looking into building a hard surface control line circle. Part of the build would include a tether car circle. I attended several meetings where I had quite a few hats to wear along with SAM 35, my FEMA Technical Secretary and the last one, The British Tether Car Racing Club. The surface was going to be tarmac not very good for cars nor I learnt was it much good for team racing, the diesel fuel attacked the tarmac. The other problem was a lack of funds.
At the 2019 Free Flight Nationals I met a very disgruntled SAM 35 member. We had been removed from the control line circles project but Manny Williamson, the Manager of the Buckminster site, had found us a piece of ground that we could have our own circle on. Great news I thought, what was the problem, everything was a plus.

A week or so later I went to Buckminster armed with tape measure and the FEMA drawing of a track.

This is the piece of ground Manny had found for us at the back of the events building. The white peg is the centre of the track and the line in the foreground is the edge of the track.
Early June 2019 when I marked the circle out, it was a tight fit in a couple of places. This is how close it gets to the building and the other view shows the edge of the track about half way down the picture.
We had a site for the new tether car track, next task was to find a contractor to build the circle, which didn't prove to be easy, but to cut a long story short we found a company that could, and within our budget. In early December 19 the first pour of concrete took place, not the best time of year, cold and wet and short days not much fun for me and Alex Phin overseeing the work, it was a steep learning curve for all of us.
This is Russell, he did all the work in getting the running surface flat and smooth, he worked until after dark. He is a marathon runner and was planning on a training run that evening but decided to give it a miss after spending most of the day bent double.
This early January and it's the first time I saw it in daylight it looks really good, they are now doing the shuttering and stoning up for the apron.
| | |
| --- | --- |
| | |
| The final pour of concrete going in | What it looks like after first trowelling |

This is what the track looked like on the 23rd January 2020, a little remedial work to be done, site to be cleared of all the rubbish, old shuttering mainly.
March 2020 progress on the track with a photo from Manny Williamson showing the current state of the site. Remarkable that so much should have been achieved, given the rotten weather that has dogged the project almost from the start. Heroic work continues under lousy weather conditions by Manny, Richard Phillips and the volunteers. As you can see, the stone for the peripheral surround to the track is now laid, ready for the top finishing layer of road planings shortly.

This is what it looked like in May of this year, it's taken a lot of work from Manny the ace digger driver and his team of volunteers. The picture was taken from the top of the mound that will be where the timing hut will be sited. At the left of the picture is the spectator bund that was made from the spoil when digging the footings and levelling the ground for the track.
June 2020. Oliver Monk, Action at Last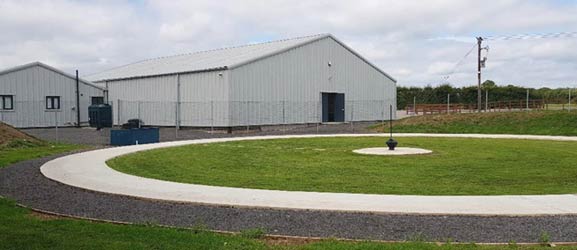 This was the first run on the track Friday 29th May 2020, this is a year and one week from being offered this piece of land. The first car to run on the track was my trusty old Cobra I was assisted by our new horser, Neil Tricker, a team race flyer.
Since then the track has required some more testing along with cars that have been dragged out from under the bed and run for the first time this one is my Alfa 158 my son Aaron horsing. Me with the Cobra, Aaron with his Russian school car. We have run a variety of cars on the track, from the Russian schools' car of Jan Huning's, who managed just under 70mph which is pretty impressive for a real twitchy car, to a FEMA Class 2 car that had a steady stroll round at 92 mph.
---
Buckminster Open for business
Inaugural Open Weekend Aug 8th / 9th
The opening of Buckminster track was restricted by Covid restrictions to just 30 people on each day. As well as the first chance for most to run a car in 2020 there was a fascinating selection of cars, newly built, vintage, modern, wheel driven and propeller driven. After a free day on the track on Saturday, Sunday were ideal for the introduction of a European staple, the horsing car. Several people had a go at practising horsing with this engineless car, most getting the hang of it very quickly and clearly showing why horsers wear sleeves on the arm that wraps round the pylon. The morning was again given over to practice with a nominated speed competition for the afternoon.
| | | |
| --- | --- | --- |
| | | |
| Horsing car | Martin Coe getting to grips with horsing | Manny Williamson in full flight |
| | | |
| --- | --- | --- |
| | | |
| David Giles' 3B Papagai and Borden teardrop | Oliver cars, original and replica | KMD aircar recorded 136kph |
| | | |
| --- | --- | --- |
| | | |
| Original Oliver twin and car | Two Dooling F cars | Peter Fox's 'mite car' |
---
GUIDELINES FOR TETHERED CARS AT BUCKMINSTER
STEVE BETNEY.

To operate our cars on the Buckminster track, here are some guidelines and information on matters which might not be familiar to all SAM members and others who want to make Retro/Vintage/Sport type tethered cars and get involved. It will not be possible to cover all possible aspects here, just some of the main points and FAQs. The Buckminster track is built to the most common European size, and speeds are timed over 8 laps, representing a travelled distance of 0.5km.
The actual radius from the centre of the pylon to the car centre line is 9.95m, and circle diameter is 19.90m. The tether cables are made from high spec piano wire to a specific design, to ensure safe operation within the limits set out in the table below, and have a FEMA-style connector to attach to the model. These are NOT full International FEMA racing standard cables and are not suitable for such cars with their much higher speeds and stresses.

We have arranged for a friendly supplier of these special Buckminster cables and the necessary connector to your car's bridle at very reasonable cost from Pavel Pirov in Latvia. You can contact him at pps61@inbox.lv to buy your own cables by Paypal so you can operate at the track at any available time, though they will be provided by organisers for formal events at the track. Each cable must be pull tested to the tension shown below before use and periodically thereafter, just like for control line aircraft lines, and a lever-operated test rig will be stationed at the track this year so that this can be fairly easily and safely done, some of the test loads are large as you can see.
To use the track in either a SAM organised event or casually, you will need to pay the standard BMFA Buckminster day entry fee for the site, and you must be able to prove that you have their standard flying insurance which covers these cars. If you do not have or want BMFA membership you will need to take out the lower cost insurance only policy which can be arranged by phoning their head office. Family members and spectators not running a car or using the flying field facilities are not charged the day fee. Track users who have current BMFA membership with flying insurance will be covered to use the track, as this is included in the standard policy. If you are not a full BMFA member with insurance, there is a low cost option available to obtain the required insurance cover, which covers only model car and boat operation, and not flying models. This is only available by telephone contact to BMFA head office on 0116 2440028, and explaining the cover you require, which costs £17 per year. This just gets you acceptable insurance to use the track, and no BMFA membership or receipt of the BMFA News magazine, and you should bring your proof of insurance card with you when you visit to run.
RETRO CAR CLASSES AND CABLES FOR BUCKMINSTER.

CLASS

MAX WEIGHT
LBS KG
MAX SPEED
MPH KMH
CABLE Dia
CABLE & BRIDLE
COLOUR
PULL TEST
LBS KG

1. 1.5cc

2. 1

1.0

115
185

0.5

WHITE

55

25

2. 2.5cc

3.0

1.4

144

232

0.8

GREEN

131

59.5

3. 5.0cc

4.5

2.0

148

238

1.0

RED

196

89

4. 10.0cc

6.5

3.0

143

230

1.2

BLACK

275

125
It must be stressed that single handed operation of tethered cars is not safe or allowable, you must always have a helper to man the centre pylon to "horse" your car away into its run, and this is a bit of an acquired skill for different types of car so will require some practice. Small groups are to be encouraged, more fun. All cars should be fitted with effective fuel (or spark ignition) shut offs wherever possible for safe operation. For aircars where it is not possible to fit a shut off, a "smother blanket" or special flag-like device must be available to stop the engine in potentially dangerous situations. Do not fit large fuel tanks to aircars, just big enough to be able to start and complete the 8 laps with not too much more to spare is ideal. We can not cover all aspects of car design here, but the method of attachment for the car by its bridle to the tether cable connector is a most important one.
It is virtually impossible to specify bridles for all Old Timer/Sport and Vintage tethered cars as the designs changed rapidly over the 1940s period to date. A common measurement is that the distance from the single attachment hole centre on the bridle is exactly 9 inches to the car centre line, and never more than 10 inches. There are two main types of bridle: the "Pan Handle" style of mild steel (or Grade 5 titanium) bar, 2.0mm thick for 1.5/2.5cc, 2.5mm for 5cc and 3.0mm for 10cc cars. The other is the wire V type bridle attached to two hard points towards the front and rear parts of the car body. Make and attach these according to the car drawings that you are building from, but do ensure that the attachment hole in the bridle for the fastener pin is 4.5mm diameter for 1.5cc and 2.5cc cars, and 5.5mm for 5 and 10cc cars, and that the distance of the outer edge of this hole from the rounded end of the bridle is no more than 2.5mm for 1.5/2.5 cars and 3.0mm for the larger cars, otherwise you won't be able to hook onto the tether line fastener pin.
There is a really interesting and useful document available, the FEMA Technical regulations 2018 Rev 2, downloadable from www.speedmodelcar.org, which covers bridle specs on pages 7 and 8. It covers all aspects associated with the design and running of racing cars and is well worth studying in depth, but be aware that they have 5 different engine capacity classes rather than our 4, and much thicker cables (up to 2.1mm diameter) and other requirements because of the greater racing speeds and stresses.
It is essential to balance and trim your care for safe and successful running, just as for model aircraft, and the vintage diagram here from a 1950s French Vega car models brochure shows this (ignore the split connector drawn, you will be using the different fastener type mentioned earlier). You must ensure that all of the wheels are in meticulous and perfect alignment so that the car will track straight and definitely not into the circle. When hung from the bridle attachment hole to the attachment fastener pin, the car must hang so that it is parallel to the ground, and must also hang exactly vertical from the line.

Some old car plans and even some commercially manufactured cars have the bridle attachment point(s) incorrectly located, so you must ensure that all cars are checked and adjustments made by relocating wire bridle hard attachment points where necessary, or possibly relocating the position of bolted-on panhandle bridles, which may even require bending (usually upwards) to achieve the correct vertical hanging position on the line. Some ingenuity will be required to achieve this with improvised jigs, knife edge balances and string and gaffer tape, but you're all modellers after all, so you'll find a way.

How do you start to run your car on the track? This is easy and familiar if your car is a propeller drive aircar. Before you enter the circle, fuel up your model to keep fuel off the track surface and give your engine a test run to get the settings, then stop it and enter the track and attach the tether line to your model with the approved fastener.
Start up your engine, ensure that the horser at the centre pylon is ready, then after a signal just give your aircar a gentle push forwards, ensuring that it isn't pointing into the circle at all, then quickly get behind the safety barrier and watch your model accelerate up to speed with some gentle assistance from the horser to ensure that the tether wire doesn't snag on the inner circle grass and get pulled off the track. This can be expensive, as sharp aircar props can nick or kink the tether cable and render it unsafe and useless, so it's best to always have a spare one available between friends to save delay in getting a new one when this happens. If you are going for a timed run, when the horser has climbed onto the pylon platform and your car is up to speed after a few laps, either raise your arm to signal to the timekeeper to start timing or depress the digital timer start button if one is in use, and the run will be timed over 8 laps/500metres.
If you are running a twinshaft engine powered car, or one with a geared drive from a single shaft engine without a clutch fitted, you will need a starter push stick like the one pictured here. Make up the end from bent mild steel or medium hard aluminium of about 1 inch x 1/8" section with smooth semi circular cut outs on the prongs to fit over your twinshaft engine's crankcase housings or the actual rear axles on a gear driven car, and bolt this securely to a broom handle or similar. The width between the prongs should ensure that these clear the car sides and do not foul the insides of the drive wheels. It is possible to successfully use just a single prong stick used on the inner axle, but I've always found the yoke type easier to use.

Ensure that your engine is well set up in the pits, you will never be successful trying to do this on the track. Use an RC car type starter box or a good old fashioned starter cord on the flywheel for single shaft engines to start them to establish these settings.
For twinshaft engines, it is ideal to run them in with a suitable sized propeller in place of one of the drive wheels and achieve the ideal settings. Warm the engine up in the pits, stop it then fuel up before moving onto the track. You may need to give a further short test start when hooked onto the tether cable to make sure that the engine is still warm and ready to go, then when the horser is ready, give him a signal and place the push stick over the rear axles and apply downward pressure whilst starting to run forwards and vigorously push it away to hopefully start the engine and get away. If you are using a glow engine rather than a diesel, the easiest way of operating is with an onboard automatic electronic glow igniter and small lipo battery which cuts out around 15 to 20 seconds after setting. If you are using a car fitted with a clutch, starting will be either by cord in the flywheel groove or using a 12v aero engine starter with a special (readily available accessory) rubber wheel attachment pressed against the flywheel to turn the engine over. Getting clutch driven cars away on the track is much easier than for twinshaft and gear driven cars, as the car starts to accelerate gradually after release until the clutch is no longer slipping and full speed is achieved. Well, I know that the above is a lot of information to take in in one go for anyone, but don't let it put you off, it may be as well to copy or print it for reference for re-reading a few times at your leisure over the winter period, and do read the FEMA Tech Regs document too. Happy building!
©CopyrightOTWOliverMonkStevebetney2020