The 'Spares Counter'
These sources of supply have been notified to us by the individuals and companies involved and publication here does not imply any recommendation or endorsement from On The Wire. Any contacts, enquiries, sales or negotiation is entirely between reader and seller for which OTW does not accept any responsibility.
New Retro Tyres
Here are photos of the prototype tyres from the moulds machined by Retro Club member Dave Cunliffe. They are 3" and 3.5" dia, 0.25" at the rim and 0.5" at the hub. Made of 85 hard rubber, they are of the same quality as the modern FEMA tyres so should be OK for all retro-racing requirements.
Currently awaiting prices but they should be in the same ball park as the present Retro Racing Club tyres - they are produced by the same company. Update: Current price has been set at £18 per pair, plus postage. If interested contact Dave directly. speedysurf7(at)hotmail.co.uk We have now had a chance to see the tyres in the flesh and they are ideal for larger retro cars of the more racy variety. Thanks to Dave Cunliffe for photos and details and his work in realising this project.
---
More Retro Tyres & A Spur Mount
For a long while, Peter Hill through the Retro Racing Club used to supply a range of tyres suitable for running on vintage and retro style cars. This part of the operation was passed on to another Club member, Bill Bannister who can currently offer four different types of tyre in a variety of sizes. Unlike many of the tyres on offer which are made from acrylic rubber and suitable for display only, all of Bill's tyres are made from a rubber compound that makes them safe to run at any speeds remotely achievable in the UK. Contact details, see below.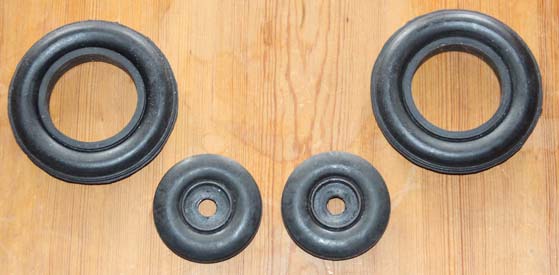 Illustrated are two of the most common and useful tyres. The 3.5inch 1066 tyre was specified for many original designs as well as their own cars and as it has a solid bead can be used on pressed aluminium centres for low powered cars and aircars or machined hubs for faster and heavier cars. The 'Raylite' type below with the steel centres were standard for all Oliver cars and many other twinshaft and small diesel engined cars. With six sizes from 2 inch to 4 inch they can be used on a whole range of designs and sizes of car. To compliment these there are two sizes of knife edged tyres for front wheels.
| | | | | | | |
| --- | --- | --- | --- | --- | --- | --- |
| Raylite rear | 2 inch | 2.25 inch | 2.5 inch | 2.625 inch | 3 inch | 4 inch |
| Raylite knife edge | 2.06 inch | 3 inch | | | | |
| 1066 | 3.5 inch | | | | | |
| Perry Rice | 2.25 inch | | | | | |
Prices range from £14 to £28 per pair, which includes postage (within the UK, overseas check first).
Universal Spur gear engine mount casting
Spur gear engine mount castings are just about impossible to find these days, so the welcome news is that Bill Bannister can now cast these to order. These are priced at £30 each plus £3.80 UK postage, and you can contact Bill to order and arrange payment. They are very well cast in good aluminium alloy and of a chunky "universal" design that can be machined as needed to fit a range of engines up to 5cc and further lightened where desired.

For details of tyres and spur mounts, contact Bill Bannister
Unit 1A, Hecla Works. Mounsey Road. Bamber Bridge. Preston. Lancs. PR5 6LS (+44) 01722 338970 bannisterbill23@gmail.com
---
Tethered Hydroplane props.
The closure in January 2018 of the long standing supplier of tethered hydroplane propellers, The Prop Shop, has left users of these products in a state of limbo as no other commercial hydro props have been available until now. There were rumours of some being made in Bulgaria, but they were just that, rumours. Now, thanks to a lot of hard work and contacts within the hydroplane world, a range of props is now available. These are made in the Ukraine by multiple champions Andreij and Volodymyr Smolnikov. The props are custom CNC machined from both sides in the blocks as seen to whatever diameters and pitches are specified.

The rectangular block is a group of A2 in varying sizes and the circular block A3 props showing the machining from either side. A1 sizes are also on offer. Props are available either as a block at a sizeable discount or finished and ready for use. The blades in the block are finish machined to very high tolerance, a matter of microns, with just a small spur at the tips and more substantial fillets on the boss keeping them in position. For those without the facilities or know-how to make their own, this is a very welcome and timely alternative. For further details, prices and supply, contact Norman Lara. n.lara(at)btinternet.com
---
Dooling Arrow and Fairabend Engineering Restoration parts
The Dooling Arrow and parts from Fairabend Engineering were the top commercial cars and engines in Club and International use in Britain, almost from the time the first car arrived packed in a GIs kit bag. Original parts and cars can be found on ebay but for anyone intent on the restoration or rebuilding of one of these iconic cars, John Sanderson can supply almost every item from a pan or body upwards. Below are samples of pages from his extensive, 8 page, catalogue.
| | | |
| --- | --- | --- |
| | | |
| Pans and bodies | Axles and gears | Wheels and tyres. |
Any source of wheels and tyres that can be safely run is valuable and many builds did utilise similar parts. For full detail, prices, shipping etc, contact John Directly at ParamourEngineering(at)comcast.net or via his facebook page
---
Replacement Oliver Cylinder fins

Oliver twin shaft Mk2 cooling fins machined from bar stock, unlike originals which were cast and break. Complete with brass compression screw, made in NZ by Dean Clarke. £25 set plus £4.00 P&P

Price now reduced to £15 collected or £17.50 including postage

Oliver Mk2 Tiger aero engine cooling fins machined from bar stock, unlike originals which were cast and break. Complete with compression screw, made in NZ by Dean Clarke. £25 plus £4.00 P&P

Price now reduced to £15 collected or £17.50 including postage

John Goodall Tel 01283 713715 email john@johngoodall.me.uk
M&E Wasp wheel discs

M&E Wasp wheel alloy discs are now replaceable because I needed to make a press tool to make them for one of my cars. They fit the replica Dunlop tyres made for the Wasp. A set of eight discs only £25 if collected, £30 including P&P in the UK . If outside the UK please enquire postage cost.

John Goodall email

john@johngoodall.me.uk

 or telephone 01283 713715.
---
New Twinshaft Car Motors
The name of Redfin motors and the man behind the operation, Alex Phin is already well established in the model aeroplane world for the range of retro motors he supplies. Now he is meeting the needs of the tethered car fraternity with the new Retro 15 twinshaft. This is similar in style to an Oliver Tiger but does not pretend to be a replica. It shares the same general layout with the flat mounting plate and cylinder axis angled up slightly. The crankcase is a super quality casting with the Redfin name and model name prominent. The internals are again not copies but those used in the immensely successful Parra motors. A peripheral jet venturi is another obvious departure although this could probably be changed for a 'curly' style one to allow the anticlockwise running that most commercial castings are arranged for. The quality of the Ukraine built motor is excellent throughout down to the dummy brake drums machined on to the inner hubs. Currently on sale for less than £200 this engine represents a very good option for potential builders. Go to the Redfin website www.redfinengines.com for further details and the dedicated Redfin page on OTW.
| | | |
| --- | --- | --- |
| | | |
| Alex with the new motor | Beautiful 2.5cc twinshaft | The box says it all |
Update Sept 2019: The Oliver style fuel cut offs are now available from Alex at £25 and they do look spot on, both for his car, Oliver replicas and other designs. Alex tells us that front and rear tyres for the twinshaft motor and car will soon be available and he will have a batch of these in similar numbers to the cut offs. The chassis pan for the new car will be delayed slightly as the opportunity has been taken to alter the design and pattern to accommodate damped front suspension.

There is a considerable degree of interest being shown in this project, especially now that the track at Buckminster is in operation.

We have been informed that Maris Dressler has performed a test run one of the engines and has reported very favourably about the quality, ease of handling and performance, and recorded it as being more powerful than an Oliver original. Food for thought?
Thanks to Steve Betney and Alex for all the details.
Update March 2020: The pre production prototype of the Redfin car kit has now arrived and Oliver Monk has very quickly assembled and appraised the car. It is very many years since a kit of this nature has been available to tethered car enthusiasts and we await further details once production versions are to hand.
September 2020 Old Warden:
| | | |
| --- | --- | --- |
| | | |
| Alex with new supplies | British produced pans | Complete chassis |
---
Oliver Castings
Since Peter Hill passed on the casting activities of the Retro Racing Club supplies have been very hit and miss, more miss than hit most of the time. Now we are pleased to report that through John Goodall, Paul Ironmonger has located a foundry that will supply good quality castings of all the Oliver cars, previously available. Most of these are designed to take a twinshaft motor such as the Redfin above although the Alfa can certainly handle a single ended motor on a spur mount. The fuel cut offs above are also perfect for these cars.
Currently available are the Tiger Two-Five, Bottoms Up, Maserati, Mercedes, Alfa Romeo, Ferrari as seen here and the BRM which is new. The Tiger Bomb was never one of the most sought after, so is not included. The photo above shows the patterns and not the castings which will still have all the foundry flash in evidence. A project using the Mercedes castings can be seen in Oliver Monk's article A car for Buckminster.
For full details of cost and delivery, contact Paul ironmonger619@btinternet.com
---
Tyres from Australia
Following the untimely death of Ron Bernhardt who used to supply a wide range of tethered car tyre sizes and styles, Mark Mansell started moulding a more restricted selection. Following a protracted house move and the other upheavals that have affected SE Australia he now has a selection of these for sale.
| | | |
| --- | --- | --- |
| | | |
| 75mm front blades $12.50 | 100mm rear blades $13 | Hot Rod fronts $9 |
For details, shipping costs, payment and delivery contact Mark mmansell@aussiebb.com.au
---
Car parts from Lev Shprints
With the age and unreliability of vintage tyres, coupled with many of the repros available being for display only a very convenient and realistic alternative is to use modern wheels and solid tyres that are entirely safe up to any speed likely to be reached here. A very useful source of supply of modern tethered car components and even complete cars and kits is Lev Shprints, through the Silnyi shop. Posted recently are these 100mm dia rear wheels where the centres can machined to suit your own gearbox or axles and use Denneler tyres of which quantities of used ones are always available, as are new directly from Horst Denneler. Also of use is a FEMA style, tube crusher, fuel knock off as an alternative to the Oliver plunger type that Alex Phin is offering. The other item is a gearbox housing that can use commercial gear sets or again be modified by customers to their own ends.
100mm dia rear wheels to suit Denneler tyres 15 euros
Knock off 38euros
Pivoted, bevel gearbox to use with suspension 15 euros
For details of these and a myriad of other tethered car items and parts, visit shop.silnyi.ru you will need a good translation app
©copyrightOTW2021