RUSSIAN 2.5CC DIESEL TETHERED CARS AND ENGINES
BY PAVELS SARIGINS (ABETTED BY STEVE BETNEY)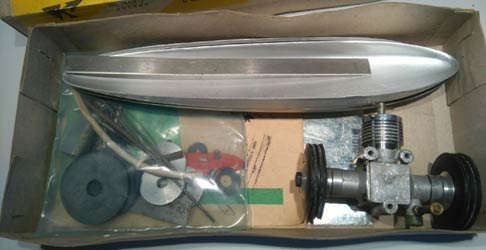 I have been requested to provide some insight into the history of the main production of Russian model tethered cars and engines, and hope that you will find this article about them interesting and informative for lovers of these model sport items.
In the 1960s, Eastern European interest in speed car models increased dramatically, stimulated by DOSAAF (the All-Union Hobby Organisation) designing and producing several 'standard package' kit cars for modellers.

The best known sets are:

1) Left: Racing Model Car MK-16, the first Eastern European car kit. Production started in the early 1960s and lasted only for a short time.
2) Right: TEMP 1 model car in a boxed kit, including TEMP Mk 1 engine. Production started in 1966, and this is known as the "Russian School Car" in the UK, and is an E-2 class car.

It was a model for both beginners and for participation in speed competitions, regardless of age and experience, where success was determined by personal skill and engine tuning.

The first 1966 version of the kit box is on the left of the image, and the later red and yellow box version on the right.
3) Left: PRIBOY E-1 and E-2 class kits started in 1987.

A nice clutch of three of the red label boxed E-2 PRIBOY kits is shown here, together with an E-1 kit.
4) Below: TEMP 1 model car in a boxed kit including a TEMP Mk 2 engine. Production of these started around 1974, finishing in the 1990s, and it came in a softer cardboard box than the earlier version, with the red and yellow label.
Only the TEMP 1 car kits were complete with a twinshaft engine, for which the TEMP Mk 1 and Mk 2 diesels were specifically developed. Popularity of the E-2 class competitions lead to DOSAAF introducing a separate section within this class called TEMP and solely for cars made from the TEMP 1 kit set, which met the specification for E-2. Speeds on the track ranged from 100 to 130 kph, depending much upon the degree of engine tuning. A standard layout model is shown on the left here.
Like Lego, the TEMP 1 set has the possibility to create various options and configurations, including moving the front wheels forward in a basic way as illustrated in the assembly diagram in the kit instruction booklet, as shown in the image to the right.
| | | |
| --- | --- | --- |
| | | More radical configurations were tried by creative types attempting to achieve high speeds, and these include having the wheels mounted very close together on a long, sprung axle mount well forward of the front of the body. |
According to (unreliable) information, at Russian competitions TEMP 1 cars achieved speeds of up to 150kph…………
Next, we shall explore the different kinds of TEMP twinshaft engines and the RITM aircraft engines from which they were derived. RITM Aircraft Engines: The RITM 2.5cc aircraft diesel was designed by the Russian control line team race competitor Krasnorouski of Kiev in the Ukraine. It was much influenced by the British Oliver Tiger and ETA 15 engines. The original production version appeared from the DOSAAF plant in 1962. It was a rear drum version of the Oliver Tiger, with a bore, stroke and piston/cylinder set up that very closely followed this engine. RITM Mk 1, the very first 1962 version, had 4 transfer ports as slots in the cylinder, a 3mm diameter carburettor intake and 4 head bolts, usually with a plain cylinder muff or red or green anodised, but also some other colours are seen. RITM Mk 2 had 4 port holes in the cylinder and 4 head bolts, usually with a green cylinder muff but also some other colours. RITM Mk 3 had 2 ports machined into the cylinder itself and 4 head bolts. RITM Mk 4 Model M was the final version, with a 2 port set up similar to American COX engines, a plastic venturi insert and 3 cylinder head bolts instead of 4.
TEMP Twinshaft Car Engines.

The TEMP Mk 1 twinshaft car engine was developed at the DOSAAF factory in 1965/66 and put into production during 1966 for the very complete, boxed tethered car kit also known as the TEMP 1. It used RITM Mk 2 internal parts with 4 ports and a 3mm diameter aluminium venturi, and a new square-bodied crankcase with 2 driven shafts and 3 M4 mounting bolt holes through the case for screw mounting to a flat area on a car base pan.

The design of the engine allowed the motor to be configured to run in either a clockwise or counter-clockwise direction, allowing it to be used in a large variety of car model designs.
| | |
| --- | --- |
| | The TEMP Mk 2 twinshaft car engine was launched around 1974 using RITM Mk 3 internal parts with the 2 ports and 4 cylinder head screws, and the car kit came in the softer cardboard box with the red and yellow label as illustrated earlier. It had a nylon venturi insert, discoloured to a light brown colour. Production ended in the 1990s. |
Other Russian Twinshaft Car Engines.

EUREKA engines were produced at the Granit factory in the town of Khrisinovka during the 1990s. They were made in aircraft single shaft versions for F2B, F2C, F2D and F2D diesel. There was also a twinshaft version of this impressive and high performance engine produced for car models, the EUREKA 2.5 D. This added a second driven shaft, and because no new main crankcase casing was produced, it has to be mounted using the standard aero version mounting lugs and holes, which is not so convenient as the TEMP or Oliver types with their flat mounting bases for tethered car use.

Examples of the air-cooled and twinshaft engines are shown here, with the backplate and crankshaft used from a team race engine attached to the second crankshaft of a twinshaft engine.
METEOR and KMD Russian twinshaft car engines are also occasionally seen on eBay or YouTube, with aero engine style mounting only, like the EUREKA, via the standard lugs and 4 holes. Further research for reliable information is needed before a clear and accurate history and description of these can be presented.