Tethered Cars
Brief history of the sport in the UK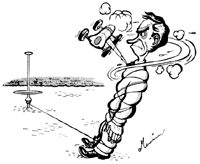 1948 cartoon from Model Car
Model cars followed very quickly after the arrival of the motorcar, and just like the real thing, a power unit of some sort in the model was preferable to pushing or pulling. Some of the earliest car models were powered by accumulators, and it was electric power that enabled commercial rail tracks and the forerunners of the slot track to become so popular.
The racing of model cars in an organised form started around 1928, and through the 1930s clockwork and rubber provided the power. The cars were run free on a straight course and capable of well over 40mph, but over a relatively short distance.

The arrival of the small, model sized, internal combustion engine presented new opportunities for the designing, building and running of model cars.

Right: Early clockwork powered car
With tethered cars becoming ever more popular in the US it was not long before running cars 'Round The Pole' came to the attention of modellers in the UK. The Model Engineer Exhibition of 1939 featured one of the very earliest British cars, built by Bob Curwen and later described in the ME magazine. His car had a simple wooden chassis and was powered by a Westbury Kestrel engine, with friction drive to the front wheels. A semi-scale wooden body covered the 'works' and all the ignition components.

Left: Replica of the Curwen car built by Gary Maslin
The onset of the second war just a few months later would lead directly to the establishment of RTP or pylon racing in the UK. Very soon after the outbreak of hostilities, the flying of model aircraft was banned and the MPBA was closed down, curtailing all organised hydroplane racing, which made the building and racing of model cars a welcome and

realistic alternative for modellers. With the ban on model aircraft in place there were small IC engines available for use, but as model car racing was still in its infancy there were few suitable components available, so that all cars and many of the engines were completely home built. Wooden chassis' and wheels were commonplace, with tyres being anything from shoe heels to rubber rings. These were in marked contrast to the few commercial American cars that had made their way across the Atlantic, usually lurking in suitcases.
| | |
| --- | --- |
| With several cars already under construction around the country, the emerging sport received significant promotion from D.A. Russell, owner and editor of the Aeromodeller magazine. As well as describing the building of his magnificent 1/5th scale SS100 in 1942, Russell also organised a competition and presented the 'Aeromodeller Trophy' for tethered cars. This brought entries from a number of modellers who would become the backbone of the sport in its early years. | |
None of these would be more influential than Gerry Buck from Stoke on Trent who won the over 6cc class and would lead the pursuit of speed for the next 6 years. Another entry who would go on to great success, although not in this competition, was Ian Moore from Derby. He built and described a series of increasingly fast cars, as well as holding several positions within club and national organisations.
Following the success of the Aeromodeller competition, a rally was organised in 1943 on the roof of the blind making factory where Jim Cruickshank, another of the early exponents, worked. This would be the first proper tethered car meeting in the UK. Gerry Buck travelled down from Stoke with his #2 car, and he was joined, amongst others, by Cruickshank, Jack Gascoigne, Bob Curwen and Jack Morgan who would, along with Guy Rickard, go on to form one of the earliest clubs, The Pioneer Club, based at the Horticultural Halls in London.
Left-right Jim Cruickshank, Bob Curwen, Gerry Buck and
Jack Morgan

Left-right Cruickshank's MG, Kestrel engined. Curwen Special, home built motor. Buck's #2 pre-accident, Gwin Aero motor. Morgan's #7 10cc Brown Junior. Russell's Bunch Demon 6cc Baby Cyclone engine
Clockwork roller that opened the first tethered car 'rally'
Curwen and Cruickshank study their cars
Jack Morgan working
on his car
Gerry Buck with
unknown helper
| | |
| --- | --- |
| D.A. Russell formed the British Model Car Club in 1944 and later, through the Drysdale Press, published Model Race Cars, which described many of the early cars and advertised plans for 7 of the 'pioneering designs' to encourage the 'home constructor'. These varied from the most basic Galeota 'beginners car via Jim Cruickshank's MG and Bob Curwen's 'Special' to Russell's monster SS100 and Gerry Buck's Buck 2A. Of these the 2A was the most successful and well-developed car of the period, increasing the outright speed record on numerous occasions and becoming an iconic image of British tethered car racing. Right: Gerry Buck's 2A car | |
| | | |
| --- | --- | --- |
| | | |
| Replica Russell SS100 | Replica Cruickshank MG | Replica Galeota |
With the ending of the war, tethered car racing in the UK became enormously popular.

Many existing model engineering societies formed model car racing sections, while groups of enthusiasts formed independent clubs such as the very up market Surrey Club. Racing took place in hangars, factories, works canteens, garages and on tennis courts and purpose built tracks, all over the country. The end of the war also meant that there was a lot of production capacity and machinery looking for alternative markets to the war work they had been doing. Numerous commercial concerns and individuals were soon producing wheels, tyres, gearboxes, engines, and eventually complete cars, to satisfy the growing demand.

Amongst the more prominent of these were M&E Models of Exmouth, G.I. Hastings' 1066 Products of Worcester, E&M Models of Coventry and Replica Models in Sloane street, London, set up by Guy Rickard, who, as well as being a member of the Pioneer and Surrey Clubs, had his own track in Beech, Hampshire. Catering for the more competitive and serious racer were Paul Zere's ZN Motors in Hendon, and Rowell Motors up in Dundee.
| | | |
| --- | --- | --- |
| | | |
| 1947 M&E Special | 1066 MRC from 1947 | E&M Maserati also from 1947 |
The most successful and long lived however, was J.A. Oliver of Nottingham who started producing motors and cars from 1947/48. The company under the stewardship of his son J.S. Oliver, and following a move to Dorset, was still producing engines some 40 years later.

Left: Oliver 'Bottom's Up' 1952
By the end of the 1940s over 50 companies were supplying equipment for the sport and there were similar numbers of permanent or temporary tracks. D.A. Russell had set up the Eaton Bray Model Sportsdrome that would host many National events during its existence, most sponsored by high profile companies such as Austin, Jaguar and MG. Two specialist magazines, Model Cars and Model Car News, were being published on a regular basis, while the Model Car Association had been formed in 1947 to organise and regulate racing on a national level.
At its peak, tethered car racing in the UK was a truly national sport, with meetings organised at tracks all over the country. Just getting to such diverse location was a major undertaking, especially as car ownership was much more limited then. There are several instances of competitors undertaking return journeys of over 100 miles by pedal cycle, and the train and motor cycles were also used regularly to get to meetings. One member of the Sunderland Club made a 600mile return journey by motorcycle in order to pick up his new Dooling car and motor from the agent, Bill Bennett.
| | | |
| --- | --- | --- |
| | | |
| 1948 North Wilts' Model Car Club, Swindon | 1951 Bassingfield, Nottingham | 2006 Sunderland track, Barley Mow Park |
As the sport developed so it also evolved, which would ultimately lead to its demise. Cars became more sophisticated and speeds quickly rose from the initial 30mph to 70, with Gerry Buck exceeding 100mph for the first time in 1947.
The American influence from servicemen based over here and the products they introduced soon came to dominate the sport. Exceptions were the 1.5cc and 2.5cc classes, which remained the province of the Oliver concern and their diesels. The best speed ever by an entirely British car was 115mph set by Joe Riding in 1952, whilst the Doolings and McCoys were regularly 15+mph faster.

Left: Gerry Buck's 'Topsy', the first all British car to exceed 100mph
By 1952 when Joe Riding set his record, the Model Car Association recognised records in the 1.5cc, 2.5cc, 5cc and 10cc classes. Just to confuse matters, each class was subdivided into British and Open categories, which could then compete over 5 distances from the standard ¼ mile, right up to 10 miles.
The bulk of the commercial products that had been available were not intended for serious competition or such high speeds, and very quickly, many of the companies involved ceased trading. With these much higher speeds also came problems of cost, noise, track safety and divisions within the sport. Apart from the vexed question of using British, as opposed to imported cars and engines, there was also a marked disagreement between those who wanted to maintain a scale aspect to cars run at a more leisurely speed, and those whose aim was solely competition.
Pictured below, three competition cars representing the final development of the tethered car in the UK
| | | |
| --- | --- | --- |
| | | |
| 2.5cc Oliver engined 'Shadow' | 10cc Rowell based model | 10cc Dooling engined Ian Moore car |
As quickly as the sport had arrived so it declined, with many well known names 'calling it a day' or moving on to rail car racing and other modelling activities. Despite hosting the European Championships at Woodside in 1954, the sport in general was in decline, and by 1955, tethered car racing and the industry that supported it had all but vanished. A few specialist manufacturers such as ZN did continue for a while, but apart from Oliver, none were to survive for any appreciable time.
There were still enthusiasts who continued to race and compete at the few remaining tracks, while at international level, British competitors were still preparing very quick cars. Jack Cook, Jim Dean, Stan Drayson and Ken Procter won 6 European Championships between 1953 and 1957. The last official competition in the UK seems to have been in 1959 at Blackpool, which coincided with the Model Car Association being wound up. Of the tracks that continued on an informal basis, Mote Park in Maidstone survived the longest, not finally closing until the 1970s.
Effectively, that was the end of competitive tethered car racing in Britain. It was not the end of British interest though as David Giles, one of the young men at Mote Park, started competing at International level in the late 70s, setting up the British Tethered Car Association in 1978 and winning the 5cc European Championship at Lyon in 1979.

Left: David Giles and Dave Cunliffe at Mote Park, Maidstone
David was also instrumental in breathing life back into the BTCA in 2000 and re-joining FEMA in order to enable a group of enthusiasts to compete regularly. The latest recruit to this group has been Olly Monk who has contributed a number of excellent articles to the website on modern tethered car racing.

Members

of the BTCA at Lyon in 2008
Left to Right: Stuart Robinson, June Heath, Dave Cunliffe, Steve Turley, Ollie Monk and David Giles
Through the Retro Racing Club and Peter Hill's private track, there is still the opportunity to run vintage and pioneer style cars in Britain, but for anything faster, a trip to a FEMA standard track abroad will be required. For up to date information and details relating to all aspects of running current World and European class tethered cars go to our Tethered Car Racing page.
Many thanks for additional photographs from Gary Maslin, John Goodall, Roger Allton, David Giles and Tracey Kelley. Roof top images courtesy of the Westbury Family
©copyright OTW2012