One of the greatest frustrations for tethered car enthusiasts has been the lack of opportunity to run their cars in Britain. If you were a member of the BTCA and raced either a modern FEMA car or a more recent vintage model, then there were the European tracks, but for the collector, home builder and fun runner there was little opportunity, unless you were prepared to risk the compass circle at Old Warden, and its propensity for wrecking cars. It was something of a red-letter day then, when it was announced that the inaugural meeting of Peter Hill's Great Carlton Raceway would be on 12th June 2011.
| | | |
| --- | --- | --- |
| | | |
| Amazing metal work by John Goodall | Oliver Monk's 'school car' | PAW 'lightweight' |
The Retro Racing Club holds a unique position, having been set up by Peter Hill in 1996 to 'Encourage the building and running of tethered racing cars of the more traditional type.' This was later extended to include vintage tethered hydroplanes as well. Peter started by publishing a regular newsletter that ran to seventy issues over twenty two years and then expanded the club's activities by offering numerous drawings, castings, and a variety of tyres to assist those interested in building or restoring cars.
| | | |
| --- | --- | --- |
| | | |
| Almost a 1066 Conquest | Doc 2 from 1948 | Running as it used to be |
Conscious of the need for a facility to run cars, Peter built a track at his home, which became the regular venue for Retro Club members for fun competitions and thoroughly enjoyable 'days out'. Apart from the couple of portable poles that were set up on car parks in the South West, the track at Souldrop was the only permanent facility available in this country. This was used extensively until the end of the 90s, when a move to Lincolnshire brought an end to the 'Souldrop Speedway' and the opportunity to run cars.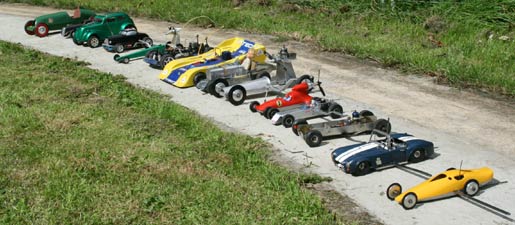 There were promises and hopes surrounding possible sites for new tracks which all come to nought and the BMCC portable track did offer some facility until that group imploded so spectacularly. The only prospect on the horizon was that Peter did intend to build a new track when time and money allowed. Eventually construction did start, but an unfortunate series of health problems and family tragedies meant that the track was not finished until 2010.
| | | |
| --- | --- | --- |
| | | |
| Dick Roberts' sidecar | Peter Hill's 1066 MRC | Galeota 'Speedster' |
The track at Great Carlton is 7 laps to the ¼ mile and with the pouring of a wide apron during the 2013 season offers the ideal and unique opportunity to have a run with anything vintage or vintage style, as long as a certain degree of common sense is involved, speed wise. Since the Retro Club has been in operation, members have build dozens of cars of amazing variety, as well as rescuing and restoring original models, and here is a chance to try them out.
| | | |
| --- | --- | --- |
| | | |
| Beautiful Cleveland air-car | Rytm powered Ferrari 312T | Cox 049 'flyer' |
The track can clearly be seen on Google earth, but more recently, the photos below were taken from a drone.
If you have an interest in tethered cars, especially being able to run them, then it is certainly worth joining the Retro Racing Club. For further details of the Club and the long list of available plans, both for cars and tethered hydroplanes, contact Peter Hill by the power of electronic communication at arty.pole@gmail.com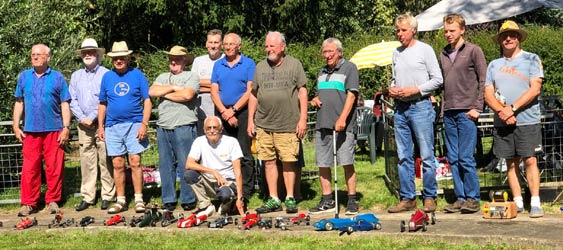 Happier times, pre Covid.
---
A wet start to the season. May track day
The forecast for the first track day since October was far from encouraging, in fact it did look a bit dire, which unfortunately put off a number of would be visitors. In the end it was a bit mizzly in the morning with a pretty impressive shower that coincided with lunchtime yet it did not restrict track activity to any great extent.
Often the Gt Carlton reports include a A17-A47 traffic saga yet this time round, the roads were exceedingly quiet. Inevitably we did come across another entry for the Observer's book of tractors but happily, this one did not go in the big and slow section, but the very large and very fast list. Never got past it, as it was bang on the 60mph speed limit, and with a full bulk trailer. Must have been Guy Martin driving?
Rain or a wet track is no deterrent to the 'Phoenix' that reeled off over 300 more laps during the day, but even that normally rock solid car was a bit lively over one section of the track. The lighter cars with no suspension were really struggling, with disaster only being narrowly averted on occasions. John Goodall had brought his beautiful aircar with a view to giving it a run and with the needle well wound out for safety sake it gave a great insight into its true potential.
| | | |
| --- | --- | --- |
| | | |
| John Goodall's exotic aircar | Retro style and PAW power | Solid and dependable. The 'Phoenix' |
Lots to look at and assist in wallet emptying in the dry of the pits, with a huge selection of casting sets that will be for sale, everything from the entire range of Olivers to Doolings, a couple of very rare Australian King Cars, a Watson Roadster, Hornets and hot rods as well as other odd items. Books, a couple of complete cars and a very nice speed plane were also to seen changing hands. On the table for inspection and interest was the rare and original Walshaw BRM with the equally rare Henri Baigent ERE twinshaft. For comparison an aero version of the ERE showed the family resemblance while a Carter Checksfield 2.5cc engine was inevitably the centre of a great deal of interest and discussion. One other engine was a prime example of what used to be normal in the days gone by when holes were drilled in engines, holes in lugs enlarged or chopped off, exhausts and cylinders trimmed. The Oliver twinshaft where the crankcase had been drilled and tapped for the body hold down screw would now be termed vandalism but we have seen much worse.
| | | |
| --- | --- | --- |
| | | |
| Oliver Tiger with extra hole | Walshaw BRM back in the UK | ERE twinshaft and aero version |
During a dryer moment, Pete Hughes had a couple of runs having spent a frustrating morning trying to get his multitude of 049 cars to spring into life. His Prop Rod is now a bit more reliable and safer with the aid of a starter, although his King Cat did end up in a tangled heap. Last gasp of the day was to see if Andy Hobbins' new Redfin powered Oliver could be persuaded into life. In the end, the secret was a dry piece of track and a serious 'Suffolk shove' that got it away for its first ever run. Andy told us that he has been wanting to run a tethered car since he was 11 years old, just taken him a goodly few years to get round to it though. He also had an ETI twinshaft version underway that should be in operation for the next event.
| | | |
| --- | --- | --- |
| | | |
| Redfin powered Oliver replica | Andy gets to grips with a pushstick | Happy bunny after the very first run |
Ironically, the following day was wall to wall sunshine and 22C, ah well? A good day in spite of the weather though and two dry and traffic free trips across the fens, can't be bad, thanks Peter.
---
Too Hot to Handle
Difficult to get more of a contrast between two meetings, as the July foray to Gt Carlton was so hot that most of the day was spent in conversation while luxuriating in the shade of the willow trees that now surround the track. Dave Coe was unable to stay too long but provided us with this usual raft of reminiscences and it was a pleasure to welcome Mike Wood, down from York. Mike is contemplating building a car having previously visited Buckminster so was grateful for all the information passed on by Oliver and Peter. He also went away with an armful of magazines for inspiration and some parts to help him on his way. After observing the antics of the OTW lightweight aircar last time out, a late decision was made to add damped front suspension, based not on sound design and engineering principles, but what could be salvaged from the original and the scrap box in a matter of hours. Suspension calms the cars down enormously, but as the following panel illustrates, keeping four wheels on the ground is still difficult. The use of 'sports mode' on the purloined Cannon also allowed OTW's staff photographer to capture these images.
| | | |
| --- | --- | --- |
| | | |
| Four on the ground | Four in the air | Higher still |
| | | |
| --- | --- | --- |
| | | |
| Oh dear! | Coming down | Still daylight showing |
The spirit of the Retro Club was revisited with a piece of commercial tethered car history that had not seen the light of day for over seventy years. In 1947, the Model Accessory Supply Company announced their MASCO Kitten, designed by Geoffrey Deason it was a simple to build, friction drive car for the Mills 1.3 or similar, to be run free or on a line in a small circle. A lucky lad was given one of these the same year but toys they are not, so it seems to have spent the intervening years in a loft, when it was discovered by someone doing the inevitable 'clearing out'. What makes this a cut above the normal find is that it was still in pristine, factory fresh condition, with the plans and building instructions and in its own wooden case. The intended purchaser had pulled out of the deal, so with a house move imminent the person tasked with the sale contacted OTW and we arranged a sale to a member of the Retro Club, post haste.
The original sorbo rubber tyres had not stood the test of time but a wire bridle was quickly fabricated to see if there was at least one run in them, assuming the equally ancient Mills could be persuaded into life. Starting old diesels is something of a lottery as the compression screw had to be twiddled a long way before being rewarded with a pop. More twiddling and a burst, even more and lo it was running, but oh, didn't it vibrate, so much so that all the adjustments were lost and parts started unscrewing themselves. The heat was getting to the car and the person manning the starting cord, so shade was sought and the car lives to fight another day, although the tyres may not.
| | | |
| --- | --- | --- |
| | | |
| Geoffrey Deason designed Masco Kitten | The owner | Back on track after 70 years |
No trip to Gt Carlton would be complete without mention of the A47 and the eternal question as to why horseboxes cannot do over 38mph on a straight road? or why a new Lexus 4x4 was struggling to get over 45? Even artics and tractors are faster now, apart from the one pulling a trailer of pea vines that is. Made us grateful for aircon though, as the temperature never dropped below 28 and was up to 31 at one point. One wonders how EVs are going to deal with aircon?
---
Three wheels on my wagon (but I'm still rolling along?)
Well, if the country is not quite back to normal, the traffic certainly was, as we registered our two slowest trips ever to and from Gt Carlton for the final Retro Club track day of the season. The weather gods were smiling though as it was dry and sunny, leading to a lot of sitting and chatting between bouts of noise and activity on the track.
As it was a Retro meeting it started with a real vintage combination, a Galeota Speedster with an ED of similar vintage, both older than the owner. A change in fuel had the ED responding to the MkI finger and trundling round lap after lap, faster than it had ever done previously. The delight of the ED with its integral fuel tank is that it can be filled and on its way in double quick time. Inevitably, the Phoenix was hitched on to the line and wound out another couple of hundred trouble free laps.
| | | |
| --- | --- | --- |
| | | |
| Galeota Speedster | 73 year old ED still going strong | Several thousand laps from the aged PAW |
John Goodall had turned up with his new aircar, this time with a lovely 1.5cc motor built by Alan Knight, based on the Oliver Cub but using his own castings. John's car is a development of his larger proa with the motor on an aluminium pylon, but with the whole car canted inwards. The idler wheel on the tether arm is only in contact with the track when the car is at rest. It started and launched perfectly and was running very stably with the motor not quite peaking out, as it was the first couple of runs for it. John is now going to fabricate one of his beautiful, hand beaten, aluminium speed cowls for it. (Assuming his ravaged digits recover after Buckminster, oh the joy of aircars and the whirly bit?)
| | | | |
| --- | --- | --- | --- |
| | | | |
| Hugh hitching on John's aircar | New aircar | Alan Knight prepared 1.5cc motor | John with unsullied digits |
Pete Hughes had his usual Prop Rod, which now starts and runs faultlessly and impressively fast for such a small engine. His 049 wheel driven car had an upset on the launch that burnt out the glow head, requiring a visit to the pits for a transplant before it was back in action. Andy Hobbins is getting the knack of pushing off his Redfin car, significantly easier after a change of fuel although a resounding thud from the kickboard was the result of a wheel exiting track right. The tyre and inner flange turned up quickly, but the outer and nut had made a bid for freedom, the search area had not been extended enough, turned up though, so only the collet missing. Perhaps we should set up a just giving page to get Andy a pot of Loctite.
| | | |
| --- | --- | --- |
| | | |
| Steve's Redfin Ferrari | Hugh on 'pushstick' duties | Andy's Redfin sans wheel |
Steve Betney had a more frustrating day as his beautiful, scale, Redfin Ferrari would start and run perfectly but never on the track, despite two complete laps of the track with attempts. His lovely Watson Roadster was even sulkier as the McCoy inside refused to even produce an encouraging pop.
| | | |
| --- | --- | --- |
| | | |
| Track inspection | Pete Hughes' home built 049 | Pete with Prop Rod |
A thoroughly enjoyable and laid back day in this delightful country setting and a perfect way to end the inevitably restricted season, but how lucky we have been to get these events in, thanks Peter, and Anne for copious supplies for tea and coffee.