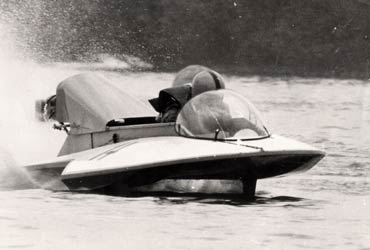 'The West Country Wizard'
The tethered hydroplane world is remarkable in the number of participants who have had the urge to 'get a bit more involved'. The list is extensive, but goes back at least to George Lutz who raced hydroplanes on the Welsh Harp in the 1920s. Later Lionel French, British B class record holder with 'Little Star', turned to racing motorcycles alongside his fellow hydroplane enthusiast W.H. Megean. In more modern times John DeMott and John Hyder could also be found howling round circuits on bikes, while John's late brother Ken made a name for himself in karting. Stu Robinson had many years of car racing before he turned to the tethered variety, but it is largely through hydroplane racing that OTW came into being. Power-boating featured strongly in the 'alternative' careers of several competitors, including Steve Poyser in circuit powerboats, Frank Jutton who became Class III powerboat champion and Hugh Blowers who ran 250 and 350cc hydroplanes for several years.
One person stands out though, and that is the late John Rose, who started racing with tethered hydroplanes, became a champion several times over in outboard hydros, and then returned for another highly successful stint with the tethered boats. What is even more remarkable is that this was achieved in each case with engines that he had designed and built entirely from scratch.
Starting Out
John Rose was born in Coventry in 1930, and after education at the local technical school, went as an engineering trainee at the Morris factory, working in the machine shop. Around 1948 he became involved with the Coventry MES where Bill Churcher, who had started racing tethered hydroplanes in 1939, was also a member, registration CV1. Bill raced a series of 15cc four-stroke boats called 'Annette', the last of which is happily still in existence. It was probably this association that prompted John to build what would be the first of his many engines, and start running tethered boats. The motor he built was a single cylinder, 15cc four-stroke, with inclined overhead valves, very similar to Churcher's pre-war version and based on Westbury's Kittiwake design. Although both had the carburettor on the right and the exhaust on the left, Bill's took the drive from the timing side of the engine while John's had the cam box and pushrods to the front of the boat.
The first hull that John used was a simple scow with aluminium side planes which was capable of nearly 40 mph. Running as CV6, he first came to prominence at the Grand Regatta in 1951, although he may well have been running before this. In his report, 'Meridian' (John Benson) mentions that, 'a new competitor, J. Rose managed to secure 3rd place at 38mph with a nice-looking 15cc. Four-stroke engined boat', behind George Lines' two-stroke 'Sparky' and Frank Jutton's flash steam 'Vesta 2'.

Visits to regattas would have indicated to John that his hull design was somewhat out of date and so over the winter he built a very smooth streamlined hull, with outrigger sponsons and a surface prop. This new boat was called 'Meteor I', not to be confused with Colin Stanworth from Bournville who also named his boats 'Meteor'.
| | |
| --- | --- |
| | The same four-stroke motor was used, but very quickly, the new hull proved its worth with several notable performances during the 1952 season. John Benson was to write that "An outstanding feature of the racing was the two-stroke versus four-stroke duel provided by the Class 'B' boats, Sparky II by George Lines and Meteor I by John Rose. Lines was one of the leading 'B' class competitors, but John was challenging him all season with the new boat. At the International he finished second to Lines with his fastest speed so far of 49.1 mph. He was to better this at Longholme Lake, Bedford where he took first place, with a run at over 50 mph. At the Wicksteed regatta in August John won the Patten cup at 44.8mph beating Bert Stalham, and adding to the places he had won 'at several events recently'. The high point of the year was a run at 58.2mph at Southampton, which not only beat George Lines and 'Sparky', but also was the fastest speed so far recorded by a 'B' class, four-stroke motor. |
1953 was to see some major changes for John Rose, starting early in the year when he married Catherine 'Marion' Nassau in Coventry. He also became a member of the Bristol Club, moving down from Coventry to work for Bristol Cars, a post war offshoot of the Bristol Aircraft Company. He had moved to Bristol Cars because at that time they were involved in racing around Europe and at Le Mans, and being involved in this appealed to him immensely.
Soon after he arrived however, the racing section was disbanded and around 1955 he became foreman of the workshop. He remained at Bristol Cars for over twenty years, becoming one of the chief designers and also doing some of the test-driving.

Few regatta reports mention John during the 1953 season, probably due to the move and change in jobs, but he did meet up with his old foe George Lines at Wicksteed again, finishing 2nd to him in the Patten Cup.

Right: John with 'Meteor' assisted by Bill Churcher. Glow battery lead being attached
In the 1953 season review, published in January 1954, it was noted that John had been using a brew of methanol and nitro-benzene in his motor and had abandoned spark ignition in favour of glow plugs. These changes did not seem to affect the speed of the boat, but made starting the motor much easier. The 1954 season passed by without a mention in any reports, but things then become a little confused as John appeared with a 'new Bristol boat' at Bournville in 1955, which was called 'Mayfly'. Still a 15cc four-stroke, it made a successful debut by taking 3rd place at 39.18 mph. By a strange coincidence the exactly same speed in 1956 secured 2nd place in the Collier Trophy, again at Bournville, but this time with 'Meteor 3'. Again, no details of this boat or engine are recorded. A more significant event in 1956 was the arrival of John and Marion's first son David, conveniently born just before the regatta season got under way.
The Bristol Club was rooted in the principle of homebuilt engines with the likes of George Noble having built flash steam and IC engines in a variety of sizes and cylinder configurations. Commercial motors were dominating 10cc racing, which led to the class being subdivided into 'C Restricted' for the Doolings, McCoys, Hornets etc and 'C' for the home built motors. Several competitors were producing home built copies of the American motors, but true to the traditions of the Club, John used the Westbury Ensign design as the basis for his first foray into this class.

At the first Bristol regatta at its new lake at Coalpit Heath in 1957, the boat "Performed well and showed what one can do with a moderately ported engine." 49.9 mph gained him second place to Dickie Phillips' 'FOZ 2', the British record holder.

Right: John with 'C' class hydro. 10cc motor built to Westbury design.
The Ensign based motor was never going to equal the performance of the American look-alike that Phillips had built as this had exceeded 76 mph two years previously. John persevered with this aged design and 'achieved his best ever regatta performance with a speed of 57.46 mph' in 1958, which was much closer to Dickie Phillips' winning run of 65.56 mph.

The report in Model Engineer also shows John running the late George Noble's twin cylinder hydroplane.

Left. Preparing to launch the twin.
With a few exceptions, including Mr Churcher who was still campaigning the veteran 'Annette', the four-stroke was now a spent force and two-stroke motors dominated every class, with only the 'A' and 'B' class offering realistic opportunities for those who still wanted to build their own engines.

Right. 'Annette' has now been run by John DeMott for several years
Whether it was the realisation that completely new engines and hulls were required, a desire to try his hand at something new, or a hang over from not having the chance to join Bristol Cars with their racing exploits is not known, but the name of John Rose vanished from regatta reports for the next twenty years. A further important event as far as tethered hydroplanes are concerned, but not reported at the time, was the birth of a second son Michael, early in 1960.
Kneelers and 'Cabovers'
As well as tethered hydroplanes, Bristol was also a centre for full sized hydroplanes, with a number of well know national and international competitors based there. The British Outboard Racing Club organised events at the Welsh Harp in North London, and South Cerney, a name familiar to all tethered hydroplane competitors, but quite how John became involved with the bigger versions is something of a mystery?
In the mid 50s the single step hull powered by a horizontal twin or four cylinder American motor was being superseded by the three point hull using the German Konig racing engine, the British Anzani or small stock outboards such as the Mercury or Martin. There were still a band of engineers though who built their own motors or converted existing ones to suit, and John joined this group. He set to and produced a delightful 250cc parallel twin, similar in configuration to the Konig with everything built from scratch, including all the castings. Racing was divided according to capacity 250, 350, 500, 1000cc and whether you were running on petrol or dope (methanol). To give himself flexibility he designed his motor so that it would run on petrol with a set of AMAL carburettors and a huge range of jet sizes to choose from, or a set of home built dope carbs. As well as the motor John also built his own hull, which he called 'Jester'.
This motor on the little three-point, kneeler hydro was immensely successful, giving John numerous race and national championship wins, but being the smallest class, he was always reliant on the generosity of the handicapper for outright wins. This lead directly to the construction of one of the most amazing motors ever seen, (or heard), on the circuit, a 500cc Vee 4.

Left: John and 'Jester' in action at Grange Water, Essex
The Konig horizontal 4s behaved as two singles with two exhausts, but John's V4 ran with 4 carbs on a Zimmerman disc valve and four expansion chambers. With the four cylinders firing at 90 degree intervals, the exhaust note was the most exquisite and deafening it is possible to imagine. One set of pipes did have a muffler fitted, but the others had open stingers and were partly responsible for my ongoing tinnitus.
The motor was a work of art with crankcases, cylinders, disc housings all from home produced castings. The crank alone was a masterpiece with four throws and sealing rings let into the edge of each crank web. Unlike the Konig with its iron liners, John's individual cylinders were very advanced, having chrome bores. All the mountings for the hull were home produced as well, which is an incredible achievement and a tribute to John's engineering skills and tenacity, as everything was manufactured with a 3½" Myford ML7 and a bench pillar drill, both of which are now in Mike's workshop.
The hull for this motor was a much longer 'cabover' type that he had obtained from a fellow racer. Rather than kneeling, in a 'cabover' the driver lays down, steers with the right hand, works the throttle with the left, and moves the exhaust in and out with the right foot.

Who says that men can't multi task? At the time it was built, this engine was reckoned to be the most powerful 500cc outboard motor on the circuit, and in an article in Motor Boat and Yachting, John Rose was referred to as "The West Country Wizard".
Around 1975, which was couple of years after Sir George White sold his stake in the company, John left Bristol cars to work for Cam Gears in Clevedon who were making steering racks and gears for commercial vehicles. There he was involved in the design of gearing systems and the test rigs for life tests. While John was happy to compete against the Konigs at national level, he was less enamoured with the rise in popularity of the stock motors in handicap events and in the late 70s decided to retire from racing and return to tethered hydroplanes.
The twin was sold to Danny Keay and now resides with Jack Wood in Leeds. The Vee 4 was sold to John Skidmore who ran it for a while before destroying it comprehensively when a con rod broke. A new crankcase was built some years ago by 'yours truly' and now all the parts are in the hands of Peter Rix from Lowestoft who intends to restore it to running condition. Remarkably, it is the chrome bores that posed the biggest obstacle in the rebuilding of this fabulous motor.
→
©copyrightMikeRose&OTW2009