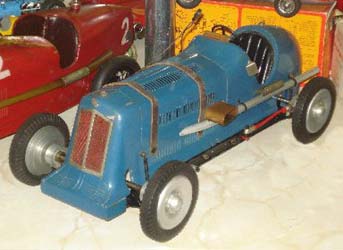 Just like Number 11 buses!!

The M&E Models ERA body used to be a very rare discovery, yet two more have come to light in as many months. Even better, this example is on a complete and original M&E chassis as well. More remarkable is that it is on display in a toy museum, and possibly the only tethered car on public view in the UK. Because the car is in a display case, little else is known about it other than a very large exhaust outlet has been added to one side. The ERA body, although a more expensive option to the standard Special or Challenger, is now the 2nd most common of those that have come to our notice.
Spotted by Gary Maslin at the Arne Toy Museum near Wareham in Dorset Nov 09
Since sold and appeared in a London gallery at £10,000-£20,000!!!!