E.W. Vanner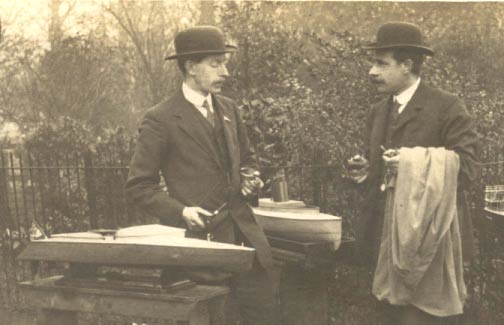 Ted Vanner and Percival Marshall on postcard dated 28th Sept 1919
Of the early pioneers of model boat racing, few had such a long and high profile involvement as Ted Vanner. Ted was building and running boats in the first years of the 20th Century and continued to do so into the 1950s. He was a prolific builder of engines and hulls, a regular competitor at Victoria and other clubs around the country, a great traveller, and always someone to be feared in competition. When the racing of model boats was in its infancy, Ted would compete in speed events, both straight and circular course, but as the boats became faster he seemed content with the level of performance he had reached, gradually moving exclusively into the straight running disciplines. There have been articles about Ted and his boats in the past, yet these have only touched on a long and successful involvement that has fascinated us. A sizeable amount of new material has become available to us, primarily through his correspondence with Fred Westmoreland, which has prompted this, hopefully more detailed, appreciation.
Those attending the Model Motor Boat Regatta at Victoria Park in October 1910 would have been able to purchase an official programme for the princely sum of one penny. Both events were for speed, running to the Wembley Park Challenge Cup rules formulated for the 1908 competition. Number 6 in event 1 for boats not exceeding 1 metre in length was E.W. Vanner with Leda III, but this was not the Leda III we know today, as Ted used the same name and number for more than one boat. Amongst the other competitors were William Blaney (Carpenter's Mate in ME), F.A. Mills builder of the Stentor IC motors and the Arkell brothers with Moraima III. Officials on the day included Percival Marshall and his brother Alfred, George Gentry as one of the timekeepers and amongst those from the Victoria Club, Blaney as the 'measurer', W. Poole as the 'Starter' and Ted Vanner as a 'Number Board Clerk'. It is obvious that Ted Vanner was already well established within the Club by this time, both as a competitor and organiser, and his involvement goes back to the very earliest days of Victoria Model Steamboat Club and model boat competition.
Edward William Vanner was born in Deptford, South London, in 1883, the second of seven children for Charles and Esther Vanner. Ted started his working life as a blacksmith, a trade he was still following when he became interested in model boats. By the time of the first Model Engineer Speedboat Competition at Wembley Park in 1908, Ted was competing on a regular basis and entered that inaugural event, finishing third in the class for boats under 4ft at a steady 4.25mph with 'Leda', which won him a prize of half a guinea. The 3ft 3inch long boat was the first to carry the Leda name. Whilst Leda was more in the style of full sized racing craft, Ted was also building scale and semi scale boats such as the SS Star in 1907 and the TBD Nile, which Ted is seen holding in the earliest photo we have yet seen, dated 1909.
| | |
| --- | --- |
| | |
| SS Star 1907 3/4 bore x 3/4 stroke engine | Ted with TBD 'Nile' in 1909 |
Ted also notes that "from 1908 & 09 I made several boats". 'Leda II' was built in 1908 and run at the ME Competition at Clapham Common in 1909 to be followed by 'Leda III' and IV. All of these boats were elegant round bilged hulls of tinplate, powered by complicated, multi cylinder steam plants with vaporising paraffin burners.
Although going by the name of the Victoria Model Steamboat Club, several members, including W. J. Smith with his 'Belvedere' motors and F.A. Mills with his Stentors were firmly wed to the internal combustion engine. The first of Ted's boats to be fitted with an IC motor would seem to have been 'Leda IV', another of the elegant, high-speed launch type hulls.
From Ted's notes it would appear that the size, shape, design and layout of these early hulls did not lend themselves to the larger and much heavier petrol engines with all the attended accessories, as he produced an entirely new design in 1910. This would be what was destined to become one of the best known and most frequently used of all his boats, the second 'Leda III'.
The hull was now a hard chine, vee bottomed, single step hydroplane with what Ted described as one of those 'fierce, noisy, smelly and generally bad mannered petrol engines' fitted horizontally, driving the prop shaft through a pair of bevel gears. 'Leda III' had the same steeply raked and elegant foredeck as his previous boats, but with the engine and cockpit disguised as a cabin, even to a number of portholes.

Most of his boats however had hinged covers of beaten metal. 'Leda III' would appear in competitions and at regattas for the rest of Ted's life and was the boat he used more than any other, including his trips around the country and abroad, presumably because of its reliability and performance.
'Leda IV' was also rebuilt around this time with a new hull on similar lines but without the 'faux cabin', just a set of coamings and beaten covers.

As the photo from 1913 confirms, this boat also seemed to have had a successful regatta career, although it was replaced by yet another, much more angular hull carrying the same name. As later events show, Ted produced at least two of this more functional style of hydroplane hull.
As far as we can trace, there were seven boats that carried the Leda name, three steamers and four with petrol motors, all of which would seem to have been built before the First War. As well as these Ted also built a number of other boats around this time including a scaled down version of the early steam powered Leda called 'Ledaette', a larger steam powered cruiser style 'All Alone' and the tiny steam launch 'ToTo'. Happily. 'Ledaette' and 'All Alone' have survived to the present day.

Of 'ToTo' we know very little, other than that it was run very successfully on a circular course, where the pole was a person and the boat had a two-legged bridle. So much for that being an American development! Ted's own note on a card to Fred Westmoreland show this boat winning the Challenge Shield and Victory Cup and still being unbeaten in its class round the pole. In June 1921 he notes that it travelled 84 yards in 21 seconds.
| | |
| --- | --- |
| | |
| ToTo running with Ted as the Pylon, upper left | ToTo with Shield and Cup |
Charles Vanner had died in 1901 leaving Esther, Ted and his elder sister Beatrice to support the family. They moved shortly after from Bennett Street in Greenwich to Gosterwood Street in Deptford. Ted's younger brother Ernest spent some time in his early years in the military as a trumpeter with the 9th Lancers and it would be the period of the First War that changed the dynamics of the Vanner family completely. Esther Vanner died in 1915 and in 1916; Ted married his cousin Amelia Walkden, always known by her middle name, Daisy. Ernest joined the Royal West Kent regiment, serving in France, winning the DCM during one of three separate periods he spent in the front line. Ted and Daisy set up home at 130 Albacore Crescent Lewisham, where Ernest joined them after being demobbed. The three of them would live together for many years. The other daughters remained spinsters and seemingly all lived together for the rest of their lives.
Following the end of the First War Ted continued to compete, along with Ernest for a while, both in speed events and straight running competitions. During the course of his career he won an untold number of trophies and prizes, which included cruet sets, teapots, cigarette cases and many other items. Having won Victory Cup three times, it became his property, which was the custom at that time. What is remarkable was that Ted used the same boats for straight and circular course speed events, straight running, nomination and towing and although 'Leda III' post restoration has no sign of any tethering brackets, that too did many races 'round the pole'. It is not generally realised that Ted was still running his boats in speed events well into the 1930s and was responsible for the 'Vanner Speed Boat Competition', open to any boat up to 16lbs, as long as either the engine or hull (or both) were the work of the competitor. This competition was run over 1,000 yards with the only other proviso being that IC engines must be under 50cc. Eventually he dropped out of the speed events, but continued to win club and national straight running and nomination events almost until his death.
Looking back, it is quite incredible how many different venues Ted travelled to. It was remarked that it did not matter if the lake was 100 or 200 miles distant, he would be there, all accomplished via public transport and carrying up to three weighty boats and associated kit. As well as the local London venues he could be found at lakes all over the country, travelling overnight by train and then back again. He would make a special effort to attend inaugural events such as Southampton and Kingswinford. He ranged from Heaton in the northeast, Fleetwood in the northwest, numerous venues in the Midlands, and East Anglia down to the southwest. He travelled up to Glasgow at the invitation of Andrew Rankine and to Cardiff, where in 1928 he ran Leda III and IV on the circular course as well as the steering events. Ted also used Leda IV for the towing event there, which he won, as the ME put it 'with a deft touch that enticed another few revs from his plant'. The report added that 'behind him, another boat 'Hydroplane' had stopped in the middle of the lake and was on fire, causing much excitement'.
Once such trip, again in 1927 was to Tynemouth where Ted was to introduce the Northeast to the small internal combustion engine. He and Daisy set off with 'Leda III' and 'Bon Ami' on the midnight train from Kings Cross to be met at Tynemouth station by Mr Barnett who had left home at 7.00am to cycle to the station, and considered that a 'great honour'. He was 'amused to see Mr Vanner holding, with apparent ease, a boat in each hand'. Ted confirmed the weights of the boats as 'Bon Ami' at 11lbs and 'Leda' at 14lbs, a marked contrast to the monsters that were and are the norm for the straight runners from the area.

The most memorable trips must surely have been to Paris for regattas, first in 1913 and again in 1927. For the 1927 events he travelled with Mr Savage, and Jack Gascoigne, taking no less than three boats with him. He distinguished himself on the lake in the Tuileries by taking first place in the steering contest with 'Bon Ami', second place with 'Leda III' and rounding it off with third place for 'Ledaette'
It is impossible to calculate how many competitions Ted must have entered over a career that lasted almost half a century, but it certainly runs into the thousands.

Such was the reliability of 'Leda III' that any failure was commented on, an example being the Malden Regatta in 1939 when his team was forced to withdraw from the relay race 'owing to the unprecedented failure of 'Leda III'. Edgar Westbury called it 'the immortal Leda III' when reporting on a wartime regatta in 1943, adding that 'many a good tune is played on an old fiddle'. Ted usually faced stiff competition, but over time his adversaries came and went, but for many years, he would vie with Johnson's 'Nippy', Vine's 'Silver Jubilee' and John Benson's Comet in the results list. Often he would find himself having to make additional runs to resolve tied scores.
| | |
| --- | --- |
| Ted retired around the end of the Second War and continued his boating and engineering activities, not only with the Victoria Club, but also the South London Club where he was a Vice President and committee member, and the Kent Model Engineering Society. Ted was involved with the Model Engineer Exhibition almost from its inception and would provide items for club and MPBA stands. Indeed, Ted and Daisy manned the MPBA stand at the ME Exhibition for many years, whilst Ted would often be found doing demonstrations. He ran his tug 'Ida 2' and Leda III in the circular tank at the 47 Exhibition and in 1950 could be found on the demonstration stand showing his method of building tinplate hulls. | |
©copyrightOTW2014