UK Tethered Car Tracks
One of the very earliest projects that OTW undertook was to record the histories of as many British tethered car tracks as possible. Following the very first meeting on the factory rooftop in 1943 and the end of the second war two years later, there was a veritable explosion of car clubs and model engineering societies with car sections. With each of these came the desire and need for somewhere to run the cars. In the first instance, many of these were indoors, in garages, work's canteens, halls and the like. The aptly named Pioneer Club, being the first, used to run in the Royal Horticultural Hall in Westminster, imagine getting permission to do that now? Although Gerry Buck was achieving phenomenal speeds on just 13ft of line the creation of full sized seventy-foot dia tracks soon followed, eventually over twenty around the country. Like with most of our other projects, we try to have the articles and records linked to existing photos, memorabilia and personal reminiscences, even to the extent of intending to visit sites of long gone tracks wherever possible. In all this we failed almost completely as the information just did not materialize. Over the years though, some material has trickled in so that we can now put together what we do have, along with what we have gleaned along the way, including the few locations it has been possible to ascertain.
Altrincham Track behind Sale Town Hall on site of the Sale Youth Club
Blackpool and Fylde Model Car Club formed late 1948. Private track at Castle Gardens Hotel, Carleton Blackpool, circular feature that was probably the track still to be seen adjacent to hotel. Later track at Stanley Park aerodrome.
Bolton Society 17th July 48 70ft track at Leverhulme Park, Darcey Lever. Track also used by Altrincham Club.
Bradford and District MCC 3rd April 48 Track at Yeadon Airfield. Lt Col Goldie Gardner President
Bristol and West Underground track beneath a Gymnasium in Bristol. Later in a private garden at Downend
Birmingham MCC. Track at Pinly, Clavesdon. Amalgamated with Worcester Club in 1952, taking over G.I. Hastings' private track at Ambrose Farm, St James' Worcester.
British Model Car Club Formed 1946 based at Eaton Bray with 72ft track. Closed in 1951
Chatham Aug 47 Track at Rochester Casino
Chiltern Model Car Club Opened track at Woodside Farm, Slip End Village, Caddington Common Luton on Easter Monday 1949. Only British track to host a European Championship 1954.
Cleethorpes 'Model Drome'
Dundee 1947
Edmonton Club. Track opened on Whit Monday 1950 behind Cart Overthrown Pub Montagu Rd Picketts Lock Lane Edmonton. 51.62753 0.004476
Guiseley Track in a quarry off Moor Lane heading out of Guiseley. Closed winter 1954. Quarry still in existence.
Handley Page MES Nov 47 Cool Oak Lane Hendon
Harrogate Concrete track Aug 49
Hastings Track at White Rock Pavilion. Possibly indoors?
Hooton Model Car Club
Leicester Mini Car Club. 48 Batchelor and Bowles garage and Staughton aerodrome. Bob Gerard.
Malden and District SME 72ft track off Old Claygate Lane Thames Ditton
Meteor Club. Rist's Cables canteen. Club wound-up in 1954
Mote Park Maidstone Track still in existence, last track in use in the UK 51.27051 0.54446
North Wilts 1948, Private track at Steels Garage Swindon subsidence problems.
Ossett and District Miniature Car Club. Opened in June 49 by Speedway star, Eric Langton.
Pioneer Model Racing Car Club 1946. Indoor track at Horticultural Hall Westminster, largely dormant by 1951
Scunthorpe Track behind a filling station on the outskirts 1950
Surrey Model Car Club 1947 Track on tennis courts at Christmaspie, Normandy Surrey, then Chertsey
Nottingham MRCC
John Oliver was one of the founder members of the Nottingham Club in April 48, along with George Brough of motorcycle fame as President. Initially the club ran on an indoor track before the creation of the full sized, 70 ft diameter track at Bassingfield. Built on farmland to the south of Tollerton airfield and adjoining Bassingfield Lane at Gamston, just to the east of the City on the A52. This was one of the later tracks to be laid down as it was not finished until 1951. The tethered car movement had, by this time, become totally dominated by out-right speed and the track hosted virtually all of the top competitors of the period. Oliver cars and engines were being built nearby in Nottingham and the 1.5cc and 2.5cc Tiger engine units were almost universal in the smallest two classes. Very few tracks were still in operation at this time and so national and regional competitions held there would see the very fastest cars in action.
Sometime during late 1953 or early in 54 Roger Alton, who lived nearby in West Bridgford, visited the track with his Contax camera and recorded the images reproduced below. Unfortunately the specialist magazines had all ended publication by 1952 and so it has been impossible to identify all the individuals or cars pictured. However these represent an excellent example of track activities and methods of operating cars at that time.
Centre, a bobtail ZN car with 5cc ETA engine. Right, ZN spur drive car with ETA motor. Both cars have soft 'flinging' Grenwyn tyres
that grow significantly at speed. Background, top from teardrop car.

Jack Parker's ETA powered cars with the now universal 'pan handles' rather than wire bridles. Both cars rigged to run 'wrong way round'.
Push stick and external glow battery on bench. Fitted case behind.
The last of Ian Moore's competition cars, #14 with 10cc
Dooling motor. European record holder at 194 kph.
Sold to Philip Rochat in Switzerland at the end of 54 season.
14 on the lid of purpose built 'pit box' Cables, fuel tins, dial gauge
and spare tyres in evidence. Upper space usually held the 5cc
'Moore Special'. Sadly, the box was destroyed quite recently.
No electric starters, just an upturned bicycle wheel to start
the motor for testing. This method of starting is still used.

External glow battery attached by cable, push stick ready.
Jack Parker of the Meteor Club prepares to 'push off'.
Many thanks to Roger Alton for these evocative pictures ©copyrightRogerAlton2007
---
Sunderland.
The Sunderland Model Car Club was inaugurated early in 1948 by Capt Hindmarsh and some friends. Initially they ran cars in the premises of Young's Motors, Hindmarsh's company, situated along Roker Avenue. There was also the North East Model Car Club that ran cars in the premises of Westools. It is assumed that at some stage these two clubs combined. We are lucky that Sunderland is the only British track where full details of the origins, planning, design, tendering, construction and costings were published. It is also one of only two tracks in this country that we know of where evidence of their existence still remains on the ground. 54.89487 1.37782
| | | | |
| --- | --- | --- | --- |
| | | | |
| Park gate | Track and safety fence | Ivy and Ian Moore with record breaking cars | Pit benches |
The Club was unable to realise their original plans to add a track to the hydro and model railway facilities already established in Roker Park Sunderland by concerns about noise. After a great deal of negotiation, a site was eventually found in Barley Mow Park off the Ryhope Road that would allow for a full sized track. Following extensive planning and a decision to contract out the work the go-ahead was received on the 23rd June, cement was being poured on the 30th and cars running on Saturday the 2nd July, an amazing record. The track was situated in front of the Civil Defence buildings, whilst the pits seemed to be comprised of boards laid on sewer pipes. The track hosted many national and area championships and was home to two of the most successful British Competitors, Ken Proctor and Jack Cook who won four European Championships between them in the 1950s.
1990s
Ten or more years later, still in evidence
The site and huts that later served as a children's nursery are now derelict, but much of the track is still visible on the ground and can be clearly seen on satellite photos. The track and buildings were both in a very sorry state when we visited. A very full description of the entire planning and construction of the track was published in Model Cars in September 1950.
---
Derby Model Racing Club
The Club was formed on January 1st 1948 with a 70ft track between Raynesway and Derby Road. The Club hosted a number of National meetings including the National Speed Trials and area eliminators. The principle event for the Club was their Open day with the Rolls Royce Trophy for the 10cc open Class, the Walker Trophy for 5cc Open Class and the Chaddesden Supporters Shield for the 2.5s. No less than 55 cars were entered in 1950, although only five from the home club. Gerry Buck set a new British record on the track in 1950.

According to contemporary reports, the track was lost in 1951 to the A5111 road widening scheme, although there is the suggestion that complaints of noise from houses nearby may have contributed. Derby was the home club of Ian Moore who served as secretary for a while and his wife Ivy, a renowned competitor in her own right and Ernest Jackson, who was MCA Secretary for a while. Ian and Ivy Moore.

The track was still in existence in the early 60s on this map. The site now occupied by a nursing home 52.91814 1.42221
These photos of a club exhibition were obtained recently and show a number of recognisable models including Ian Moore's scale MG
| | |
| --- | --- |
| | |
| Dooling F. Ian Moore's MG. | Unknown hydros. M&E Special. Austin GP. ERA |
---
Bolton and District MES
Leverhulme Park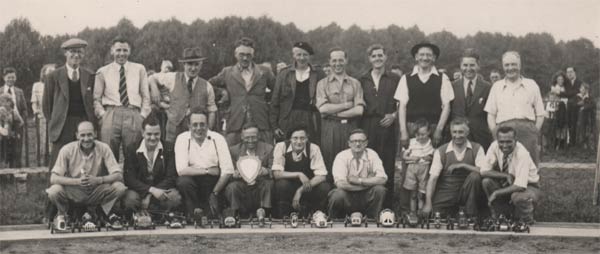 1950: Club members with the Altrincham Shield
In an article in MCN in January 1947 Joe Riding pointed out that there was no track in his locality but as a member of Bolton and District Model Engineering Society, he proposed the Club should look for a suitable piece of ground, and produced a blueprint for a track. They have as yet no luck in this venture. After several years negotiation, in May 1947 the club was offered a piece of land free of charge by the Parks Department at Leverhulme Park Long Lane, Darcy Lever, Bolton. Close to the railway cutting and Long Lane this was made avaiable for the building of a multi-gauge railway and car track.
A 70ft. diameter track, with safety fence and timing apparatus was laid down giving 24 laps per mile. The society supplied all the voluntary labour, except the actual concreting and laying of the track. The cost was defrayed by holding exhibitions and the sum of £300 was raised over a period of time.

The official opening came on July 17th, 1948 by deputy Mayor Alderman W Bradley. The first car to run was Gerry Buck's famous old No 1, which did her stuff and duly impressed the large crowd. His faster car, No 2A, really thrilled them. Another fast car with an interesting 10cc engine of his own design was Mr Tompkinson's special, which ran in chassis form. The track showed that it was capable of taking high-speed cars and did not have any unfortunate bumps.

Left: Official opening, Gerry Buck with Alderman Bradley and on the opposite side of the track Joe Riding
The first competitive meeting on July 25th was very successful. Over 2,000 spectators watched the proceedings with keen interest. The 5cc class was won by WH Powell of the Meteor MCC at 46.5mph running a Reeves Aero Special. The 10cc class went to HS Howlett also from the Meteor MCC at 72.6mph running a McCoy Special spur-gear car. The nomination race was won by yet another Meteor member Mr FG Buck with an estimated speed of 54.5mph, actual speed 52.6mph followed by Mr JW Riding Bolton MES with 42mph estimated and 45mph actual. Joe Riding was listed as Hon. Secretary to the club at this point.
When the Model Car Association formed in 1949 Bolton came under the North-West banner along with Altrincham, Blackpool, Hooton and BMH Model Race Car Club and the Bolton Secretary was a Mr Picken. Late in 1950 the car section won the Altrincham shield for a best performance. September saw the Society hosting the Northern Area Championships of the Model Car Association The Society in 1951 mounted a major exhibition as their contribution to the Festival of Britain which saw them displaying not only railway items but powered boats, hydroplanes, model aircraft and model racing cars and many other items amounting to 414 exhibits in all.
When looking through the results for 1951/52 there seems to be only one or two Bolton members travelling to events, one that appears often is a N Haslem running in the 5cc class. By 1952 running as a Blackpool Club member at the Sunderland track, Joe Riding set a quarter mile British record of 115.85mph which remains unbroken to this day. The car used a Rowell Sabre pan with a Rowell engine, but the tyres he used came from a Bolton Club member, Mr Greenhalgh. He had developed an air cored tyre that grew as speed increased, and became known as the Grenwyn Airkore or 'flinging tyre'. The Bolton Club were still listed in the MCA for 1952 and still hosting open days but perhaps all was not as it seemed.
By September 1953 it was noted that some general maintenance had been done in the hope of attracting new members, but to no avail and when in 1955 the Bolton Corporation ended its annual grant, racing at Leverhulme Park ceased. In January 1956, the railway track was given away and the car track was broken up and thrown away. A very short history came to an end.
---
Medway Club
One of two tracks in the Medway area, this 70ft dia one was situated in Shave's Woodyard between Haig avenue and Pattens Lane Chatham. Available for use any day of the week, except Sundays with Club racing every Saturday throughout the year. The site is now part of the Huntsman/Acre Close housing development 51.36901 0.51307

This was the home track of Ken Robinson and others, noted for their successes with 1.5 and 2.5cc cars. Both Ken and Sid Smith of Electra Pioneer lived within a stone's throw of the track.

Thanks to David Giles and Chas Atkins for exact location of the track