Remarkable Engineering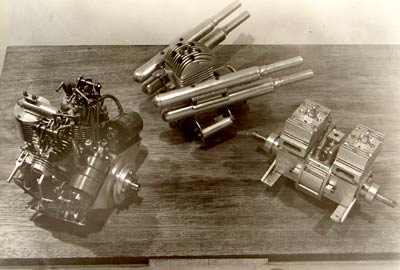 Three of the amazing engines from King's Lynn
Lone Hand 3: Bert Stalham

The most prominent member of the King's Lynn group was Bert Stalham, who was born in Lynn in 1896. He was brought up on farms in the area, and seemed consumed by all things mechanical, electrical and electronic, producing many inventions and ideas throughout his life, several of which were taken up by large organisations. He contributed regularly to the Model Engineer from 1932 onwards, although his name was often printed as Statham, even in letters and articles he had written. Although an electrical engineer by trade his engineering and design skills were superb, and these he put to exceptional use in his modelling.
His first interest was model aeroplanes, and a Model Engineer article in 1932 describes the building and early flights of 'Peggy', one of his planes. In a recently discovered diary entry for July 21st, it records 'Flew Peggy- flew beautifully- thing of beauty'.
| | |
| --- | --- |
| Bert Stalham's greatest achievement with models was later in 1932 when he broke the free flight duration record for IC powered model aircraft at Marham aerodrome, witnessed by numerous friends, spectators and a reporter. The 9ft 6in. span Peggy, with an 18cc engine of his own construction flew for over two minutes, nearly doubling Colonel Bowden's existing record. Amazingly, he was already working on a radio control system for the plane, and this is in 1932! Coincidently, by 1936, another hydroplane enthusiast, Gems Suzor, had managed a flight of over 17 minutes, but with a commercial engine. | |
By the mid 30s, Stalham was fed up with retrieving and repairing planes and joined one of his fellow aero modellers who had become involved in building and racing tethered hydroplanes.
Stalham's first boat 'THA' appeared in 1936 with a 15cc single cylinder four-stroke racing engine with inclined valves and hairpin valve springs. The hull was equally advanced in its design being a teardrop in plan with a pointed transom.

Instead of a rear planning surface as was current practice, the prop was set very deep and attached to the skeg was a horizontal fin about 1¼" inches under the water to create a hydrofoil effect and support the back end of the boat.
With this configuration 'THA' reached 32 mph in its first season, only just short of the class record.In 1937 Bert, along with fellow King's Lynn enthusiast John Duffield started travelling to regattas, including the MPBA International, where they claimed they were 'lone hands'. Even so 'THA' finished second in the 'B' class.

New hulls soon followed, both utilising the same engines, with Stalham naming his boat 'BURR'. 'BURR' and 'THA' may sound slightly strange until you consider that in 1922 he had married Bertha Wright.

Left: Bert recovering Tha at The Grand 1937.
Stalham's new boat was a more conventional scow design and at one of the last peacetime regattas at Wicksteed in August 1939 he and John Duffield were photographed together, with the comment that 'they both owned very interesting 15cc boats'. Unfortunately, 'Burr' did not get away on any of the three attempts at that event. Another new boat, 'THA II', appeared after the Second War, equipped with aluminium side planes and a surface prop, which allowed it to run at 40+ mph.
| | | |
| --- | --- | --- |
| | | |
| Original motor in BURR | Tha II with aluminium side planes | Bert and George Chapman at Wicksteed |
At the 1951 Model Engineering Exhibition, Stalham produced a quite incredible piece of engineering that has become legendary amongst hydroplane enthusiasts. Probably inspired by his love of Morgans and their vee twin engines he had built a 15cc version with an eccentric vane supercharger driven off the overhung crank.

Ignition was via an adapted Scintilla magneto, but details of the carburation had yet to be worked out, and this was to present an ongoing problem. Edgar Westbury complimented him on his 'accurate and painstaking workmanship'.
The engine gained Stalham a bronze medal at the Exhibition. The medal was recently rediscovered and seen here on the left.

With so much time being spent building the engine, Stalham was not able to build a hull in time to give the motor a trial, so he called on another member of the group, Dr Hewlett to construct him a suitable boat.
| | |
| --- | --- |
| This boat was called 'STARLET', probably a combination of their names. Several different carburettors were tried and eventually a large plenum chamber was fitted between the supercharger and the inlets to try and get the motor running more smoothly. | |
The two large balls on the bow of 'STARLET' indicate that this hull was causing problems, so a new and very unconventional 'THA III' was built, this time from thin plywood, rolled and bent to give a very strong and light hull.

The new plenum chamber can be seen at the front of the motor, compare this with the curved induction tube seen on the original installation above.
| | |
| --- | --- |
| There was yet another 'THA', (pictured right) believed to be THA IV although it is not numbered. No records exist of this boat running so it is not known quite where it fitted in, but it may well have been Stalham's last hydroplane. Again he ignored current practice and completely enclosed the engine in the hull, with the exhausts being ducted out through the sides. | |
| | | |
| --- | --- | --- |
| | | |
| Remote throttle lever | Connected by line to throttle arm | Skeg and prop |
He was still not done with hull design as a new, very radical design was to prove. Variously christened 'the Torpedo' or 'Stalham's Spaceship', this was like something out of Jules Verne. Yet again, the engine, including the exhausts was completely enclosed in a bullet shaped hull built model aeroplane style, with solid sponsons on outriggers each side.
In spite of a huge amount of time and effort, Stalham could never get the boat and engine to perform as he would like, although it did give occasional glimpses of its true potential. It is a true measure of his skill that when he described the engine in the Model Engineer during September 1954, he admitted that there were no drawings, as one of his two 'pet hates' was drawing, so 'the complete finished job had to be visualised before a start could be made. Stalham's other pet hate was woodwork, which is why the motor was 'hewn from solid chunks of duralumin' rather than making patterns and castings. It might also help explain why he asked Dr Hewlett to build hulls for him.
This innate design ability carried over into his other interests, and one fascinating project he was involved in until a few weeks before his death was an attempt to build a human powered helicopter. With contra rotating blades some 10-12ft in diameter powered by a foot operated rocker bar, Stalham had succeeded in getting the machine to lift a few inches off the ground, but not with him onboard. None of this engineering came from extensive workshop facilities however, as he operated from a lean-to on the side of the house, equipped with a Gamage's lathe. His motors and other projects are a testament to the skill, ingenuity, and perseverance of a superb engineer.
Sadly, by the early 60s, his health was declining, and Bert Stalham died in 1965. He maintained that 'he would have died years before he did, but for family friend, Dr Hewlett. Unfortunately all but one of his boats have disappeared in the intervening forty or so years, but the photo of the vee twin on the cover of ME for Sept 16th 1954 is a constant reminder of one of the finest pieces of tethered hydroplane engineering ever, and is instantly recognisable as 'Stalham's vee twin'. It was therefore a great personal pleasure for OTW to discover that the twin had survived and that we were instrumental in having it displayed at Alexandra Palace sixty years after its first appearance at the ME Exhibition.
| | | | |
| --- | --- | --- | --- |
| | | | |
| Oil pumps below stub exhaust, no silencers fitted | Carburetter with throttle arm and geared needle adjustment | Valve gear with handmade hairpin valve springs | Twin contact breakers connected to modified magneto |
Lone hand 4: Dr Hewlett

A short item in Marine Models revealed that 'Dr Hewlett of King's Lynn was building a supercharged two-stroke hydroplane engine'. Not only was this the first mention of Dr Hewlett's involvement with tethered hydro's, but also the first hint that there was some exceptional designing and engineering going on in Norfolk. It must still be unique that one group was building four very different supercharged hydroplane engines.
In essence, Dr Hewlett's motor was two single cylinder motors, bolted either side of an eccentric vane supercharger. Two-strokes are notoriously difficult to supercharge and it seems that the connection of the two cylinders to the 'blower' in between proved to be the 'Achilles heel' of the design. It is understood that the engine did run, but was mechanically unreliable.

There is no evidence though that Dr Hewlett ever ran his engine in a boat. Certainly he built hulls, as Bert Stalham's vee twin first appeared in a 'Hewlett boat' in 1951, and there may have been others as yet undiscovered. Nothing more is known about this motor, except that a letter was submitted to a national magazine a while ago asking if anyone knew what had happened to it.
Dr Charles Floyd Hewlett was the only member of the group who was not a 'Norfolk boy', as he originated from East Grinstead, yet he continued to be involved with the King's Lynn Club throughout its life, and was certainly in evidence at the Club's first official MPBA event in 1955, where he presented the prizes.

The regatta took place on a farm pond at Watlington that had become the home water after earlier venues at The Walks in Lynn, Bawsey and Eaton Park in Norwich.

Doctor Hewlett, centre with Colin Stanworth Jnr, on right.
Competitors from around the country came to King's Lynn for the regattas, including the record holders in all three national classes. In the 55 event, George Lines finished first, Dickie Phillips second, and John Benson third. Another regatta was held in 1956 with Phillips and 'Foz 2' beating Ken Hyder and George Lines, but this seems to have been the swansong of the Club. Following his retirement, Dr Hewlett moved up to the North Norfolk coast, where he became very involved with running the preserved steam railway in Sheringham until his death in 1994.
We are indebted to Trevor and Linda Chapman and the late George Chapman for most of the original photos in these three articles and the opportunity to meet George and photograph the various boats and engines from the King's Lynn Club that have survived. Also to Jack Steward who recognised our appeal for information on a Radio Norfolk phone in and Peter Hill whose initial contact with the Chapman family set the whole thing in motion.
©copyrightOTW2016