Championship of Europe. Woodside, Luton 1954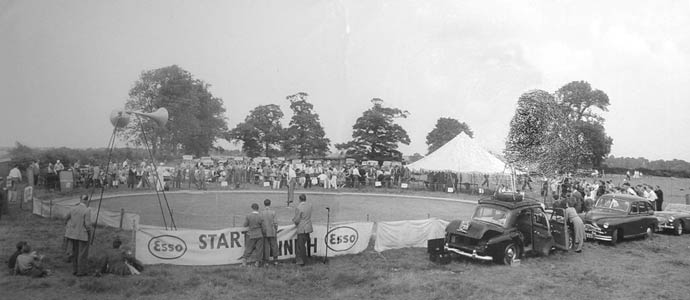 The third ever FEMA European Championship was held at the Woodside Farm track of the Chiltern Club in August 1954. Italy and the UK each provided full teams of sixteen cars with five from Sweden, three from Denmark and two from Germany. Of the winners from the previous two events only Jack Cook 5cc and Jim Dean 10cc were entrants this time round. The meeting was organised by Ian Moore, who had retired from competition, with Paul Zere acting as track marshal throughout. Our thanks to Miles Patience for passing on all these images, believed to have been taken by Ken Bedford. Heading panorama from Roland Salomon.
| | | |
| --- | --- | --- |
| | | |
| Ron Thrower GB 2nd in 1.5cc and 2.5cc | Ken Procter 3rd in 2.5cc | Eiraudo 3rd in 2.5cc |
Stan Drayson and Ron Thrower made it a British one two in both 1.5cc and 2.5cc with their Oliver engined cars. Just one Supertigre engine stopped an Oliver clean sweep of the top 6 positions in both of the smaller classes. John Oliver was on hand throughout the meeting, with regular calls for 'Dr Oliver' from the Italians who were suffering problems adapting to the British diesel 'brew'.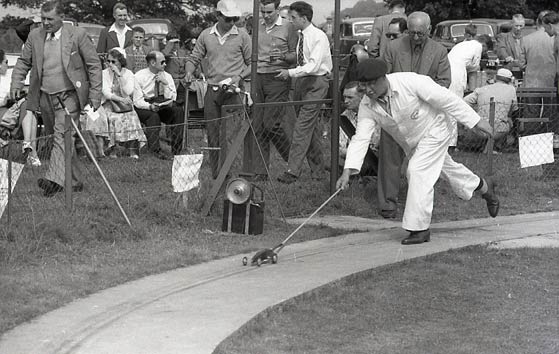 Stan Drayson won both the 1.5cc and 2.5cc classes with his Ian Moore 'Shadow'
| | | |
| --- | --- | --- |
| | | |
| Tom Prest joint 2nd in 5cc & 3rd in 10cc | Zere, Roland Salomon & Philip Rochat | Cossetta from Italy 1st in 5cc |
Roland Salomon hitchhiked from Switzerland in order to compete, a less than successful beginning to what would become an amazing series of championship medals just two years later. Philip Rochat had bought Ian Moore's famous #14 10cc car but could not replicate the record speeds that Ian had been achieving. Tom Prest was the first British competitor to break the 100mph mark with a 10cc car, using a ZN car supplied by Zere's company. Tom finished joint 2nd in the 5cc and third in the 10cc class.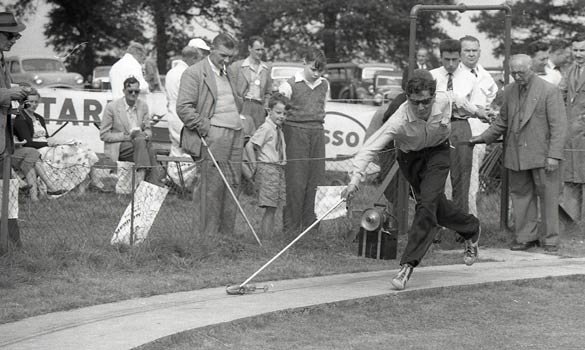 Within the rules at the time, proxy running was allowed so that Miretti and Caraguti ran multiple Italian entries. It was also permissible for a competitor to have multiple entries in a class all of which could count in the results, hence Erik Thorpman running three 10cc cars and finishing in 4th, 5th and 6th places.
| | | |
| --- | --- | --- |
| | | |
| Jack Cook joint 2nd in 5cc | A. Bishop, 4th with the sole ETA 29 entry | Erik Thorpman 4th, 5th 6th in 10cc |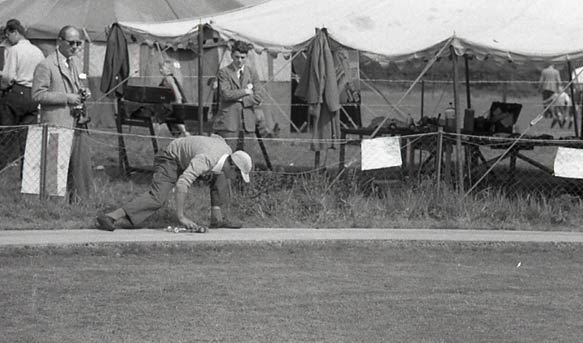 Even today, some forsake the ubiquitous push stick for the 'hands on' push

| | | |
| --- | --- | --- |
| | | |
| Snelling, John Oliver, Miretti | Roland Salomon 9th in 2.5cc | Ron Flower 6th in 2.5cc |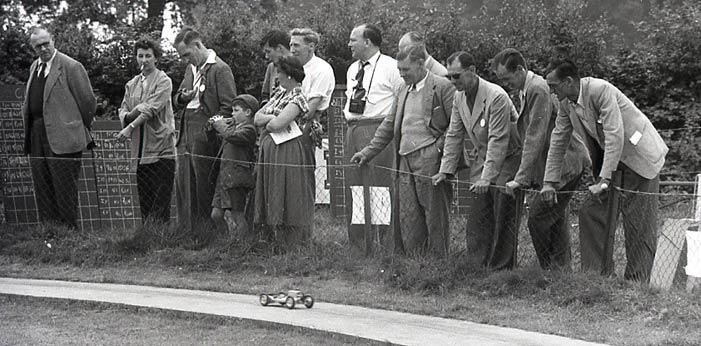 During a break, Mr Tillett ran the chassis of his four cylinder Austin 750 GP replica. Amongst those watching are John Oliver, extreme right, Ivy Moore with the cigarette on and Bill Hamilton with the camera. The engine ran on spark ignition with a working distributor.
| | |
| --- | --- |
| | |
| Farm location with unconcerned herd of cows nearby | Ken Procter and wife, Mrs Bibby to right, Hon Sec of Blackpool club |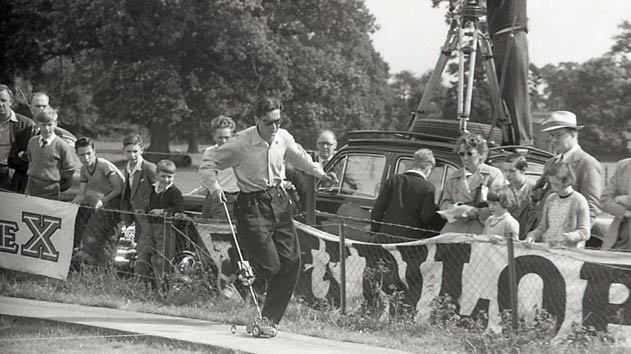 Somewhere there must be a film of the event judging by the cameraman on top of his car
| | | |
| --- | --- | --- |
| | | |
| Adi Lallinger 10th in 2.5cc NR with 5cc | Benazzi & Clerici trying to start Movosprint | A. Laursen, 10cc Komet |
Every class was won with the first run, Stan Drayson managed to record exactly the same time in both rounds though. Ron Thrower was just 0.3mph behind him in 1.5cc. Cosetta set a new European record in 5cc, although this was slower than the British record at the time. Small margins as Jack Cook was again only 0.3mph behind in 2nd place. 10cc was equally close, with Jim Dean winning his second European Championship, and yes, just 0.3mph in front of Bill Hamlton. Twelve Oliver engines, six Super Tigre, two Webra, fifteen Doolings, four McCoys along with single examples of ETA, Hornet and Komet motors made up the entry list.
| | |
| --- | --- |
| | |
| Ron Thrower with stopwatch in the pit area | Just a touch more paraffin? |
ęcopyrightOTW2022