Car Photo Archive

Roland Salomon's Photo Album:

In 1954, a young Swiss competitor hitchhiked all the way to Britain in order to participate in the European Championships at Woodside near Luton. His ED and Supertigre cars were less than successful, which led him to contemplate giving up racing until his mother asked him what he needed to be competitive, 'an Oliver Tiger' was the reply. A relative in Britain was able to source one of these as a birthday gift to him and with Philip Rochat as a mentor Roland became very competitive, building his own cars, the Sabre, Stiletto and the all conquering 'Killer'. For this car he abandoned the twinshaft Oliver following the trend to spur driven aero engines that could run much larger tyres.

For three years Roland was almost unbeatable in 1.5cc and 2.5cc winning the European Championships in 1956 at Vasteras, 1957 at Dortmund, and 1958 at Basel. In 1958 he also did the 1.5cc, 2.5cc World Championship double at Landikon, Zurich. As was possible at that time he also won three silver and 2 bronze medals at these meetings.
Following this run of championships, he retired from tethered car racing going initially into the growing sport of karting and then into Formula 2 car racing. His love of speed extended to him being a regular competitor on the Cresta Run in St Moritz. At the 2013 European Championships in Basel we were delighted to meet up with him and enjoy his reminiscences from the 1950s. Once he realised our interest, he showed us his superbly annotated photo albums from the period and allowed us to photograph the contents, a series of unique images from his career.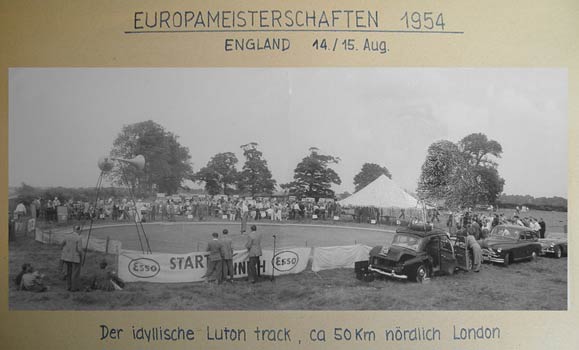 Woodside track with a film camera on top of the car in the foreground
| | |
| --- | --- |
| | |
| The 'Professors' Ron Thrower, Alec Snelling, Stan Drayson | Ron Thrower's cars, one still known to be in existence |
Ian Moore's Dooling 61 powered Number 14 car that set British and European records in 1954
Jack Cook and Ken Procter, Dortmund European Championships 1957
Jack won the 5cc class, Ken 5th in 1.5cc and 2.5cc
Ken's two cars, one twinshaft, one integral gear motor
| | |
| --- | --- |
| | |
| Jack Cook, Mrs Williamson with Les just visible | Ken, Jack and British pit table |
| | |
| --- | --- |
| | |
| Jack Cook and Fred Petrie | Phillip Rochat & Cyril Catchpole |
| | |
| --- | --- |
| | |
| Jack Cook pushing off his Dooling Arrow | Bill Hamilton? |
Adriano Miretti with Ken Procter
Ken Procter & Roland Salomon Zurich World Championships
Roland Champion in 2.5cc, Ken Vice champion 2.5cc
1962, Karting at Stuttgart
St Moritz, one last 'course' on the Cresta
ęcopyrightOTW2021