Bedford Photo Album
ETA engines was a well established brand from the late 1940s, with the very successful 29 and 15 motors. The Model B ETA 29 glow was the only realistic alternative to the all conquering Dooling 29 and with the advantage that unlike the Dooling, it was available over the counter here in the UK. Its only disadvantage for car use was the traditional extended crankshaft for a prop and driver, whereas the Dooling had a short stub that made it ideal for spur mounting. In 1956, Ken Bedford, the man behind ETA turned his attention to tethered car racing, with a first appearance in June at the Chiltern Club track at Woodside near Luton. During 1956, Ken designed a 5cc car utilising a GRP pan and body after one of his employees, Len Terry had been experimenting with this material. Plans and constructional details for the 'Terry Special' were published in Model Maker in October 1956.
After rain caused the cancellation of the 1956 Nationals at Woodside it was subsequently run at Blackpool in September where Ken competed in the 5cc class. The following photos are from Lyndon Bedford's family album and primarily from those 1956 MCA nationals held on the Blackpool Club track at Stanley Park aerodrome. Unfortunately, after his earlier success, Ken did not manage a run at this meeting.
With tethered car racing having virtually finished by 1960, Ken, already heavily involved in Class A and B control line team racing as an engine manufacturer joined up as a pitman with Derek Allen, who was already flying for ETA to create a successful FAI team from 1964 to 1974/5 when ETA closed. Ken was involved, along with several other well known names in the Bob Symes Model World TV programme. Throughout this time ETA was constantly developing their engines with several exciting prototype and development engines being revealed when the company assets were disposed of. More recently Ken became vice President of the Retro Racing Club, a position he held until his death in 2015. The circle has been completed with his son Lyndon running Ken's 2.5cc spur drive and 5cc bevel drive cars at Buckminster during the last two seasons.
| | |
| --- | --- |
| | |
| Derek Allen, Ray Gibbs, Ken & Dorothy Bedford, Alan Cooper C1960 | Ken in a vain attempt clear the Woodside track in 1956 |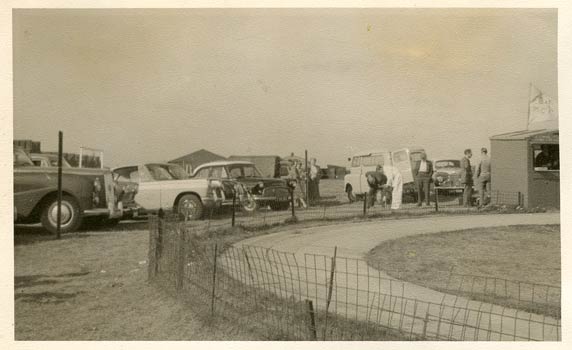 Blackpool Club track at Stanley Park Aerodrome

Jim Dean and Len Barton

Jim Dean, twice European 10cc Champion

Stan Drayson

1.5 & 2.5 European Champion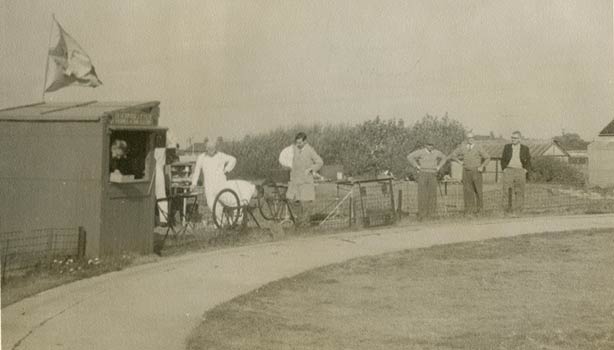 Timing hut and starting area at Stanley Park, Blackpool
| | | |
| --- | --- | --- |
| | | |
| Jack Cook, 3 European Championships | Watching Jack at work | Ken Procter 2.5cc European Champion |
Hand cranked starter. Dean, Thorneycroft
Paul Zere of ZN with cars and pitbox
Stan Drayson,

Thorneycroft, Jim Dean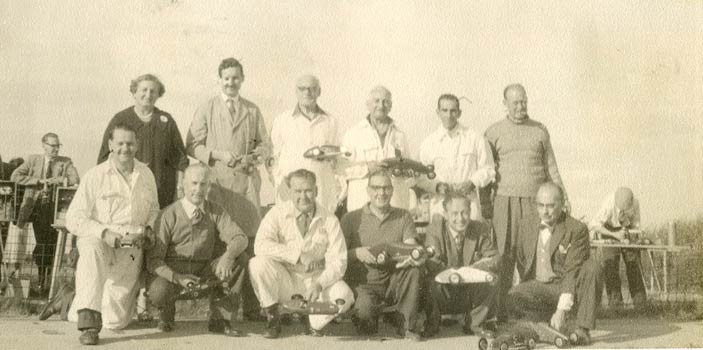 The cast and national champions. Stan Drayson 1.5 and 2.5cc. Paul Zere 5cc. Jim Dean 10cc. Mrs Bibby, Club Secretary
Len Barton

preparing ex Dean

Dooling Arrow for action
Paul Zere with a young Lyndon Bedford
A selection of Photos from the ETA factory
Mixed workforce and some serious machinery on view
| | |
| --- | --- |
| | |
| 29 being started for testing | Inspection work underway in background |
| | |
| --- | --- |
| | |
| Bobtail with ETA 29 and front suspension | Lovely line up of new ETA 29s |