V34. Ernie Clark
Tethered hydroplanes do not often appear on television, but it was an edition of 'Flog It' on BBC 2 in 2006 from the National Motor Boat Museum at Pitsea that featured one of the Victoria Clubs most successful boats, Ernie Clark's 'Gordon 2'. For a long while the boat was known to have been in the possession of Norman Lara, also of the Victoria Club, who exhibited it regularly at Model exhibitions on the VMSC, MPBA and Model Hydroplane Club stands. It was understood though that it had been sold to the USA some time previously, along with another of Clark's boats, but the fact that it had appeared here on TV showed this to be untrue. This few minutes of exposure was to set in motion a very strange series of events that have resulted in this remarkable story.
By a strange coincidence the programme was seen in Denmark by Lee Ryder, who just happened to be the grandson of Ernie Clark and nephew of Gordon, whom the boat was named after. He contacted his Aunt, Clark's daughter Ann, who via the BBC tried to get some further information, without success. It was through a chance discussion at Alexandra Palace that all this came to light, leading to OTW being able to photograph the boat at its home, Victoria Park, during 2007.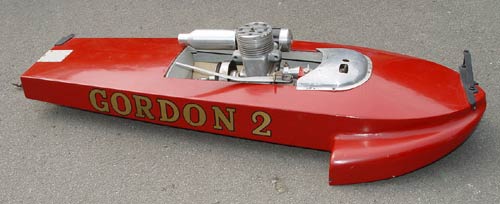 Having seen the boat we were determined to record its history, which we did a couple of years ago, but in true OTW fashion we had to know more about Ernie Clark and his remarkable contribution to tethered hydroplane racing. Happily, Lee was still using the same email address, and through him we were able to make contact with Ann and her brother Gordon, who were able to provide a great deal of personal information about their late father, as well as allowing us access to a wonderful archive of negatives, taken over the years by Mr Clark.
'A'class events in the late 40s and early 50s were dominated by Ken Williams from Bournville, George Lines from Orpington, John Benson of the Blackheath club and Stan Clifford, John Innocent, and Ernie Clark, from Victoria. Places were regularly being swapped about between these five long established competitors, with equally regular appearances in the ME Speedboat Competition. Unlike Messrs Innocent with 'Betty' and Williams with 'Faro' who each used just one boat throughout their career, Ernie Clark changed hulls and engines throughout his, but 'Gordon 2' was to be the most notable.
Ernest George Clark, like so many of his fellow competitors, was a precision engineer. Amongst the companies he worked for was Mulhead Engineering at the appropriately named Victoria Works in Victoria Avenue, Finchley. Arthur Cockman, another very high profile competitor from the Victoria Club, also worked for the same company, which begs the question as to whether one introduced the other to tethered hydroplanes? Cook & Perkins, originally from Conway road, West Green and later Pembroke Road, Muswell Hill were internationally known for high quality optical engineering and photographic equipment as well as scientific instruments, was another of the local companies that Ernie worked for. This was most appropriate as he was a very keen photographer in his own right, creating the wonderful archive of negatives recording his career in model boating, which has been left to his son and daughters. Like many of his fellow club members, his workshop was a room in his home, described by son Gordon as 'a mini factory', and here every engineering and fabrication operation was carried out, including casting aluminium, which was often melted in the grate or back boiler, much to the detriment of the carpets no doubt!
E.G. Clark, as he is referred to in contemporary reports, competed throughout the 30s with a succession of 30cc 'A' class boats called 'Tiny'. These were powered by a superbly engineered single cylinder OHV four-stroke which he had designed and constructed.

By the Grand Regatta in 1938 he had reached Tiny VI and in 1939 the last of the series, 'Tiny VII' was unveiled. The last recorded outing for number 7 was a second place at Malden in South London, a few days before the outbreak of the Second war.

Right: 'Tiny V', probably 1937.
A large proportion of the tethered hydroplane enthusiasts were involved in precision engineering and tool making, so it is no surprise that most of them, like Ernie, found themselves in reserved occupations during the war.

The attentions of the Luftwaffe and fire watching severely curtailed boating activity in London, although Victoria did manage occasional meetings with very reduced entries and it was not until 1947 that competition was back to anything like normal.

Remarkably, at the grand regatta that year it was flash steam boats that dominated, winning every hydroplane class.

Ernie Clark had appeared at the club with a new boat, but breaking with tradition, he named this one 'Gordon', after his son. The four-stroke motor from Tiny, with its remotely mounted magneto ignition system was again in a basic scow type hull.
Although the boat showed good speed at times, it did lack reliability.

This mirrored his exploits with the 'Tiny' boats where Model Engineer reported that he had experienced "Varied luck and more than a fair share of disasters".

At some stage 'Gordon' became a simple 3-point hull with outrigger sponsons and a surface prop.
Eventually the boat was sorted and the 48 season started with a great deal of promise, only to be cut short on the 30th May at Victoria when the line broke during a practice run, doing severe damage to the boat as it hit the wall. A frenzied week of work had Gordon rebuilt in time for the 'International' where a 'most spectacular run' resulted in a speed of 37mph.

Somewhat surprisingly, and advert appeared in Model Engineer offering to exchange the boat and engine for 'a good miniature camera'. The 'owner finishing for health reasons'.

This obviously did not happen as the 'Gordon' series of boats continued to appear for several more seasons.
Hull design was moving on rapidly, and for the 1950 season Ernie had built an American 'ventnor' style boat with integral sponsons for the four-stroke OHV motor. Named 'Gordon 2' although referred to in reports as II, this boat was significantly faster at around 45-46 mph gaining third place in the 'International' and first place in the 'MPBA regatta'.

With 'Betty', 'Blue Streak' and 'Faro' still some 10mph quicker, something special was required in the engine department.
Over the winter Ernie designed and built a 30cc two-stroke motor that used the very latest thinking in racing engine practice, being a very large version of the 10cc McCoy that was being used to such good effect in the smaller classes.

Building an engine from scratch involved producing patterns, core boxes and a series of castings. As a result, a number of fellow Victoria members, including Bill Everitt and Stan Clifford were able to use these castings to produce their own very successful versions of the engine.

Right: Ernie's original concept drawing of the new two-stroke motor.
This short stroke motor galvanized 'Gordon 2' and it became a force to be reckoned with, when it completed a run! Like all tethered boats, staying on the water was always a problem, and being very wide at the bow 'Gordon 2' could be unstable if it got too much air underneath it much like the larger cousins.

To cure this, Ernie made up a set of tether brackets that allowed the bridles to slide upwards so that the boat canted inwards in the style of American boats that used the three leg bridle system.

Missing from this photograph is the V34 on the foredeck, which was Ernie's Victoria membership and MPBA registration number. This suggests that it was taken following the accident shown in a following photograph.
The 'lean' is very noticeable in this picture by Dennis Mattingly of the boat 'tramping on' at Victoria. The photograph was used as the cover picture for the June 5th issue of Model Engineer in 1952.

Far right is a cutting from the local newspaper showing Ernie preparing Gordon 2, the British and European record holder, and being watched by 'Patrick Pilton of Stepney'
At the inaugural Regatta of the Enfield Club at their new lake in Albany Park, 'Gordon 2' recorded a speed of 54.4mph in the normal competition. As there was still time remaining, Ernie was then given permission to attack the 1000yd record, which at 49mph was well within his grasp.

On the second of two attempts, the engine seized, causing the boat to capsize at high speed with the resulting damage. No record, and a boat and engine to rebuild into the bargain.

For 1951 another American influenced hull was revealed as 'Gordon 3'. Longer, narrower, lighter and more streamlined with much of the hull from carved balsa wood. There was no doubt that this boat was quick and at Kingsmere it averaged 61 mph for 1000 yards.
At the 'Festival Of Britain Regatta' Clark just lost out to George Line's 'Big Sparky' after a run off. Gordon 2 was still being campaigned and with a run of 63 mph in July, Ernie Clark was able to claim a new British record. This was not to be the last record for the boat as "E. Clark made a spectacular debut (in the 1951 speedboat competition) with the highest ever recorded speed in the competition of 70.1mph".

This was an outright British and European record for a non commercial engine of any class. 'Gordon 2' never quite matched that speed again but was very much in contention in regattas throughout the following year. A best of 66 mph was sufficient for a silver medal in the 1952 Speed Boat Competition.

Right: Ernie's daughter Sylvia with 'Gordon 3'
What is not generally known is that not only was Ernie a close friend of the Campbell family of Land and Water speed record fame, but also the philanthropic Sir Robert and Lady Bird who did so much to support tethered car and hydroplane racing.
Sir Robert took Ernie to Paris in 1951 for 'demonstration runs' with 'Gordon 3'. They turned out to be far more than this, as he won the 'A Class' at the Paris International Regatta at 62.5 mph.

This was to be the swansong for the boat as it was destroyed when it crashed at St Albans and Ernie reverted to 'Gordon 2' for the remainder of his time racing with the 'A Class' boats.

Right: Sir Robert Bird
There was no doubt that 'Gordon 2' was the fastest of the 30cc boats running at that time, although it did not always perform as it should. One of the last outings for Gordon was at the Coronation regatta in 1953 where it was well beaten by John Benson's 'Orthon' and Stan Clifford's 'Blue Streak'.
This was also one of the last occasions that Ernie Clark was seen competing, as he gave up racing at the end of the 1953 season and severed his connection with the Victoria Club. It was thought originally that it was ill health that had forced Ernie's retirement, as Model Engineer had previously reported that he had been unwell and had to restrict his boating activities for a while.

The real reason was somewhat more unfortunate as someone had complained about a delivery of oxygen and acetylene bottles to his home in Finchley, which resulted in him having to significantly curtail the engineering activities.

One of the last appearances of Ernie and 'Gordon' at the Coronation regatta in 1953
Through his friendship with Sir Robert Bird and the Campbells and with his knowledge of 'Ventnor' hull models, Ernie was closely connected with the development work on Donald Campbell's attempt on the water speed record. Donald used to visit the Clark household on a regular basis and Gordon remembers being given £5 notes by Campbell on several occasions.

The second 'Bluebird' boat K4, which Campbell first used to attempt the record was designed using the 'Ventnor' principles. Indeed, the underside of 'Bluebird' and 'Gordon 2' are almost the same, apart from the scale. As part of the development of the new boat, 'Gordon 2' had its original engine loaned to the 'Bluebird' team for powering scale models and eventually found its way into the Ffoulkes Halberd collection in Sussex with many other Campbell and 'Bluebird' artefacts.
Right: Ernie talking to Dickie Phillips on a visit to St. Alban's in the late 50's
As well as his passion for photography that had led to him building his own enlarger, he became involved with art and painting. He started with 'painting by numbers and progressed to very competent free hand paintings, often giving away his pictures to friends.

He restored a Jaguar SS100 from the ground up and a MK 7, built a tricycle for Gwyneth Weaver, the young daughter of fellow club member and friend, Arthur Weaver, and even turned his hand to clock restoration.

Ill health did affect Ernie, but not for some 20 years after we were led to believe, and it was in 1973 that he was became terminally ill, dying in the summer of that year. For someone of such high profile, his passing did not seem to be mentioned either in the Model Engineer that had featured him so regularly or Model Boats. It is hoped that OTW can make amends for this omission.

Left: Photo by Ernie Clark of his son Gordon at the lathe with the main casting of the motor for 'Gordon 2'
What then of Ernie Clark's tethered hydroplanes and engines? From exhibition reports in Model Boats, it was known that 'Gordon 2' had survived, and further enquiries revealed that after his retirement from racing, Ernie had passed all his remaining boats and engines on to Fred Nail, a young enthusiast from the Victoria Club. Many years later, the boats and engines were sold on to other competitors, but seemingly, no one managed to get a complete boat with its original engine and no one was quite sure just how many boats there were. With the exception of 'Gordon 2', none of the hulls had any names either.
As well as 'Gordon', Norman Lara had obtained four other hulls, but it was the record breaking 'Gordon' that he put back together, fitting it with a contemporary 30cc motor that had been built by another club member at the time, Alan Crabbe.

It was in this was the state that 'Gordon' was seen for many years at the Model Engineer and other exhibitions and later appeared on TV, which brings us back to the very start of the article.

'Gordon 2' as it appeared at numerous exhibitions. Compare Gordon from 1950 with WN70,built by John Hyder, and the current 30cc record holder at 130mph.
Click here for The restoration of Gordon and other boats of Ernie's that have survived.
Our thanks go to Norman Lara, Terry Everitt, Stan Poyser, Fred Nail and Jim Free for help in preparing this and the following article. We are especially grateful to Ann Foakes and Gordon Clark for all their help, information, original material and photographs and also to Lee Ryder, whose original keen observation made it all possible. Also to the Westbury family for photos.
©copyrightOTW/09