Buckminster Tethered Car Track
SAM Retrofest
A conflict of dates meant that we could only be at Buckminster for the Friday session, but what an eye opener that turned out to be? Hopefully, Nigel will add a more detailed report and results from the meeting?
Chris Maggs spent most of the day trying to coax a few extra mph from his Temp engined special, which has gradually improved, almost doubling its speed, and adding to the constant debate over what diesel fuel is the best to use. As the saying goes, ask four diesel enthusiasts what fuel to run and you will get six different answers, most of which contradict the others. What some swear by, others swear at. Chris has also built another, longer version that was being run in, but fell foul of the Redfin cut-off that didn't. Jan Huning's two twinshaft cars performed faultlessly as usual and must have completed thousands of laps of the track by now?
Lyndon Bedford is still searching for those few mph that his vintage ETA 2.5 spur car seems to have lost, but again it is now very reliable at just over 70mph. Another gem from his box of delights was the very first ETA 5 to come out of the dies, number 1 sans the ETA symbol and an entirely different tank arrangement. It is seen here photographed alongside another 5 that pre-dates when they were actually supposed to have been released. His ETA 15 aircar sounds lovely but is just not producing the power of the modern engines.
| | | |
| --- | --- | --- |
| | | |
| Lyndon Bedford's ETA cars | ETA 5 number 1 and one from 1946 | Lyndon starting his aircar |
Talking of which, John Goodall's Aries with its K12 motor was showing 97mph on the timer before the tank proved to be too small. A bit more fuel and the 100mph must be within sight. Tony Goodger has joined us from the ranks of vintage speed flying, having produced a series of aircars using composite construction. His latest example has a full speed cowl and looks the business but was not performing too well until a new prop changed the complexion of aircars at Buckminster completely. Until it also fell foul of a too small tank it was quickly over 100mph and up to 107 before stopping. Tony was not given much option but to refuel and try again. It all nearly ended in disaster as the car launched itself and only a nifty bit of horsing managed to get it away. The instruction was to hit the button asap in order to complete the run, which he did at about 102 to record an average of 106mph. Not sure if anyone saw the fastest lap, but a huge round of applause greeted Tony's achievement. He was using a Profi motor, which shows the superiority of these pure bred racing engines, leaving the traditional 2.5cc diesels way behind.
| | | |
| --- | --- | --- |
| | | |
| John Goodall's Aries | Ex OTW Redfin transformed by Roger Gedge | Roger and John prepare Aries |
Another refugee from the control line circle is Roger Gedge. He has already come up with some nifty ideas using John Goodall's Aries as a basis, but this time round he turned up with a similar car only with a leccy motor instead of a diesel. One small pack of cells and some electronics, of which I know nothing (as Shultz would say for those who remember Hogan's Heroes). That this simplistic approach works was quickly demonstrated with a first run showing laps at 95mph, although a slight aberration in measuring the bridle meant that it did not trigger the timing every lap. This was obviously sorted for the weekend and we received an email showing a run of over 100mph, one of three recorded by Roger over the two days. The only fly in the ointment at present is that as yet there are no established methods of classifying electric cars or parameters to work within. This is being addressed with some urgency as electric power is here to stay.
| | | |
| --- | --- | --- |
| | | |
| Steve Betney's trio of cars | Tony with his aircar | Roger's electric car and the proof |
News has filtered down that Tony managed a run of 105mph to win the Roberts Trophy, remarkable in that since Dick first came up with the proa concept the top speed of these devices has increased by 40mph. Roger Gedge also manage three recorded runs over 100mph with his electric aircar. New thinking, new avenues, new cars, what's not to like? For a video of the day go to www.youtube.com
Racers 1, Forecasters 0. Tether Car Group July meeting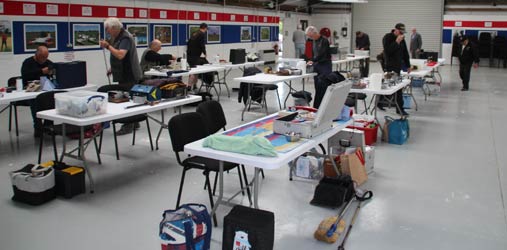 On the basis of the weather forecast, along with the cancellation of other events at Buckminster and around the country, including one day of the Goodwood Festival of Speed, there seemed little prospect of any action at all for the July meeting. Somewhat of a surprise then to find just how many people had ignored that possibility, with probably our best ever entry. Not only the most drivers registered, but between them over thirty different cars set out on the tables. Luckily, and thanks to Manny and Oliver, we had sole use of the hangar, an absolute godsend when the couple of intense showers did hit, but with the strong wind, the sun and a leaf blower niftily wielded by Aaron Monk, the track was quickly back in action.
The cars lined up ranged from five totally original British cars from the early 1950s through to six current FEMA cars. We were also able to welcome Charlie Murphy from the USA with a very original Oliver and a GRP bodied, spur drive 5cc car with an ETA on board, which put him in direct competition with Lyndon Bedford and his ETA 5cc Bevel drive car. New to the group as well were Roger Gedge with the ex OTW Redfin, now with the wheels glued on firmly and Bill Bannister with his home built 2.5cc twinshaft motors.
| | | |
| --- | --- | --- |
| | | |
| Lyndon & Bill with Charlie Murphy | Aaron dries the track | Scene of much chat and some dealing |
First casualty of the weather was Oliver Monk when the heavens opened midway through a run with his 2.5cc FEMA car. With the track dried out there were runs galore including four cars well over 100mph and what was possibly the fastest run, sadly untimed, as Stuart Robinson pressed the button far too early. The timed run was complete before the car came on song but then it really got into its stride when the motor peaked out.
Ian Wingfield with his matched pairs of Olivers was very consistent as usual at around the 80mph mark. Two Eureka powered cars with the motors converted to glow were on the track but still need sorting, but do offer an alternative to the ubiquitous diesel in this class. Lyndon Bedford's interest in the 2.5cc class ended when the 65+ year old rear axle snapped, while his 5cc car still defies all attempts to come to terms with the fuel system. It did work in the 50s but how, he is not quite sure.
| | | |
| --- | --- | --- |
| | | |
| Glow Eureka | 1.5cc Kapusikov | Charlie's 5cc all GRP car, ETA power |
Charlie Murphy's Oliver performed faultlessly but the ETA proved a bit more of a problem as the remote battery connection used originally was a 1/4" GPO jack plug that he had to bypass. The car was based on the the ZN 5cc car with hints of the Terry Special as it was built entirely from GRP, and rigid at both ends. It is a tribute to all the work that Oliver and Aaron have done on the track that the car ran so smoothly, and at around 88mph. A timing glitch gave Lyndon bragging rights as leaves being blown across the sensor put his speed at 110mph. Lynn Blowers also suffered from this as her run at around 107mph came up as 124mph, would have been nice if it was true? This did happen several times as it was definitely a bit windy, not model flying weather.
Another shower at lunchtime brought activities to a halt for a while as we partook of pork pies in the absence of the burger van. The rest of the afternoon passed by in bright sunshine, with another personal best from David Giles who had upped the nitro in his Nordec with a commensurate increase in speed. Nigel Bathe was having problems with his usually reliable 2.1 car, put down in the end to a new tank he had installed. It is fascinating to see what he and Mike Francies are producing with 3D printing and other composite work. Roger Gedge was in the mid 80s with the Redfin, now resplendent in its red, fuel proof finish. Despite the two showers it had been a great day's running with a few reminders about methods of operation and preparation that only experience can provide. Sorry to have a grumble, but after all the work Oliver had done to clean the track and our entreaties to keep it that way, it was disappointing to see cars still depositing raw fuel on the track. Please get your cars sorted so the the fuel stays in the tank!!!!!!!!
| | | |
| --- | --- | --- |
| | | |
| Bill Bannister, car in foreground | David's Borden McCoy | Charlie's original Oliver Alfa Romeo |
The forecast for the Sunday was even less hopeful with continuous rain from early afternoon, so a decision was made to abandon the competitions for another open practice session. This proved very fruitful as Nigel had modified his fuel tank overnight to get the car back to its best at around a very noisy 105mph. Hugh Blowers and David Giles were also clearing wax from people's ears with their cars. David had his Nordec up to 81mph and Hugh his 2.1 into the 80s, but still too rich. Another real original was David's Borden teardrop with a McCoy 60 inside. Borden did not make many of these 10 cars, better known for his magnesium 5cc teardrops that were so popular in the 1950s. This is another really loud car that demands ear defenders when horsing. It is a quirk of the teardrops that would never have been allowed under British rules that the car is set up to run with only the normal size inner drive wheel on the track and a much thinner outer in fresh air, apart from the launch and run down.
Another beneficiary from overnight work was Mike Francies with his experimental 2.5cc bevel drive car. This has his own, ingenious gearbox substitute with damped suspension all round, and a copy of a Fora glow motor powering it all. The bodywork is a masterpiece of composite work, because as Mike puts it 'we can'. The results was a series of runs at 91mph with the motor sounding so crisp with still more yet to come. Gerry Best's car was a bit lively at 80mph with the need for some attention to the spring steel front suspension to stop the car bouncing around.

For once the forecast was almost spot on, although the rain was 30 minutes early and showed every sign of it being there for the duration, resulting in the decision to call it a day. Clearing the site in the rain is never pleasant so thanks to Ian, David and Nigel for braving the elements and especially to Lynn and June for cleaning all the tables. Right: Cunning gearbox and suspension on Mike's car
Ironically, we drove out of the rain on our way down the A1, but my goodness, hadn't we been lucky to have a meeting at all, and especially so well supported? For a video of the weekend go to our youtube channel www.youtube.com
Buckminster comes of age. Tether Car Group August meeting
After a great deal of work by individuals and the Buckminster volunteers, the August meeting was something of a landmark. Even though some of the model flyers had called off, Saturday was a lovely day that saw almost every possible class of car running on the track, from 1.5cc up to FEMA 10cc and everything in between, both retro and modern, diesel and glow. Cars ranged from the detailed, almost scale Ferrari of John Goodall through more functional repros to the experimental designs coming from Nigel, Mike and Gerry.
First on to the track was the 10cc car of the late Mats Bohlin, meticulously restored by Oliver Monk. He has run this in private, but this was its first public gallop, and how lovely to see it performing again? Deliberately rich to keep speeds within bounds it still reached numbers never before seen on the electronic timing system. The system is now hooked up to a laptop so that every run is recorded and a laser printer is on hand as soon as we get some leccy to the timing hut so that every competitor can get a printout of their run. Thanks to Lynn for looking after this and Ian getting it working in the first place.
| | |
| --- | --- |
| | |
| Enjoying the sun and a chat | When do we press the button? |
Three Lev Shprints derived 2.1cc cars on the track although we found out that one of them is actually sporting a 2.5cc motor. Two of them get away very strongly with attendant wheel spin, whereas Hugh's is much more sedate and can take several laps to lean out, which it did for its best two runs ever at over 90mph. Newcomer Andy Soars had abandoned his Eureka Cobra for something somewhat faster, having borrowed Oliver Monk's 'Hot Rod' that he ran several times, eventually wielding the push stick himself and getting it away. He is now looking for something, as he puts it, 'noisier and faster'.
The twinshaft cars seem to have about reached their limit without some radical thinking, a situation that was evident in the 1950s to which no one found a workable solution then either. The scale cars seem happy around the 80mph mark and Nigel has seen 90+ with his four port TEMP, but that now seems to have been afflicted with something as it refuses to run at all.

Mike Francies is showing the way forward with his KMD diesel and his bevel drive glow motor that reached the magic 100mph mark for the first time. The specially designed Swedish Slabang cars with highly reworked 2.5cc twinshafts can also reach this mark, but they are not easy to come to terms with. John Goodall has run his Slabang at those speeds, so it can be done. Right: John's 100mph Slabang
Dave Cunliffe was exploring the extremes with his replica 2.5cc Oliver cars and his FEMA Class 5 car that had not run for around twelve years. His Olivers always start and run well, although stopping one of them proved a problem with a cut off that reset every time, quite odd and the first entry into the 'never seen that before' list. His 10cc car was up in the 140mph bracket before he stopped it with a small mechanical malady evident. David Giles' 10cc Nordec Conquest never disappoints, especially in the noise stakes.

Stuart Robinson had two 3b cars, but neither of these performed as they had last time out and one even ended up on its back, not uncommon with this style of car. A notable absentee was Jan Huning who spent the entire weekend in the speed circle organising the vintage speed contest. Remarkable that all nine of us from the UK that were present at Lyon in 2005 were at Buckminster?

Left: Dave with Class 5 car in 2005 with David Giles and Steve Turley all running at Buckminster eighteen years on
After a full day on Saturday, no one was too bothered with practice on Sunday so that the first round of competition was soon underway. These are run to a nominated speed, and people are getting very good at this as the final figure will show. First up was Chris Maggs complaining that his car was going too fast, a whole 0.565mph over the target. Mike's new glow car had to be withdrawn while his KMD car was well above what he had predicted. Ian Wingfield also knows exactly where he is with his speed being a massive 0.067mph off after the first round with his BRM and 0.154 away with his Ferrari. Dave Cunliffe was still less that 1mph away, whilst the rest of us were either well above or below our targets.
Mike prepares Nigel's 2.1 car, ooh it is noisy though
A brief rainstorm at lunchtime delayed the restart by 15 minutes. Chris pressed the button at exactly the right moment in round 2 to reduce his error to just 0.053mph that would not be beaten. Ian could not better his morning's error so finished second and third with Dave Cunliffe in 4th and the rest of us trailing. To lose when the car goes faster than before has some degree of satisfaction, but not when it is slower than expected. Nigel had a most bizarre experience with his 2.1car as the engine revs kept going up but the car was going slower until he stopped it. When recovered it was found to have no tyres left at all. The continuous wheel spin had worn the tyres down to the rims, another one to add to the 'never seen that before' column.
| | | | | | |
| --- | --- | --- | --- | --- | --- |
| Competitor | Car | Round 1 | Round 2 | Nom Error | Posn |
| Chris Maggs | TEMP HB | 64.015mph | 63.553mph | 0.053 | 1st |
| Gerry Best | Redfin streamliner | 81.125mph | 78.888mph | 4.88 | 7th |
| Ian Wingfield | Oliver Redfin BRM | 78.933mph | DNS | 0.067 | 2nd |
| Ian Wingfield | Oliver Redfin Ferrari | 79.846mph | 79.703mph | 0.154 | 3rd |
| Nigel Bathe | TEMP streamliner | DNF | WD | | |
| David Giles | 10cc Nordec Conquest | 82.042mph | 82.715mph | 2.03 | 6th |
| Mike Francies | KMD spur | 76.320mph | 76.300mph | 2.00 | 5th |
| Hugh Blowers | OM Shprints 2.1 | DNS | 84.804mph | 6.196 | 8th |
| Dave Cunliffe | Oliver Procter replica | 73.871mph | DNS | 0.871 | 4th |
Thanks to all those who helped set up the site, horsed, cleared up and rescued the timing system when it rained.
For a video of the weekend go to our youtube channel www.youtube.com
It's all over now. BTCG Season Finale
It has not been the best year for weather, but the Tether Car Group has faired significantly better than the flyers who had another entire day cancelled because of strong winds. We shared this event with classic aerobatic C/L and scale helicopters. What incredible machines these heli's are, many of them with gas turbines, intricate detail and huge. The size of them dictates dedicated vans, trailers and trolleys to transport them and not surprised to hear they cost anywhere between £20K and £30K. Like the aerobatics it was lovely to have our lunches watching models being flown in the same fashion as the real thing.
It was a very long weekend as Oliver had realised that two huge cracks and four smaller ones had opened up in the track, rendering it unfit to run anything at all. The plan was that on Friday, we would clean out the cracks, pack them as far as possible and then fill them with self-levelling compound.

The smaller cracks could be dealt with using Isopon but it was like watching some intergalactic monster in Star Trek sucking unsuspecting crew members in as the compound kept disappearing into the cracks as fast as it was being poured. Even when we thought no more could be poured in, a hole would appear with a mocking gloop. Eventually most were full, but then it all had to harden, not helped by an absolutely torrential rainstorm midway through the afternoon.

Right: Nigel and Hugh trying to fill the depths of the crack
Back in action at 8.30am with Oliver surrounded by clouds of dust as the filler was ground back to track height. More Isopon and grinding before a very long session with the blower, kindly donated by Manny, to get it all clean for a 10.00 start. That we made the deadline and that the track is now fit to run is down entirely to the work of Oliver, Nigel, Lynn and Hugh, so thanks to them all.

Happily, the sun was shining and another huge turnout ensured that there was always a queue for a run. John Goodall had a table full of cars for sale, both collectables and runnables and much to his delight, had several noticeable gaps by the end of the day.

Left: Oliver grinding and Hugh clearing the dust.
It was great to see Charlie Murphy again, who flew in from the US especially for this event. He had bought another beautiful and original Oliver with racing pedigree in Basel, and rumour has it that there were a few more added to his baggage allowance before leaving Buckminster?
Two new cars on the track and both FEMA Class 3, David Giles with a Sepp NSC and Lynn Blowers with one having its first ever run having been built from a selection of parts in an Ekestrand pan with CMB power. Mike Francies and Nigel Bathe have been working all season on prototypes using 2.5cc team race glow motors, experimenting with gear ratios and setups. These are now singing round happily at 100+mph with more to come as further refinements are planned. Mike is working on a system that has an integrated push stick, onboard battery combination and an electronic cut off to the glow plug.
| | |
| --- | --- |
| | |
| Charlie and Mi Jee | Mike's new car, push stick connection on gearbox |
Lynn Blowers' 3b was also just over the 100mph mark whilst Stuart Robinson struggled to get his two examples to run at all. Apart from those and an unusually recalcitrant Redfin, most cars were running quite happily as often as they were put on the track.
| | | |
| --- | --- | --- |
| | | |
| 1950s Oliver BRM, Redfin powered | 2010 NSC Nova Rossi powered | David Giles pushing off |
Lyndon Bedford had his 2.5cc and 5cc cars that hail from the 1950s and are still going strong, although the fuel system on the 5 is still proving to be a problem. In the day, it used to work, but no one is around now to explain how? It was while comparing his car with another that was thought to be identical that a remarkable discovery was made. Purely by chance, Oliver Monk had a full size plan of a Moore 5cc car and comparing that with Lyndon's, we realised that his car was not a ZN as we had thought but a much rarer, and possibly unique, Ian Moore #11. It had been sat under our noses, unrecognised, for three seasons.
As it was the last meeting of the season, Oliver proposed a novelty competition, a sprint or quick start. Very simply the time was taken from the moment the car was pushed off until the 500m was completed, shortest time wins. First up was Lyndon Bedford who set a cracking 16.67s. Ian Wingfield was just a couple of seconds slower and then David Giles came very close with his bellowing 1066 at 16.99s. Amazingly, Jan Huning exactly equalled this. With no horsing allowed, some cars were at a distinct disadvantage with the next runners varying between 22s and 35s. Jan Huning had a second go just for fun and was fastest of all, but it did not count as only one car was allowed. So Lyndon was the winner, taking home a Christmas pud to mark his success.

So ended a great day's sport, which as it transpired was just as well as the very strong winds on Sunday meant that all flying was abandoned, and worse, the burger van left the site early as well.

Right: Lyndon Bedford, sprint victor with a car nigh on 70 years old
Overnight rain left the track damp, delaying the start, but then those present entertained the large contingent of heli pilots who stayed for a couple of hours to watch and investigate the cars, asking lots of questions about what was going on. Again, very few of them were even aware of tethered car racing but they were surprised by the performance of the twinshaft cars and amazed when the 100mph runs were being reeled off by the 2.5 and 3.5cc motors. David's Nordec engine always gets attention as it does clear the wax from the ears.
| | | |
| --- | --- | --- |
| | | |
| John Goodall's line 'up of sellers' | KMD powered, ready to run | Movosprint, but with a twinshaft |
Roy in the burger van had donated his spare food to the group, so we all feasted on Brie rolls and fruit cake, which was just about it as the rain started and showed little prospect of clearing. Lots of discussions about possible cars for next season, the supply of parts and more novelty events so plenty to look forward to already.

So that's it for us this year, huge advances at the track with the kick boards, timing equipment, computer print outs and a raft of new and faster cars. It seems that the twinshaft cars have just about reached their limit in terms of speed but the magic 100 is possible. A big thank you to those that have organised the meetings, prepared the track, cleared up afterwards, horsed cars and pushed off for those less fortunate. A special thanks to Oliver Monk who has been the driving force in keeping the track in running condition and the catalyst for progress. Finally to Manager, Manny Williamson who has provided so much help, encouragement and advice throughout the year. Here's to 2024.
Short video from the weekend available www.youtube.com
SAM Octoberfest
The Buckminster tethered car season closed with the SAM Octoberfest, the finals of the Redfin trophies and the swapmeet. For October and what was happening elsewhere, the weather was excellent, although cold, which led to fuel problems with castor oil coming out of solution as it was so cold. From 23-3c in two days. Hopefully, Nigel will give details of the Saturday's activities leaving us to pass on our observations of what was going on. More new cars on the track, including a super electric model from Roger Gedge and one of the newly converted KMD team race motors, now running on glow ignition from Nigel Bathe.
| | |
| --- | --- |
| | |
| Roger's well engineered electric car | Glow KMD in Nigel's spur drive car |
Some problems to be sorted with the ESC and ramping up the electric car, but most impressive for a first run. It suffered from what a few cars have experienced recently and that is excessive wheel spin on launching. Mike Francies' car did around three laps with the engine running at 120+mph revs but the car doing 77mph before the tyres hooked up and accelerated the car to just under the 100 with the revs dropping appropriately.
| | | |
| --- | --- | --- |
| | | |
| Engine running 'velo' | 2.5cc team race motors | Saturday 'discussions' |
On Saturday John Goodall won the Redfin 'build' trophy with his lovely Oliver Ferrari and Nigel Bathe the Redfin 'Speed' trophy. Sunday was an open track day with Chris Maggs, and Jan Huning's twinshafts performing as reliably as always. Mike, Gerry and Nigel are still experimenting with gear ratios on their 2.5cc glow cars as the engines are very revvy so finding the correct ratio and tyre size is difficult as very few options are now available for gears. Two amazing original cars appeared, one of the earliest Oliver's yet discovered with possibly the first ever rotary valve RV MkI Tiger and a superb version of the Rex Hays Maserati 4CLT/48 but with no running gear. Photos to follow in the new year.
| | | | |
| --- | --- | --- | --- |
| | | | |
| Pits in the sunshine | Nigel B | John G | John's beautiful Oliver Ferrari |
The swapmeet had the largest number of sellers ever and a very large number of buyers, except they didn't seem to be and the sellers weren't either. In fact the sellers probably bought more than they sold as several remarked that they had only just covered their stall fees. An absolute plethora of aircraft and engines, along with assorted modelling items, far more than could ever be dealt with. It is definitely a buyers market at present with so many choices and multiple examples of any particular item. One seller when asked the price quoted something totally unrealistic as 'that is what he paid for it'. Unfortunately, with the huge number of engines currently for sale, that just isn't going to happen in most cases. Does bring into question after our comments about Old Warden as to whether the current swapmeet concept can continue? This was also the case at the Midland Model Engineering Exhibition, although in the calendar for next year is clearly on its last legs as traders and clubs desert the show.
Video from the Sunday www.youtube.com
©copyrightOTW2023