D.A. Russell and Eaton Bray
1946-1947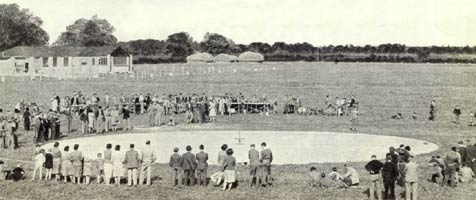 The official opening of Eaton Bray Model Sportsdrome on the 20th April 1946 was a three-day meeting over the Easter weekend; it launched what was to be the start of a full programme throughout the year for aero modellers. Founder members present were Sir Robert and Lady Bird, Mr and Mrs L Stott, Mr E Keil, Mr C A Rippon, Mr C Symes and Mr R Knight. They enjoyed free admission at any time and a private enclosure with clubhouse, car park, washing and cloakroom facilities. The first person to arrive for the April event was R G Lishman from King's Langley and he was given permission to pitch his tent a day early. It would have cost him 6d (2.5p) for an overnight stay or 2/6d (12.5p) for a week.
The first International aeromodelling week was also held in 1946 and saw seven countries represented, numbering 77 foreign visitors in all, from USA, France, Monaco, Holland, Belgium, Denmark, and Czechoslovakia. Considering passports and visa difficulties at that time, it was an impressive entry. The logistics of accommodating and feeding that number of people must have been massive considering all the restrictions of rationing that still existed. Stories have also been told of many a visitor departing with a copy of 'Aircraft of the Fighting Powers' that were stacked in uncased volumes that lined the corridors. At the 2nd International Meeting in 1947 they claimed that there were 73 tents that formed the British contingent alone. Although an advert appeared for an international car meeting, I can find no report of the event ever having taken place.

Right: A. Lammens of Belgium participant's badge for the 1948 Aeromodeller's International
Eaton Bray became the headquarters of the British Model Car Club, with DAR as chairman and Geoffrey Deason as Secretary. The first event the BMCC sponsored was in June 1946 at a three day Victory Gala that took place over the Whitsun weekend. Saturday was for flying and Sunday an Open Race Car meeting, while the Monday was a shared event. Six cars entered and a course record of 57mph was established by Mr W P Jones with an Alfa Romeo, powered by an OK Super 60.
DAR was also an entrant not only with his SS 100 but also an enclosed cockpit Auto Union. This lapped at 35/40mph until a rear wheel fairing was found to be fouling a tyre. Trying it out with just the chassis seemed to indicate everything was OK mechanically but then it was placed incorrectly and ran over the line and headed for the 'horser' before finally crashing. Tried out unofficially at this meeting was a timing system using a time-base undulator, which recorded on a paper tape each time the car passed a photoelectric cell. A large tent provided refreshment for participants and spectators that had turned out for the event.

Left: Russell and Cruickshank starting the SS100
| | |
| --- | --- |
| The second meeting on July 21st saw a Pathe News cameraman record the proceedings. There are several film clips of Eaton Bray that can be viewed on the Pathe website. The Gascoigne MG made the fastest speed of the day at 50mph. At the August meeting the Russell SS100 did well in practice at 50mph but then headed for the centre pylon and damaged its chassis. The 300 spectators were able to witness F G Buck's 7.5cc car the Buck 2a on its final six laps of the day recording a time of 75mph. Drama struck when the rear tyre started to break up and caused the car to career about wildly. Fortunately Gerry was able to cut the switch and all ended without mishap. Right: 1946 Picture Post took this dramatic shot | |
The Illustrated London News carried pictures of the September 1946 meeting under the banner 'A Lilliputian "Brooklands" model car racing at Stanbridge' and followed that in the next two months with further articles.

Far left: No safety fence at early meetings

Arthur Weaver works on his ERA
The first book dedicated entirely to tethered cars had been published by Drysdale Press Ltd in May 1945. This was 'Model Race Cars' by DAR and DBM Wright. It was presented in a large format, and priced at three shillings. Containing notes on the building and running of cars it also offered third party insurance of £5000 for two shillings and sixpence, through the NGA and urged people to join the BMCC.

There was an advert for the seven Drysdale plans for building race cars, priced from 7/6 for the Galeota to 18/6 for the SS 100, and an ad for Eaton Bray asking modellers to try out the 'Brooklands of the modelling world'. Drysdale was still operating from Highgate at this stage.

Right: Front cover showing Jim Cruickshank and Gerry Buck on the blind factory roof.
| | |
| --- | --- |
| | In October 1946 Drysdale began publishing 'Model Cars' monthly magazine with Mr Geoffrey Deason as editor and DAR as Managing Editor with the editorial address now in Rutland St. Leicester. This was originally priced at 1/3d or for twelve issues the cost was 18/6 including postage. Previously 'Model Mechanic' had published items of interest to model car enthusiasts but with paper restrictions still causing problems a separate magazine eased the situation. It was a strange quirk of the paper regulations that an allocation could be made for a new magazine but not to increase the page size or count of an existing title. A magazine specifically for the car enthusiast already existed, printed by Percival Marshall publishers of the Model Engineer, and called 'The Model Car News. Started in August 1946 with the price at just sixpence, it was a serious rival. There were 24 issues of the Model Car published in total the last one being Oct/Nov 1950, before it was absorbed into the 'Model Maker'. |
| | | |
| --- | --- | --- |
| Drysdale also published what are now the standard works on tethered cars, 'Motor Racing in Miniature' by Geoffrey Deason and edited by DAR in 1947 and Model Car Manual also by Deason in 1949. During 1948, the Drysdale Press had relocated to Eaton Bray. | | |
| | |
| --- | --- |
| Harborough Press published 'Model Diesels' by D J Laidlaw Dickson and DAR in 1946/47. A photograph of the Russell Auto Union carried a caption saying that 'This well known veteran of the model car track has been used as a test-bed for diesel research'. The author went on to state that the experiment had not proved to be very successful as 20mph was the most that could be got from the engine. | |
| | |
| --- | --- |
| | With Percival Marshall having a long established group of contributors to the Model Engineer and its other publications DAR had to draw his staff from other disciplines. He managed to assemble a veritable who's who, with many names that would be known and respected throughout the modelling world to the present day. As well as Doug McHard, Phil Smith, Ron Moulton and Geoffrey Deason already mentioned, there were Lawrence Sparey, Ron Warring, Capt, later Col C. E. Bowden, Eddie Riding, 'Dickie' Laidlaw-Dickson and Rupert Moore who produced all the wonderful artwork for the covers of 'Aeromodeller' and other publications. |
Another member of staff who contributed a great deal to early work in radio control was Peter Hunt, ex RAF and working at Eaton Bray as the technical manager. He had applied to the Ministry for continuation of the civil flying licence originally applied for by Marendaz, and it seems to have been granted. August Bank holiday 1946 saw the aeromodellers sharing the airspace with gliders from several clubs and a Tiger Moth and Auster used for towing. Only one incident was reported when an errant model flew down towards the lower end of the field where a full sized glider was taking off. The glider was unscathed and the model sustained only superficial damage. The aeromodellers found that the winners were to get ten-minute trips in the Auster.
During the winter of 1946/47 the country experienced the worst weather for years, heavy snow was later followed by flooding, then fuel cuts, which saw the phrase 'Owing to circumstances beyond our control' being used by businesses on many occasions.
The first meeting of the year at Eaton Bray was on January 26th for the Austin Trophy. The meeting had been abandoned previously because of a week of heavy rain and gales in November 1946. The event had been rescheduled for the indoor track, which was just as well as the conditions were even worse with heavy snow. A 28 ft diameter circle was laid inside the main building and as a concession to the weather the start was brought forward to 1.30pm. Remarkably, considering the conditions, 300 people watched 13 entries and saw Gerry Buck take the trophy with his Buck 2A recording a speed of 70mph. In such a small space it must have been an impressive sight as well as sound.

Right: DAR presenting the Austin Trophy to Gerry Buck
DAR reported to the AGM held in April 1947 "Eaton Bray is not only a pioneer venture, it was a bold and forward-looking enterprise launched at a time of unprecedented austerity and dislocation in many departments of everyday life and activity. Under such unhelpful circumstances it is scarcely surprising that despite the expenditure of very considerable amount of time, money and effort, much remains to be done to bring into actuality the full plans of the originators. Nevertheless, despite the handicaps referred to, plus long spells of atrocious weather. The balance sheet shows a useful trading profit of something over £3,000 and a proposed disbursement in dividends of £640." Generally 1946 was considered to have been a successful year with according to a report in the 'Aeromodeller 10,000 people paying two shillings for admission to the site. As well as D A Russell as chairman and managing director, directors were listed as C Rushbrooke, L Sparey, E Riding, D Laidlaw- Dickson, P Hunt, M Broom, D Wright and H Hundleby.
As an aside, the editorial in the Aeromodeller for June 1947 explained that after writing his piece for 12 years, DAR's absence in May was because he had been rendered 'hors de combat through nothing more sinister than that malady of our childhood chickenpox', caught from son Timothy. This forced him to take a holiday, the first in a very long while, and he chose to convalesce on the island of Jersey.
The calendar for the 47 season showed that things were gaining in momentum. Each weekend from the beginning of April to the end of September, Eaton Bray was the host for various events including four eight day camps for flyers which offered sleeping accommodation in dormitory huts, meals and instructional lectures plus the use of a workshop, all for the price of £5-15-0. Ordinary camping was offered throughout the season, and Pat Newman remembers being taken to the site by his dad and 'being amazed at the number of small tents lined up along a hedgerow. He recalls too 'the garish control centre which I believe was an ex-war department control tower painted with black and white squares. This had a clear plastic bubble on the top where a head appeared during commentaries and whose voice was amplified through four large trumpet-like speakers'.
| | |
| --- | --- |
| | In fact it was a corrugated iron structure built onto an old lorry or trailer chassis. The lookout on the top was like a glass-covered greenhouse. An ancient Fordson tractor pulled the tower to make it mobile. Ron Moulton recalls that each weekend throughout the season the public address system would play the 'Entry of the Gladiators' or 'Oh! What a Beautiful Morning, until the first groups arrived to pay their 1/6d for a day at the Bray. |
| | | |
| --- | --- | --- |
| A green Commer van with seats fitted in the back, driven by Harry Hodges provided company transport from the railway station. By 1948 the site had gained a snack bar, model shop, scoreboards, a canvas water tank and a hut for fuel. Ron Moulton described it as "a holiday camp with volunteers (staff) to paint the floors, make the beds, prepare the salads and run the events. These facilities were way ahead of their time but regrettably unsustainable." | | |
By the middle of 1947 the number of tethered car clubs and societies with car sections had grown enormously. There was a general feeling that the BMCC was not a representative body for tethered car racing as a whole and there was an air of concern that it was essentially a commercial operation and did not reflect the interests of the majority of those involved. In some ways this was directed at the organisation DAR had set up, and even though he offered the BMCC as an umbrella organisation the decision was made to set up an independent national body. Following a meeting of interested parties in October 1947 it was proposed that an entirely non-commercial organisation be set up to oversee tethered car racing in Britain. This was to become the MCA, (Model Car Association) with the specific proviso that 'no individual actively connected with the model car trade or the model car press shall be eligible as a member of the executive committee of the Association or allowed to act otherwise than in an advisory capacity'. Although this excluded everyone in 'the trade', it was very much aimed at Russell and his influence on the BMCC up to that time.
©copyrightOTW2010