Flash Steam Gallery IV
Ian Berne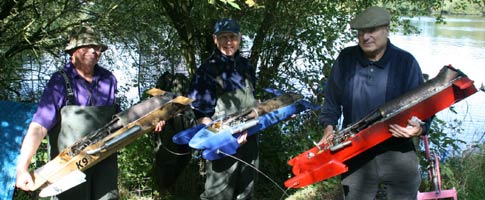 In pursuit of the record
The appearance on eBay in January 2014 of two of Ian Berne's flash steamers was a timely reminder of the most intense period of competition and development in the modern era of flash steam tethered hydroplane racing. From 1981 until 2012, the AS Class record was shared by just two competitors, but during this period and through huge amounts of hard work and constant effort they increased the record from 69mph to 121mph.
The first of these was Bob Kirtley who started running the steamers around 1975 and the other was Ian Berne. Bob's career has already been charted in a 'Who's Who' session, so the sale of the boats presented an ideal opportunity to examine Ian's incredible contribution and achievements. Ian does however hold something of a unique record amongst hydroplane competitors having held the outright British hydroplane record with an IC boat as well as the AS record.

Ian actually started racing tethered hydroplanes before Bob, running 10cc C Class boats from the early 1970s. From the very beginning Ian would spare little expense or effort in order to be the fastest on the water being one of the first in the country to run the new OPS motor.
In 1975, all his hard work paid off when he won the bronze medal at the Welwyn World Championships setting three new outright British records in the process. For the rest of the decade he continued to run the C Class boats as well as venturing into the B Class with a twin cylinder motor based on two HB crankcases. With this impressive outfit he won the B Class at the 79 International before reigning in his hydro activities for a while to indulge in his other passion, which was steam vehicles, both full sized and model.
| | |
| --- | --- |
| | |
| Early steam carriage | Traction Engine model at St Albans |
He had become fascinated by Bob Kirtley's Pisces I, which was the first of the 'modern' flash steamers, so it was no surprise when Ian turned his attention to flash steam hydroplanes, which by his own admission turned out to be all consuming.
| | | |
| --- | --- | --- |
| | | |
| St Albans 1979 OPS A3 | Monster B twin | Bradwell 1980 with Stuart Robinson |
Bob Kirtley started with flash steam hydros around 1975, primarily competing against the then class record holder, Frank Jutton. Frank had set a new record for steamers in 1972 at 69.58mph, finally broken by Bob in 1981 at St Albans and again in 1982 at his home club South Shields, although with the larger A Class boat. It was this speed of 75mph that Ian Berne set his sights on, although it was not until 1988 that he appeared at Bradwell with a competitive flash steamer christened 'Steam Machine'. This was in the style of Keith Norfor's early boat with integral sponsons and very wide, almost vintage by then. The plant though was very much modelled on Bob Kirtley's using the same type of steam generator, burners and motor. The magazine reports often referred to the boat as the 'Kirtley Clone', and Ian freely acknowledges Bob's design influence and help in getting the first motor built, as it was copied directly from parts sent down to him.
Frank Jutton St Albans
Ian with Steam Machine 1
Flash steamers provide disappointment and frustration in equal measures with the occasional glimpse of what might be, and so it was for Ian who experienced numerous breakdowns and failures early on before a run of 74.5mph brought him within a smidgeon of Bob's record. A new hull with outrigger sponsons soon followed although this was somewhat unstable to start with, somersaulting twice at Birkenhead and again at Bradwell, where it self destructed. Ian was not one to let these setbacks deter him and just four months after his first outing with a steamer he broke the AS record at Bradwell, with a run of 79.01mph.
| | | |
| --- | --- | --- |
| | | |
| Steam machine II newly built | Launching at Old Ford | Bradwell, Steve Poyser commiserating |
With Steam Machine II sorted Ian added another 5mph to his record, again at Bradwell with the first ever run of a steamer at over 80mph, leaving the record at the end of the season standing at 84.54mph. Much woodwork and engineering took place over the winter of 88/89 as both Ian and Bob appeared for the 1989 season with new and much more streamlined hulls. After building two engines entirely based on Bob's layout, the motor for the new boat showed a great deal more of Ian's thinking and engineering skills, especially in the area of the pump drives. Instead of running a single reduction gear off the crankshaft and then down the side of the motor, Ian came up with a compound gearbox at the rear of the motor running off a crank follower. He also used a scotch crank mechanism that kept the pump rams running parallel rather than a crankshaft and connecting rod that puts side loads on the rams.
| | | |
| --- | --- | --- |
| | | |
| First record breaking motor | Later motor with gearbox & 'scotch crank' | Yet to be run B motor |
Ian ran both 'Steam Machine II' and a boat that was referred to as 'Flash Too' during the season, often at the same meeting, so it is difficult to know which boat to credit a particular run to. Certainly he was soon back on the record trail, raising it by another 5mph at Milton Keynes to 89.87mph, this speed being credited to Steam Machine II. Ian and Bob were now both getting more consistency with their plants and numerous runs were recorded within fractions of the record.

Bob's Pisces II has had something of a reputation over the years for flipping, being badly damaged in its first season at Birkenhead. In what was to become an all too familiar routine, Bob repaired the boat for the meeting at Hull where he became the first to run a steamer at over 90mph and on the same day the first at over 100mph raising the record by a total of 14mph to 103.61mph.
The lure of the 100mph steamer proved to be the catalyst that brought Stan Poyser back into the sport, again with a plant owing much to Bob's design. Stan also acknowledged the help that Bob and Ian had given him, and although he never broke the record in the A class, Stan would provide stiff competition for the next three seasons, with class, trophy and regatta wins being shared between the three of them on a regular basis.

Despite huge amounts of work and beating his own personal best by 10mph Ian could not get over the magic 100mph missing out by just 0.71mph at Bradwell in August. Alterations were made to Steam Machine II to no avail as it somersaulted at Cerney in September with considerable damage. Bob then effectively put the record out of reach for this boat, with a new best of 107.9 at the final Cerney meeting of the year.
In Pursuit of the Record Part II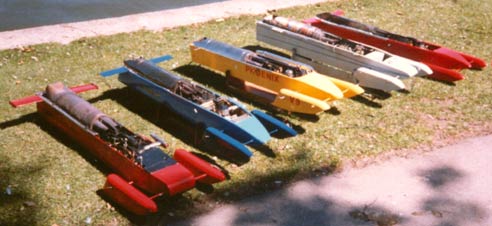 Unique line up at St Albans
Ian Berne 'Steam Machine 2 Stan 'Poyser 'Phoenix' Ian Berne 'Flash Too'
Bob Kirtley 'Pisces II' Frank Jutton A Class
Another new hull was on the stocks for the 1990 season from Ian, whilst he and Bob would be joined again by Frank Jutton to spice up the competition. Ian would run two boats again and for much of the season peppered the 100mph mark, just missing out by fractions until the International, when a run of 102.05 saw him break that barrier for the first time.

All the work on the new boat was rewarded in October when Ian broke Bob's record at Cerney, to leave it at 108.07mph for the winter. This was one occasion when both the A and AS record were held by the same boat.

Left: Ian assisting Frank Jutton at South Cerney
1991 would see another speed milestone beaten when Pisces II took the record back at 110.75mph at Kingsbury. Just a month later at Cerney Ian responded with a spectacular 114.16mph during Stan Poyser's 'birthday bash' meeting.

After this regular exchanging of the record and the incredible amount of development required to take it from 75mph to 114mph in just three seasons, 1992 was relatively quiet although Ian and Bob both came close at times, with Ian's best at 111 and Bob's at 112.

Right: Terry Everitt and John Hyder celebrate Ian's record at St Albans International
Ian with his third generation A Class flash steamer
If 1992 was quiet then 1993 would be something of a landmark for Ian. He had built another new hull over the winter that carried the name of 'Epping Forest Golf Club'.

This boat set a new record of 118.24mph on the 4th of April at Old Ford that would stand for four seasons no matter what he, Bob or the others that had joined the flash steam ranks tried.
Remarkably, Ian also won the Wembley Quick Start Trophy, which times five laps from the first pull of the cord, or in the case of the steamers, flick of the prop. This was something of a hazardous occupation by any standards and usually down to Terry Everitt, as Ian's 'pit man'. Ian would also win the Crebbin Trophy for the first time, which he then held for five consecutive years, an incredible season on all counts.
Ian, assisted by Terry Everitt at Old Ford
After a period of such intense development it was not surprising that this record was not challenged for a while, as campaigning a flash steamer is a very time consuming, and expensive business and there is so much that can go wrong. The pressures and temperatures that the steam generators are subject to are phenomenal and these large boats are always on the ragged edge of stability. Honours at regattas were shared round, sometimes at relatively pedestrian speeds to show just how finicky the steamers can be. Whilst the A class races were still very competitive and the intense rivalry continued, the era of such rapid advance was effectively over. Ian nudged his record up slightly to 118.90mph at the 1997 International, which in turn would not be broken for another six years.
Even so, he was still experimenting and refining the plant, spending hundreds of hours and untold amounts of money trying to break his own record, admitting that it had become an obsession. On one occasion he managed to obtain a length of exotic and inordinately expensive tubing for a new steam generator only to see it burst on the very first run. If all the work on the A class boat was not enough, Ian set about building a smaller version for the B class to try and beat the magic 100mph mark for the first time with the lighter boats. He also commissioned a new, lightweight boat from Norman Lara, but before he could run it, he suffered a stroke that ended his racing career, leaving the B steam plant unfinished as well. Norman and Terry Everitt ran the new boat on his behalf on a couple of occasions, but that was it for the next fifteen years until it appeared on eBay.
| | |
| --- | --- |
| | |
| Record breaking motor | Lightweight boat |
Bob Kirtley continued with Pisces II, but with ex motorcycle record breaker Paul Windross now providing the competition. Ian's record lasted until September 2003 when Bob broke it by the slimmest of margins at Kingsbury. Since then Bob and Paul have added another 10mph over a period of ten years.

Between them, Ian and Bob broke the AS record some 16 times with Ian holding it unbeaten for 12 seasons, not the longest a record has survived, but certainly the longest with your closest rival trying everything possible at every meeting to beat it.

Right: Paul Windross with Bob Kirtley and John DeMott (filming) at Kingsbury
There is a more recent postscript to the above. During the farewell meeting at Rowden Lake in September 2015 an A Class steamer appeared that had not been seen for nigh on 30 years, Ian's 'Steam Machine II'. Having reluctantly put his boats up for sale on ebay, the deal on this one fell through, so in collaboration with Norman Lara, it was decided to resurrect it and give it a run. The Saturday was spent trying to get it fired up after such a long lay up, and after a 'decoke' of the tubes and much spannering, a flick of the prop (yes, just like it used to be done) it was burning and turning furiously, but no one could get the relief valve opened, so that it did the steam equivalent of a shaft run until damage to the valve stopped it.
| | | |
| --- | --- | --- |
| | | |
| Ian at Rowden 2015 | With Bob Kirtley and 'Pisces' | The 'pit crew' Norman, Steve and Bob |
That could have been the end of a valiant comeback, but for the oddest of coincidences. Bob Kirtley had a spare valve that fitted, and with a bit of brazing by John DeMott, all was back in place for the first round.
With Steve Poyser, on burners, Norman on pumps, and Bob on flicking duties and a bit of a struggle, eventually it all fired up and Norman set it off on its first run since the late 1980s.

The boat accelerated away and kept on going until it was lapping at well over 100mph. By the time the five laps were completed, the back of the boat was blazing merrily and a speed of 100.94mph was some 11mph faster than the record it set all that while ago. The fastest lap was 108mph, a remarkable performance and spectacle that had the whole gathering on their feet and applauding.
Paul Windross came close to his own record in 2015, but since then personal problems, the loss of lakes and an unprecedented string of breakdowns has seen no more than half a dozen runs completed over the last two seasons, scant reward for all the effort put in. Building and running a steamer is an incredible commitment in time and engineering with immense levels of frustration along the way. The sight and sound of a flash steam hydro at any speed is impressive but one wonders if we will ever see the likes of Bob and Ian's 'battle royal' repeated again in any class, let alone the steamers?
| | | |
| --- | --- | --- |
| | | |
| Ian Berne 'Steam machine II' | Paul Windross 'K9' | Bob Kirtley 'Pisces II' |
Original photos used for this article have been passed to us over a long period of time so thanks to Jim Free, Bob Kirtley, Nigel Lacey the late Vic Collins, courtesy of Norman Lara and the late Terry Everitt. Information is gleaned from many conversations with Ian and Bob over the past seasons, so thanks to them for reliving that period of competition.
©copyrightOTW2018