Flash Steam Gallery 3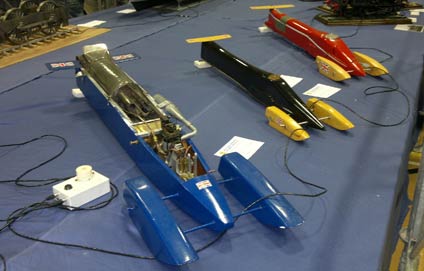 Usually we have to do a lot of digging for this occasional series, but on this occasion our subject was no mystery, being well known to all in the tethered hydroplane fraternity. What was frustrating was that, despite all the material available, we were having no luck in making the connections we needed. In the end, a chance and unrelated remark at the Hydroplane Club Conference and a photo from the 2013 Bristol Model Engineering Exhibition (above) started the ball rolling. In short order we had the answers to the questions we had been asking for nearly five years, allowing us to put this latest edition together.
A few years ago, a flash steam hydro appeared on ebay, along with an entirely spurious description that dated it some 50 years older than it was. It also alluded to it having been the equal of the very best IC racing boats although this did turn out to have just a grain of truth as to its origins as it mentioned Victoria Park.
Even after passing the photos around and asking everyone we thought might be able to help, the builder remained a mystery until we met up with Ian Berne almost 18 months later. He immediately recognised it as being one that he had owned briefly and had been built by Keith Norfor of the Victoria Club.

The boat has since been sold on three times, losing one buyer nearly $1,000 in the process. It is now back in England.
Keith had a long association with tethered hydroplanes, both IC and flash steam, and whilst we knew that he had run steamers in the 90s, we were not aware of his earlier ventures with these. Unfortunately, by the time the boat appeared on ebay, Keith had died and all attempts to contact his son, who had also raced hydros for a time, proved fruitless, and efforts to find what had happened to the boats came to nothing.
Jim Free had sent us a series of photos of Keith's later flash steamers, as well as his IC hydros, that incorporated a rather unusual design and method of construction. A trawl through Model Boats also gave details of both Keith's and his son's racing careers as well as a single photo from an article by Ray Gibbs back in 1979. The article features the British team heading to West Germany for the World championships, but tagged on the bottom are two images that were nothing whatsoever to do with the Championships, which Ray 'could just not resist taking'. One of these was Keith Norfor, erroneously annotated as Ken, along with an early flash steam hydroplane.

This boat shared numerous similarities with the one that appeared on ebay including clockwise running, indicating that Keith's involvement with these must have started around the mid to late 70s when he was already campaigning an E Class (2.5cc) IC hydro.
Regatta reports are very sparse for that period, but Model Boats does mention that Keith took his A class steamer to Birkenhead in 1979, which 'naturally created great interest for spectators and competitors alike. Keith's assistant Brian Munday journeyed back south with singed eyebrows but evidently enjoyed the experience, one of the joys of flash steam.'
There was little indication of how much longer Keith persevered with that particular boat as he became more involved with IC engined hydros throughout the 1980s running C class (A3) and A/B boats. In 1987 he produced new hulls with the entire top as a sleek, removable, one-piece, GRP moulding. Along with son Graham, Keith raced these boats at the 1988 Amiens International. Below right
In the early 90s, a new A class steamer appeared, which unlike most of the others at the time did not follow the engine design detailed by Bob Kirtley in his Model Engineer articles used to such great effect by him and Ian Berne. The motor was very much based on existing two-stroke IC ideas and borrowed components from a Kawasaki. It also differed from other steamers at that time in having Keith's unique vertical pump arrangement with a scotch crank driven off the rear of the crank by compound reduction gears. The two hand priming pumps also worked fore and aft, making the power plant relatively long. The steam generator was very much along the lines of Bob's though, with three flame tubes, although having a flattened top to the casing. This feature was later abandoned and replaced by one of completely circular cross section.
Absolutely no records exist of how this boat performed and it does not seem ever to have been mentioned in any race reports, although contemporary photos show Keith with the boat during at least two International meetings at St Albans.

This was during a remarkable period in modern flash steam competition when there were at least seven A Class steamers being campaigned around the country.
Keith was a long time member of the Victoria Club, spending his working life at Fords. His plan on retirement was to move down to Cornwall, but this was very short lived as he died very suddenly in April 2005. In 2008, his widow Pat offered Keith's steam powered straight runner to Kevin Fleet if he would undertake to restore it.
This has turned out to be a significantly longer project than anticipated as both the plant and boat were in very poor condition and restoring the hull alone has been a major undertaking. Sadly, Pat's health was declining rapidly and she died at Easter 2012, but at her funeral, Graham Norfor offered Kevin the flash steam hydro and other boats as well to go with the straight runner.
| | |
| --- | --- |
| | |
| Keith's unique pumps and reduction gearing | Unusual exhaust arrangement for steam generator |
Kevin later displayed the boats at the Bristol Society Exhibition, and it was those photos that were the catalyst for this article. It was however thanks to Kevin contacting us directly and the information and photos he provided that enabled us to bring the story up to date.
Thanks are due principally to Kevin Fleet for all this information and Lionel Lawley for alerting us to the fact that the steamer had been passed on. Ian Berne and Norman Lara have provided technical information about Keith's boats, while Jim Free and the late Terry Everitt provided photos from the regattas.
©copyrightOTW2015