Internal Combustion Pioneer
W. J. 'Belvedere' Smith
Unfortunately, all was not going well for Smith. Although he was amongst the pioneers of IC motors, by 1913 there were numerous concerns all across the country selling similar types of motors. These ranged from small businesses likes Smith's own company to larger commercial operations that would become household names, such as Whitney, Stuart Turner, Hartop and Bond's. Strangely, an almost identical range of motors were being supplied by a Mr F. Mills from the same area of North London, which were being marketed as Stentor motors by Gamages of Holborn.

What is even more confusing is that the Whitney, Stentor, and Belvedere are almost indistinguishable from each other, which begs the question as to whether Smith was actually producing the castings and kits or using items produced elsewhere in the vicinity? Was this the very earliest example of 'badge engineering'? Certainly in the late 20s Gamages, Bond's and Grays would all sell an absolutely identical engine, designed by F.N. Sharp and derived from the Economic Electric motor. As Smith explained in a discussion with Percival Marshall, owner of Model Engineer "his private affairs in London were prospering none too well, so with a smile and an almost empty pocket he decided to seek his fortune in Australia."
In May 1913 he set sail for Australia, although his family believe that his final destination was to be New Zealand. According to a letter he sent to Percival Marshall, he was intending to set up a branch of the Belvedere Motor Company, for the sale of his engines. The Belvedere Motor Works continued its existence but now at 6 Penn Road Mews. The company does not seem to have survived the first war however.
Alice and the girls were left behind, and it was planned that they would follow on when he became settled. The plan was not to work out quite how he had intended though. Arriving in Sydney on 5th June on the SS Militiades, he looked around for a job but even though he was a first class mechanic with a natural gift of adaptability, the first few weeks were hard. 'There was nothing doing, his slender funds disappeared and he was faced with bills for board and lodging that could not be met.' With the situation looking very bleak, Smith had a bit of luck at last and found a job in a garage and repair shop, where he stayed for six months. He then found a job in a larger works as a head turner, where he was to remain until around 1920.
He soon established himself with the Sydney Society of Model and Experimental Engineers, exhibiting one of his generating sets at their annual exhibition, early in 1914. His claim to be a Model Engineer was certainly proved to be accurate though as he would build an incredible number of models of varying types over the next few years. On 4th August 1914, England declared war, effectively isolating Smith in Australia. How feasible it would have been for Alice and the children to leave in this situation is not known, but before his family could join him, tragedy struck. After a long period of queuing for food in the winter of 1915, Alice contracted pneumonia and died on the 11th of December.
With their mother dead, arrangements were made for the three girls to join their father in Australia and they sailed out to Sydney with an aunt in 1916. After seven years of work, Smith had saved a little money, and armed with little more than his model engineering tools decided to venture into a manufacturing business of his own. He was well aware of the popularity of the wireless in America and Europe so started making condensers and other wireless components for the Australian market. It would seem that he was working in a partnership of some sort as he traded under the name of Mann and Smith of Hurstville in Sydney. Here he set up a small foundry for producing iron castings which were almost unobtainable at the time. With the other machines he designed there was a sufficient product range by 1923 for an 18 page illustrated catalogue to be published. All went well until a slump meant that demand for these type of products dried up, but being resourceful he set up another business manufacturing screws. The price that was being charged for small brass and other screws seemed far too high and he considered that he could make them much more cheaply.
He abandoned making wireless components and went fully into screw making; many of the early machine tools used being to his own design. Smith found a ready market in the instrument trade, general engineering and even the government workshops and the railways. It was to be this business that he would be best known for, as it really took off and he was soon selling absolutely everything he could produce.

The company expanded rapidly, making Smith a wealthy man in the process. It was reckoned at one stage that his factory was the most up to date in the commonwealth and producing millions of screws annually. He did suffer some reverses, especially when a wind storm or 'willy-nilly' (willy-willy) as he described it, tore the entire roof of his factory, costing him over £100 to replace it.
Late in 1928 he came back to England for a trip that lasted something like 4 months. It was his intention to buy equipment and machinery for his factory in Hurstville. During his time in the UK he visited Percival Marshall in the Model Engineer Offices and reckoned that he would only have to work another couple of years before he could retire and then "devote himself to model engineering".
Again events would not quite pan out as intended. In 1926, the eldest of his daughters Lilian had married William Pole and then in 1930 Smith himself married Annie McKechnie Anderson. Three years later, he returned to England with Anne(ie), this time for a holiday. During his stay in 1933 he visited the Model Engineer Exhibition and several regattas. This included the Grand Regatta at Victoria Park, where 'Whit Sunday provided the Victoria Club with something of a sensation; the occasion was a visit from Mr W.J. ("Petrol") Smith, of Australia'. During a 'busy morning renewing old friendships', he met the Club Chairman Mr Heyday, who had served alongside him in South Africa in 1901. Mrs Smith was persuaded to officiate at the prize giving where she would present a prize to Ted Vanner, one of Smith's earliest customers and still using the 'Belvedere' engine.

Mr Davis of the Victoria Club was also still using a motor built by Smith nearly thirty years previously, which Lionel French as 'Spectator in the ME described as "reliable as a clock". French described how "Mr Smith was running model petrol engines successfully at a time when motor cars were a rare and amusing sight, hence the nickname 'Petrol'."
Photo above: Smith (right) at Victoria boathouse 1933

Just before his return to Australia, Smith again visited the ME offices to say good bye and leave a handsome silver cup as a London power boating cup for the next season. Much in keeping with Smith's own desire to champion the cause of the 'under dog', the trophy, to be known as The Belvedere Cup, would be a 'one off' and was awarded at the 1934 Brockwell Park regatta to Harry Sharvell with his boat 'Buster'.

Another of Smith's very earliest associates and fellow IC pioneer, Fred Westmoreland, presented the trophy on this occasion.

Right: Harry Sharvell with 'Buster' and 'Buddy' and the Belvedere Trophy
Marriages were coming in quick succession with second daughter Ethel marrying Victor Cavanagh in 1935 and youngest daughter Jessie marrying Allan Westbrook, a police constable, in 1936. Two years later Smith returned to England for another visit, again meeting up with many of his friends from the worlds of model engineering and boating. In his own words, he worked hard, running the business, producing his own models and indulging himself in one of the many hobbies and interest that seemed to fill his life.
As well as being a prominent member of the Sydney Society of Model Engineers, he also owned a 35ft motor yacht 'Erani', which gained him certain notoriety by suffering engine failure during the passage to Botany Bay on the very day he bought it, and necessitating rescue by the local pilot steamer.

This was later requisitioned by the Australian Navy for coastal patrol work in WW2 and ended up in New Guinea. It was offered back to Smith after the war, but the general condition and bullet holes convinced him that he could do without it. Right: Rescued by pilot steamer 'Captain Cook'
He and his wife had also become very successful breeders and owners of thoroughbred racehorses. Indeed, Mr Mead, their trainer was the only other person aboard the 'Erani' during its rescue. In 1947, Anne's gelding, McKechnie, which she had given her own name to, was showing so much promise that she was offered 1500 guineas for him, which she refused. Another of their very successful horses recalled by family members was Radical.
Smith's grandson Phil, (Jessie and Allan's son) has provided these wonderful reminiscences from this period. "My first memories of 'Pop' were when my family returned to live in Sydney when I was 7 years old; we previously lived in distant country areas with little contact with immediate relatives.

By this time 1947 Pop's business was booming and I can vividly remember being led into his 'workshop' to look in amazement at his array of models: Locomotives – car engines – aero engines etc. shortly after to be presented with my own lathe! He was a man of infinite patience as he would spend hours answering questions that only children could ask. We (my brother and I) would eagerly accompany him to his meetings at the "Model Engineers" much to his delight.

I spent many happy school holidays working in his factory weighing and dispatching boxes of small screws and spending hours in his 'workshop'."
In June 1948, Smith, now 69, along with his wife Anne came over to England on the SS Orion for an extended trip, with the intention of arranging for replacement machinery and a new car to be shipped out to Australia. Oddly, the ships manifest for this voyage gives Smith's occupation as a textile manufacturer. During the visit the Smiths stayed for about a week with the O'Connors, W.Js niece and nephew who lived in Summerhill Avenue, Sidcup.
Right: On the SS Orion before leaving Australia
L-R Daughter Jessie, Anne, WJS,
Front: grandsons Phil left, Robert right


Far Right: W.J and Anne at Summerhill Avenue
Brian O,Connor in front of his mother,
W'Js niece
It was during this trip that he made a final visit to Victoria Park with the O'Connors and their son Brian to sail a model yacht that Smith had helped to complete. Smith used this opportunity to look up Edgar Westbury, who described him as "The one and only 'Belvedere Smith', a very notable figure in the early days of model power boating, whose experiments in the use of small petrol engines for boat propulsion are now a matter of history." Smith showed Westbury photos of 'a very fine 4-cylinder engine and gearbox unit and also some small c.i. engines he had constructed.'
The final years of W.J. Smith's life are somewhat hazy, as little information has been forthcoming until his death from cancer at a private hospital on 21st November 1953, aged 75. His obituary describes him as 'One of Hurstville's leading business men, with interests in New South Wales, New Zealand and England.'

He was obviously very active in nearby clubs and societies and his generosity towards these and other charities noted. There is also reference to an area of the Technological Museum (now the Power House Museum in Sydney) that was named after him and contained 'many varied and valuable models that he had donated to the museum.'

W.J (Belvedere) Smith 1878-1953
Through the unstinting help of Smith's grandson Phil Westbrook, great grandson Gregg Westbrook and great nephew Brian O'Connor, I have been able to add a great deal more about the life of 'Belvedere Smith' than would ever have been possible from the material I had access to. Of the London that Smith would have known, very little exists. His birthplace adjoining Victoria Park has gone as has Harvist Mews where he moved to. The name still exists though as a trading estate.
Orpingley Road where his wife Alice lived has vanished and Andover Square is no more. Hornsey Road and the various addresses can still be traced and the Hornsey public baths that were adjacent to the Smith household have recently been converted into apartments, but would still be recognisable.

On his visits, he saw the changes made to the lake at Victoria Park yet the boathouse would still be the same one he saw built in 1909. Of his two Australian homes in Forest Road, Hurstville, one certainly still exists as a day centre or nursery.
| | |
| --- | --- |
| There still exist items that have a direct link to W.J. Smith catalogued in the Power House Museum in Sydney. In the UK there is Ted Vanner's 'Leda III', built in 1909 with a 'Smith engine' that was still running happily in the early 1970s following restoration by the late Alwyn Greenhalgh. The boat is still in the Greenhalgh collection, although it is some time since it was last seen in public. | |
The other item that was the catalyst for this venture was another of his engines, also built by Ted Vanner that appeared on ebay. This started life around 1909/10, still with the simple atmospheric inlet valve, but was later modernised by Ted, with an extension to the cambox and a second cam and pushrod operating a conventional overhead inlet valve.

This engine was displayed on the MPBA stand at the 1952 Model Engineer Exhibition and described in the Model Engineer show revue.
Another intriguing connection was the arrival on the market in 1921 of the 'Victoria' engine. Charles Lutz, who was Fred Westmoreland's son-in-law, was supplying this motor from an address in Wood Green London. The Victoria was identical in every respect to the Smith engine, so was the Smith, Westmoreland, Gamage, Mills connection stronger than realised, with all the engines having a common origin?

Interestingly, although Smith sailed for Australia in the May, Belvedere High-Speed Model Boat Engines were being advertised through to the end of 1913, but from an address in Penn Road Mews, just off the Caledonian Road.

Right: Model yacht finished and sailed at Victoria on the 1948 visit. Now needing a little TLC
On a recent trip to Sydney, Gregg Westbrook visited the Power House Museum and was kind enough to photograph a number of items from the W. J. Smith Collection. Below is what we believe to be one of his own engines, although it appears to have a set of aluminium fins replacing the original water jacket.
Amongst the items that relate directly to Smith were the model of a screw cutting machine that he had designed and built for use in his factory. The collection of steam engine models and ancillaries are probably from his time with the Sydney Society of Model Engineers. Much of the collection were commercial items that he had acquired over the years including an early British Ambassador motorcycle.

Included in the images was this model steam loco, but we had no further information about it until a copy of the photo CD from Gregg was despatched to Brian O'Connor, who added this marvellous post script.
Very many thanks for sending me the CD of Greg's photos of William Joe's models. It arrived in perfect condition and I have been showing my wife the images.

The most evocative is that of the model loco for which I remember WJ finishing the wheels in his factory in Forest Road. I guess this would have been late 1945 or early 1946 as I returned to the UK at Easter 1946.
My thanks go to everyone who has contributed to this article, both information and photographs. In particular, my appreciation goes to Gregg Westbrook, who provided the catalyst and much of the family related material. Phil Westbrook for reminiscences, Brian O'Connor for documentation and personal memories, Eric Offen and Peter Hill for early records.
Belvedere motor explored.
Update Dec 2014: Earlier this year we were contacted by Robin Storey who had what turned out to be an original Belvedere motor. This version was slightly different to others seen previously as it appears to have the barrel and head from the air cooled version seen in the adverts, which is attached with three bolts directly to the cylinder flange rather than to the two lugs on the cast bronze water cooled type. A copper water jacket has been fitted at some stage and one of the cooling pipes has been moved. Robin very kindly took his motor apart and photographed it so that the design elements of a 100 year old, atmospheric induction four-stroke could be seen in close-up. Thanks to Robin for these images.
| | | |
| --- | --- | --- |
| | | |
| Engine as it would be mounted | Contact breaker and cam box | Reduction gears, camshaft and cam follower |
| | | |
| --- | --- | --- |
| | | |
| Crankcase | Split big end and two piece piston. | Phosphor bronze conrod and piston yolk |
| | | |
| --- | --- | --- |
| | | |
| Underside of motor | Exhaust rocker and huge plug thread | Valves and plug 'port' |
Smaller plug adapted to fit in 18mm thread alongside a new plug and beautiful period carb, both machined by Robin
---
Belvedere taken apart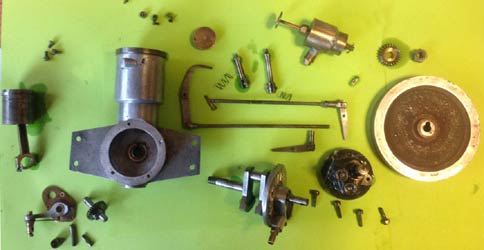 What makes this version of the Belvedere so interesting and sets it apart from the one above is the very early monoblock crankcase with the crankcase, cylinder and horizontal mounts all cast in one piece. This is reminiscent of some of Fred Westmoreland's motors from a similar era, but as yet, it has not been possible to establish any idea of the progression of the design and method of construction. Certainly presented an interesting exercise in pattern and core making. The one piece crankcase meant that the crankshaft was loaded in from the timing side and then a cover plate, complete with cambox bolted to the open side of the case. The threaded end of the crankshaft would have been for one half of the bevel drive to the propshaft.
This motor was again fitted with an atmospheric inlet valve and cam operated exhaust, but someone has cunningly made the inlet cam operated as well by calculating the exact position of a second cam follower to give the correct timing on the single cam. This meant that the second pushrod was coming out the side of the cambox, so an ingenious lever was added that aligned the extra pushrod with the head. A second rocker stand was also added to the head for the inlet valve. The cylinder head is also interesting in that the compression ratio has been enhanced somewhat by the addition of a crescent shaped packing piece riveted into the combustion chamber. It is also of entirely different design and construction to the cast version.
The piston also differs from that in Robin's motor by having a conventional gudgeon pin and two piston rings, rather than a lapped piston, but the split con rod does look similar. The spark plug is an original and identical to those on Fred's engines and the air/fuel device entirely period as well. A look inside these early motors provides invaluable information, so thanks to Rich and Robin for wielding the spanners.
| | | |
| --- | --- | --- |
| | | |
| Engine showing valve gear | Monoblock crankcase casting | Embossed cover plate and cam box |
| | | |
| --- | --- | --- |
| | | |
| Valve gear components | Timing gear, cam and contact breaker | Inlet valve rocker lever and both pushrods |
Ringed piston
Cylinder head with original plug and combustion chamber packing
Air/fuel regulator
Page 1 ←Previous
©copyrightOTW2015