Empty Spaces
Tom Clement 1934-2013
Tom Clement started his model boating career with straight running boats as long ago as 1948, extending his interest to tethered hydroplanes around 1967. His successes in both disciplines are far too numerous to list; yet these include European Championships and a bronze medal in Bulgaria in 1969, and multiple national, area and club championships.

As well as his competitive career, Tom devoted a great deal of time and enthusiasm to the Heaton Club as Secretary and Treasurer, the North East Association and the MPBA, being a member for well over 50 years and Northern Area Hydroplane Secretary for a considerable time.

It was Norman Dixon of the Heaton Club who was to have such an influence on Tom, right from an early age, introducing him to model boating and then mentoring him as he became more involved. Norman would also be the source of boats and engines that Tom has run, right through to his final season.
The sleek straight runner 'Camilla' that Tom has used to such great effect previously belonged to Norman, and the EM 30 motor that Tom used in his first hydro, also came from Norman, having been built around 1938. One of the earliest regattas that Tom attended was at Birkenhead in April 1967, and here he ran the EM 30 motor in a 'Flash' style hull, being beaten into second place by none other than John DeMott.
Tom with his mother Gladys at St. Albans regatta and running 'Camilla'. Photos Jim Free
Apart from the motors of Norman's that he inherited, an early foray with an ETA 29 and a short affair with an OPS Redhead, all Tom's hydro motors have been home built. These range from his early 10cc C class, through the Jay-Cee 15cc of the mid 70s to the monster TEC 30cc from the late 70s. All the casting for these motors were produced by Tom in his 'back garden foundry', inspired by the books of Terry Aspin. The TEC 30 was eventually retired to make way for a more modern schneurle ported motor, built from a set of JDMs castings. It was this motor that Tom used from 2000 through to his last regatta in September 2012. As well as his own boats, Tom also undertook to run the late Doc English's 15cc and 30cc boats, the 15 being honourably retired at the end of 2012.
As well as being a draughtsman and development engineer, Tom was trained as a fitter/turner and had an extensive workshop with numerous projects 'on the go'. As reported a while ago, Norman Dixon's 30cc 'Fast Cat' was restored and run at regattas during 2010, while the smaller 15cc 'Quick Kit' was also under restoration. Doc's 30 was also lined up for a refit and the 15cc Jay-Cee motor was scheduled for some serious surgery to make it more competitive. When we visited Tom, he showed us most of a 4 cylinder OHC Westbury Sea Lion that he had been working on sporadically, but it was the news that Dave Whelan had successfully finished a similar motor, which his father had been building, that spurred Tom on to getting his own version finished.
As well as all the work on boats and engines, Tom had been the prime mover and closely involved with the building and development of an electronic timing system that has now been provided for each hydroplane venue. This will be a lasting legacy to all his hard work in producing the prototype and getting the final versions built. Tom was taken ill in 2011, but after a period of treatment was back for a full regatta season in 2012, although he did say that he thought that this might have to be his last with the 30cc boats as they were getting a bit too much for him to handle.
Tom always referred to 'sailing' his boats, and at the Kingsbury regatta on the 23rd of September he was there with his trolley laden down as usual. The 15cc motor in 'Doc II' proved reluctant to run, which prompted Tom's decision to permanently retire the boat, while 'Hellcat 8' managed a run of 64.553mph. This, as it has transpired, would be the last time Tom Clement ever 'sailed' a hydroplane.
Thanks to Jim Free for images of Tom
In an interview for OTW in 2008 Tom gave us the following insight into his long boating career.
---
How did you start in Hydro's?
The hobby started when I was about 12 or 13 and I used to go to Paddy Freeman's Park in Heaton where they ran a wide selection of model boats, including straight runners and tethered hydro's. I joined the Heaton Club when I was 15 years old and have been a member ever since.
The Heaton Club was formed in 1910, based at the lake in Paddy Freeman's Park, Newcastle-upon-Tyne.
Norman Dixon a club member used to run some really interesting hydroplanes. Norman also ran a Straight Running boat called Camilla II. This is 5 feet 10inches long with a 34cc home designed 2-stroke petrol engine. This is the boat, which I used when I started to travel to other clubs, taking part in straight running events, and achieved some success. 1969 European Championships in Bulgaria came 3rd. 1971 came 7th in Ostend. 1973 Czechoslovakia 7th again and was top scorer in the British team each time. I was three times N E Coast SR Assoc champion, and club champion on several occasions. When the MPBA International came to Welwyn Garden City in 75 competing in class EX (Functional) I managed a maximum score of 300 to win Gold. It meant I qualified for entry in the 1977 Europeans in Russia but I never made the trip. However in 79 I did go to Duisburg, Germany as a spectator and was co-opted to act as a noise judge.
In 1966 I met Jimmy Jones of Birkenhead and it was due to him that I started to build my own engines. He gave me the patterns, drawings and a set of castings for a 10cc two-stroke 'Conqueror' engine, which he was running at that time. To acknowledge all the help he had given me I called the boat 'Jump with Joy' which was a play on his initials and he was delighted with that. Jimmy and I also worked together on a 15cc Schneurle port engine. When he saw my design and I showed him the assembly drawing, he insisted on making the patterns for it. We both made an engine and competed in B class, me with JayCee and Jimmy running SeaJay. Because of this we became really good friends over the years. Jimmy was still running and developing the 15cc engine right up until his death in 1993, although he left all the sailing of the boat up to me. JayCee came to grief at Birkenhead when it was doing about 85mph.
I also build 30cc engines, starting from scratch making the patterns and doing the castings. In the early days using scrap motorcycle parts and a home built back-garden foundry. The engines went into my boats I named Hell Cat, in memory of Norman Dixon. Running in 'A' Class, I sometimes find myself battling with Bob Kirtley and Pisces, flash steam versus IC, in the past I have managed to come out the winner. In 1997 Bob and I produced a two-hour video about flash steam and Pisces. The current Hell Cat is number seven, the engine for which John DeMott supplied some drawings and a casting. That was in 1995 but it took me till 2000 to finish building the engine and hull.
I also have a 30cc-engined boat 'Doc II'; it's the last one Dr English designed, and his widow Cindy requested that I run it in memory of Doc. The engine is awaiting a rebuild.
Do you have an engineering background?
My engineering apprenticeship started with British Engines and trained as a fitter and machine tool worker, involved in general engineering. The department I worked in specialised in air drills for the coalface, I left there when I qualified and became a journeyman. Worked for the Vickers Naval Yard and then various engineering jobs. In 1964 I worked for Sterling-Winthrop Laboratories in Newcastle-upon-Tyne as a development engineer/draughtsman. Left them in 1978 and did contract work after that.
Is there any boat from the past you would have liked to run?
When we were going over to Czechoslovakia in 73 for the Europeans, I stayed with Arthur Cockman. He had the Innocent brother's boat 'Betty' and we took it out onto his lawn to see if we could get it going. We managed to get it to start so took it to Victoria Lake and she did a run of 30mph.
| | | | |
| --- | --- | --- | --- |
| | | | |
| 10cc 1970 | Jay-Cee 15cc 1975 | TEC 30cc 1979 | Clement/JDM 30cc 2000 |
As well as the set of 15cc castings that were given to j, Tom also produced another set for his 1979 TEC 30cc motor. These he passed to Oliver Monk who has built them up into another impressive motor. Whilst the original had Tom's trade mark square barrel Oliver went for the traditional round version.

Thanks to Oliver for photos of his engine
---
The Clement-Jones 15cc engine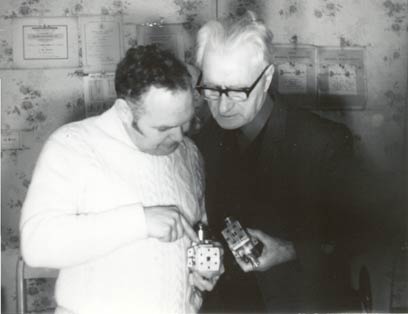 Tom Clement and Jimmy Jones
When I first met Jimmy Jones I was sailing an ETA 29 in a Lambert-Hyder boat. After several events I mentioned to Jimmy that I would like to make my own engine. Typical of Jimmy he offered me the loan of the patterns & drawings of his 10cc engine. This was based on the 10cc Conqueror engine, of which Jimmy had made several, but with the finned portion of the main casting square, this being one of Jimmy's trademarks.
| | |
| --- | --- |
| | This I duly accepted and having had castings made completed the engine. I built a hull and called the boat 'Jump With Joy'. This was a take on Jimmy's initials "JWJ". The first event where I ran the boat was at Birkenhead. When Jimmy was going round filling the score sheet in he asked my "what do you call this new boat, Jump with what"? I replied 'just call it JWJ Jimmy. The look on his face was a picture, as he had not realised the connection. I did not manage a timed run during the event. However, as there was time at the end for practice I had another try. This was successful with my assistant and myself resting on the lake wall without any intention of stopping the boat, Jimmy standing on the bank was saying 'keep it going'. This was when stopping devices were a rule. |
| | |
| --- | --- |
| Several years passed and I fancied having a go at a 15cc engine. I do not consider myself an engine designer but decided to have a go anyway. I was then working as a plant draughtsman for a local pharmaceutical firm, which for me had a split lunch break; I was on the early lunch, while the managers were on the late break. This gave me the opportunity to have a quick lunch then get the drawings of the new engine out and work on them until just before the managers returned. This method was also used for any house plans the work-force paid us for. This was in the early 1970's. | |
When I had the drawings completed I showed them to Jimmy and he offered to make the patterns. This I accepted. I had started to experiment casting aluminium, using Terry Aspin's books as my bible. The outcome was that I succeeded in making several castings, one for myself, one for Jimmy, plus a few spares. I always said that I had an excuse for holy castings as the foundry sessions were always done on a Sunday. About the same time my first homebuilt 30 was made. I cannot remember which was first.
The 15's timing is very conservative by modern standards, but the engine performed well in those days. The bore is 1 5/32" dia. and the stroke 7/8". Both Jimmy and I built an engine from my castings and fitted them into new hulls, one called Sea-Jay the other Jay-Cee. We both had good runs with them.
My great regret was being at a meeting at South Cerney, at a time when the 15 record was still in the mid 80's. My boat was having a good run and when it leaned out the second time I called the timekeepers in, only for the boat to lean out a third time after the timed run. It did just under 90 mph which would have been a new record. The only time that I have been close!

Left: Jay Cee and motor
In the early 80's I gave
Doc. English
a set of castings and that is the engine that I have been running up to the end of the 2012 season. Last year the crankshaft broke. Despite making a new one and giving the engine a full overhaul, it will run on the test bench but refuses to go when near water. I have therefore heeded its wishes and retired it. It will not be broken up but is going to Doc's ex neighbour who we used to call Little John (John Doughty), when he came to the events with Doc. He is delighted at my offer. I now have to clean it up before he gets it.
©copyrightTomClement/OTW2013
---
Update Dec 2014: Following Tom's death, fellow Heaton Club member, Jim Jamieson had the unenviable task of sorting out Tom's vast collection of boats and engines. Luckily Jim is as knowledgeable as he is enthusiastic so that there was no chance of material ending in the skip rather than being identified, re-united with other relevant parts or boats and found new homes. Happily, he also undertook to restore Tom's two earliest hydros, 'Gladys May' an ETA 5cc engined Lambert-Hyder design that he named after his mother, which he ran from 1968 right through to 1980 and 'Jump With Joy' a 10cc boat where the name was a play on Jimmy Jones' initials.
| | |
| --- | --- |
| | |
| 'JWJ' sympathetically restored by Jim Jamieson | 'JWJ' as seen by OTW in 2010 |
This was Tom Clement's first hydro, with a motor that he had built from scratch. The 10cc engine was constructed from a set of drawings, patterns and castings based on a 1066 Conqueror given to him by his mentor Jimmie Jones, hence the name of the boat JWJ. Tom ran this boat from around 1971 through to 1978/79 when he moved up a gear with an OPS redhead. JWJ was good for the mid 50s and won the Birkenhead Open Regatta in 1978.
| | |
| --- | --- |
| | |
| D Class hydro 'Gladys May | Restored Jay Cee 15cc |
Thanks to Jim Jamieson for all the photos and the wonderful restorations he is undertaking.
©copyrightOTW2008