Gerald Smith. " My Life's Work and Hobby".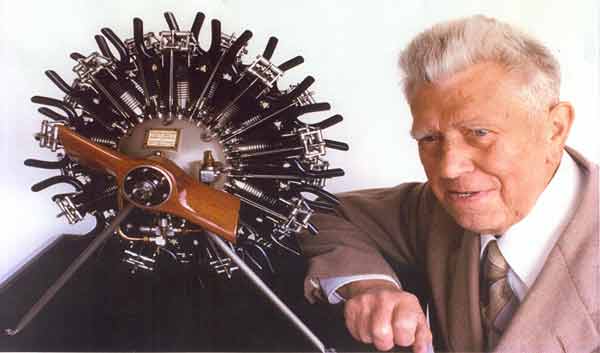 Photograph supplied by John Scott-Scott
Part 1 Aviation
Part 2 Engine Builder
Part 3 The Engines
Part 4 Sale of Gerald Smith's collection
Whenever a Gerald Smith engine comes on to the market you can be sure that it will create a great deal of interest. The sale of Gerald's own collection confirmed that these motors are amongst the most desirable in the eyes of the collectors. Each of his engines was an engineering work of art and in a completely different league compared with other engines available at the time.
Who was the person who produced these, the 'Rolls Royce' of model engines? Sadly, Gerald died in 1990 aged 88, but thanks to the kind offices of John Scott-Scott the following transcript of two lectures Gerald made to members of the Rolls Royce Heritage Trust in October 1987 give a good insight into the man, his career and his involvement in model engine production. John Scott-Scott not only knew Gerald but also has been largely responsible for the engine collection over the last few years. He is now the leading authority on matters relating to Gerald Smith.
Part 1. Aviation.
Gerald joined Siddeley-Deasy (later to become Armstrong Siddeley) at Easter 1919 as an indentured apprentice, working on Puma engines and tooling for the Siddeley-6 car.
Two years later he entered the airframe section of the company working in the fitting shop, assisting in the building of the 'AWANA', a twin-engined troop carrier aeroplane with a tubular steel fuselage. Whilst in this shop he was 'noticed' by Mr Lloyd, the chief designer, who arranged for him to move to the Aero Drawing Office. Soon after this Armstrong Whitworth Aircraft was formed in the Burlington Building and Gerald embarked on three years of general design work on various aeroplanes. These encompassed the SISKIN, ATLAS and ARGOSY 1 for Imperial Airways, the latter having three Armstrong-Siddeley engines.
Gerald also investigated the installation of a 'Panther' in a 'STARLING' aircraft, which was based on the SISKIN and numbered AW 14, the first Armstrong Whitworth aircraft to have an official number.
By this time the Aero Drawing Office had grown to 40 members and Gerald worked directly for the Chief Designer.
In 1928, more 'ARGOSY' orders were received and Gerald was called on to design a long-range fuel tank. Having a semi-streamlined shape it was very difficult to calculate the capacity? 180 gallons were stipulated and Gerald was much relieved to find that the final assembly held 183 gallons!
He then worked on the 'Jaguar' engined 'ARIES', of which only one was made, passing on to designing the interplane struts for the 'ATLAS'. Gerald said, " This task was the most difficult piece of geometry he had ever had to solve".
In 1930 the Drawing Office moved from Parkside to Whitley and Gerald was put in charge of the landing gear section. This led to him designing undercarriage parts for the AW 15 'ATLANTA' which had a 14ft wheel track, with the oleo and radius arms enclosed within the fuselage, a very advanced concept for that period. Eight of these aircraft were ordered by Imperial Airways, each being fitted with 'Double-Mongoose' engines.
In 1934, there followed work on the AW19, a torpedo-carrying biplane with a 'Tiger VI' engine. Only one was made, which after trials became a test bed for the 'Tiger' engine that would be used in the early Whitley like bomber, the AW23. Gerald was involved with various aspects of the undercarriage for this type of aircraft. He recalled one in particular, where he elected to operate from his own workshop, in his own time as a sub-contractor The work was to design and supply landing gear switch assemblies for the 'WHITLEY' bomber, a contract which finally ran to 1200 units!
The Drawing Office staff kept increasing with the perceived demands of the approaching war and at least two complete aircraft designs were being progressed at any one time.
An example of this was the AW29, intended as a fast day-bomber, which was being drawn up side-by-side with the developing Whitley family. The AW29 had a 'Tiger' 8 engine, but the prototype underwent a wheels up landing and was used as a test bed for the 'Deerhound' engines for a few flights before testing was transferred to a Whitley.
Next came what was possibly the biggest challenge to Gerald's design expertise, namely the AW27 'ENSIGN', which was by the standards of the day, an enormous aircraft. It had a wingspan of 123ft and 14 of these were made with, fitted with Tiger 9 engines. Gerald produced an innovative solution for the undercarriage of this aircraft, which had wheels 6ft in diameter and a very tall retraction system, being a high wing monoplane.
His design solution earned him a patent award, and to show his faith in it he participated in the air tests and demonstrated the feasibility of manually lowering the undercarriage when required for emergency reasons. Not many designers actually submit to such a real-life test of their beliefs!
By now Gerald was in charge of both engine installations and fuel systems as well as his existing responsibilities on undercarriages.
1938 saw the first flight of the Merlin engined version of the AW38 Whitley, the design of which had obliged Gerald to make regular visits to Roll-Royce at Hucknall on various aspects of engine installation.
The next aircraft design was the AW41 'ALBERMALE', a concept using only wood and steel, in view of aluminium becoming a strategic material. The aircraft was fitted with Bristol 'Hercules' engines and made its first flight from Hamble in March 1940. Before its eventual production, significant changes to the wing size were necessary as that first flight nearly ended in disaster, but that was another story, which Gerald knew well, as he was watching at the time.
With the increasing air raids on Coventry, the Armstrong Whitworth Drawing Office at Whitley was dispersed to the Golf Club at Milverton, where it stayed until 1945. Much of its work was on modifications to existing designs, such as the 'special Whitley' for the Milan raid. Work also proceeded on laminar-flow wings and the AW52 glider project.
Extensive internal modifications to a 'Sky Master' were also completed in this period, adapting it as a 'flying caravan' for Winston Churchill, having chairs, tables, a bedroom, water systems, extra fuel tanks and a generating set.
In 1946 Gerald Smith resigned from Armstrong Whitworth to set up his own engineering business in Nuneaton having spent 27 very interesting years within the Siddeley organisation.
Part 2. Engine Builder.
Whilst still at school, Gerald had developed a lasting interest in internal combustion engines and soon after joining Siddeley-Deasy he purchased a 5" Drummond lathe. On this he proceeded to make his early engines. In 1922, the first of these, a 22cc air cooled four-stroke, won for him the first of many awards at the London Model Engineers Exhibition. The next, a five cylinder four-stroke radial also gained an award two years later.
This encouraged him to set out on the design and construction of his most famous pre-war engine, the eighteen-cylinder, twin row radial. This began in 1924 and took six years to complete. The resulting masterpiece won for him the Model Engineer Championship Cup and silver medal at the 1930 ME Exhibition.

The engine was subsequently exhibited at the Armstrong Siddely offices in New Bond Street, London, where it was photographed alongside one of the Company's radial engines. Gerald's engine, however, had eighteen cylinders with four valves per head as opposed to the A-S then in production that had just 14 cylinders

Articles detailing the construction of this complex engine can be found in 'Model Engineer' July 14th 1927 and September 25th 1930.
In 1936 he built himself a new workshop and then proceeded to design and build three 15cc single cylinder two-stroke model aero engines. His time was primarily occupied with the 'contract' manufacture of the large batch of undercarriage switches for the Whitley bomber. The new workshop was badly damaged in an air raid on Nuneaton in 1941, so there was an enforced gap in activities until 1944 when he designed a series of engines based on the concepts proven on the pre-war 15cc engines. This led him to start his own small engine business after leaving Armstrong Whitworth in 1946.
In all he made over 300 engines (see part 3 for engine details), known to this day by engine enthusiast and collectors all over the world. The names Magpie, Lapwing and Redwing are secure in the annals of small engine history. Unfortunately, this production line was brought to an end in 1949, due to the introduction onto the model market of engines of a simpler principle (and hence lighter). These were the first American 'glow-plug' engines, followed quickly by British equivalents, and although many firms stayed on with their compression-ignition (diesel) engines the end for spark-ignition had come. The home workshop turned to producing prototype precision equipment for local companies, including Dunlop Aviation.
Photography became Gerald's hobby for the next few years, until in 1979 he became involved with small petrol engines again. He was persuaded to design and construct a special 10cc spark-ignition engine for use in 'vintage aircraft'. This was called the Skylark, fourteen of which were built completely by Gerald, even producing his own castings with his home facilities.
The success of these engines led him to return to four-stroke radial engines, in keeping with his pre-war achievements. Thus was produced the 3 cylinder Osprey followed by the 5 cylinder Buzzard. The sound and handling of these engines was unique as all of these latter engines had magneto ignition of Gerald's own design. Starting was brisk, following a short prime.
Post script. In the remaining years of his life, following the lecture to the RR Heritage Trust, he organised an exceptional display of his engines at the Stoneleigh Model Engineering Exhibition, which became a national attraction. Sadly, by then he was beginning to feel weary after these efforts and his last few years were more restful, apart from machining the majority of parts for a 7 cylinder radial engine to be called the Kite. Unfortunately this project was not completed.
He leaves us with an exemplary story and his engine designs have set all-time standards for both innovation and excellence of manufacture.
©copyright J Scott-Scott2006
Next page Gerald Smith Part 3 & 4