J A Oliver died in 1988 but John S continued producing engines until 2008. He became president of the Retro Racing Club and is seen here with the tethered car track at Olympia in 1995.

The green car being held by Dave Cunliffe was previously run in 1955 at Monza and brought to the show by George Thornton. John Oliver gave it the once over, put it on the line and showing that he had lost none of his touch had it running quite happily.

The second photo shows John chatting to Ken Bedford of ETA engines. Ken had also had a successful career with tethered cars, and like John, using his own engines.
John maintained his interest in tethered cars to the extent that in 2006, along with John Goodall, he travelled to Orebro in Sweden to compete again after some 50 plus years out of the sport. Sadly, modern airlines and cars smelling of diesel fuel were not compatible, so he was unable to run, but the following year was back and showing he had lost none of his competitive element or skill by putting in what was possibly his fastest run ever. In 2009, John Goodall, who also competes regularly with Oliver based cars and engines achieved a long held ambition and broke the 100mph barrier for the first time ever.
| | | |
| --- | --- | --- |
| | | |
| Examining JSOs 'Tiger Two-Five in Orebro | What dressing tables are really intended for | Nils Bjork JSO Jan-Erik Falk |
As well as visits to Orebro John drove up to the Old Warden swapmeet in 2010 and then for the extraordinarily cold event in 2012, a serious trip from Dorset in those conditions. On each occasion he had a stall full of cars, motors and other items that ensured a constant scrum of people around him, talking to him and about the Oliver engines that had made such an impact.
JSO at Old Warden in 2010 examining results of the venture between Tom Ridley and himself
| | | |
| --- | --- | --- |
| | | |
| John Goodall & JSO in 1996 with RCV motor | JSO and Pumpkin in 2012. A last photo. | 'Tiger Cub', 'Tiger Two-Five', Tiger MkIII |
Inevitably, such a successful engine was going to be copied, either exactly, or using similar principles, and several British competitors built their own versions. The Italian Oliver importers produced the ETI, a very near copy around 1955/56, some of which are still in use. In the old Eastern Block, the twinshaft design was continued and refined with thousands of RYTM examples being used in the car kits manufactured for schools and youth clubs. KMD also produced a twinshaft, but this was based on their aero motor so had conventional mounting lugs, as did the very impressive Eureka. All of these motors are still regularly available via ebay or swapmeets.
| | | |
| --- | --- | --- |
| | | |
| Tiger MkII installed in a Movo Sprint | John Goodall's 100mph 'Oliver' | Possibly the only BRM in existence |
Often though, good old bit of British ingenuity was invoked in order to avoid paying out for a genuine Oliver motor with numerous contemporary motors being pressed into service. These were either modified to a twinshaft layout or run with just one wheel driven and a slave axle for the second wheel. Often proprietary parts would be grafted onto a homemade crankcase or an entire motor cast up or machined from the solid. These variations regularly appear for sale in genuine Oliver cars but with ED, Elfin, ETA, AMCO and even venerable Mills motors. A number of examples are illustrated below.
| | | | |
| --- | --- | --- | --- |
| | | | |
| Ken Robinson | ED Bee from a 'Tiger Bomb' | Ed Racer 'tied up with string' | 'Tiger' replica from David Giles |
| | | | | |
| --- | --- | --- | --- | --- |
| | | | | |
| ED 2.46 MkIII | Elfin 2.49 | RVB style Glow motor | Another ED Racer | Much modified RYTM |
In the 1990s Ivan Prior started producing castings and complete cars in an agreement with JS using the original patterns, including the Moore inspired Shadow. Recently a Prior replica Mercedes sold for almost double the price of a complete and original Oliver version. John Oliver made a limited run of Battleaxes and MkII motors, all of which were snapped up and now change hands for premium prices if they ever come up for sale.
| | |
| --- | --- |
| | |
| Ivan Prior Shadow replica | Replica Mercedes and Nine Port motor |
When Ivan withdrew from the market, Peter Hill under the Retro Racing Club banner took over the supply of castings, which he sold for many years before passing them to Dave Coe who took on the patterns, with a view to setting up a business venture with his son. Ill health precluded this so all the patterns were then passed to Eric Offen, who had a batch of each car made. Below is the complete set of patterns that were used for casting replicas.


Tiger two-Five Tiger Cub Tiger Bomb Maserati Mercedes Alfa Romeo Ferrari
Eric found this a bit more daunting than he was prepared for so the patterns then went to Paul Ironmonger who was going to produce castings and later, complete cars. Little more has been heard of this after the first batch of castings. Silvio Angelloni has been producing castings for the Oliver range of cars for a while, but these are probably second or third generation and not from original patterns. With originals and replicas, Oliver cars are probably the most numerous of any tethered car produced commercially.


The full range (almost, no Bomb)
On the engine front, CS in China went into production of MKII twinshaft replicas and single ended motors, although the quality and performance of these were very variable. Unfortunately they have now all but given up with their repro engine business. A few years ago Ian Russell had a run of replica Jaguar motors produced, followed by the MKII twinshaft, and these were of excellent quality, and are again sought after if they come onto the market. In each case these were copies of existing engines.
| | | |
| --- | --- | --- |
| | | |
| ETI Replica from Italy | CS from China | Hand Built Swedish replica |
In 2008 Tom Ridley, then the owner of Clinthill Engineering, came to an arrangement with John Oliver to start producing genuine Oliver engines again using the original tooling. With high quality engineering and input from JSO these motors have represented a worthy and highly successful continuation of the name. In 2015 Tom sold his engineering business but was going to continue production of Oliver engines as a stand-alone venture. Most recently, John Goodall had a limited run of the MKII twinshafts manufactured, which were authorised by John Oliver, probably the only and last new Oliver twinshafts that will be available. Sadly, Tom Ridley died before production could restart, but after a period of negotiation, Steve Fardon, who was the works manager at Clinthill Engineering set up a new company to resume manufacturing Oliver engines and spares, still using the original dies and tooling.
| | | |
| --- | --- | --- |
| | | |
| Part of the current batch from John Goodall | 'Rustler' Jaguar (Ian Russell) | MkII Tiger from Rustler |
On the commercial front we now see for sale original cars with original Oliver engines in place, original cars with alternative engine installations, reproduction castings with genuine motors and repro castings with repro motors. These possible variations present an absolute minefield for potential buyers but there are some helpful clues. Original castings tend to have a glittery silver hue rather than the matt grey of the repros. They are also larger, and noticeably so. Most of the original Oliver motors also have traceable serial numbers.
Dave Coe's shirt and the box lid sums up the Olivers and the Tiger motors
This brief history of the Oliver concern has been gleaned from contemporary reports, letters and magazine articles, but for a full, detailed, authoritative and extensively illustrated history of the Oliver family and their products we suggest you find a copy of 'The Olivers and a Tiger', a superb volume by John Goodall, a totally committed 'Oliverphile'. These are still available from the author at Barton Model Products. In May 1957, following a visit to Ferndown, Ron Moulton wrote a detailed article about the manufacture of the Tiger twinshaft and a general history of the company, which is also well worth reading. This was reprinted in the Retro Club magazine #63 and we believe the original may have been in Aeromodeller.
Sadly, John Oliver died in April 2016 and while we did discuss the concept of the article with him any errors must now be down to us.
We are indebted to John Goodall for checking the text and the generous loan of photos to copy and use. Steve Betney for his valuable input and access to his collection and archive. Ron Reiter for photos of his Oliver cars. Stuart Robinson for giving us access to his motors and cars. John Lorenz, Gary Maslin, David Giles, Bill Langley, Richard Dalby and David Gilbert for photos of their cars and engines. Dave Coe for photos of the Shadow and his shirt, and the late John Oliver for allowing us to photograph him and his personal cars and for encouraging us to pursue this project.
←Previous page
John S. Oliver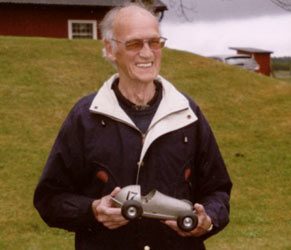 1924-2016
On the 30th of April 16, I received the tragic news from his wife Iris, that my good friend John Oliver had died that morning aged 91.
I first met John at Old Warden in 1998 when I reverently asked him if I could write an article on his family and the engines that they produced from the bicycle shop beginnings in Hayden Road, Nottingham. John's father John Arthur Oliver 1901-1988, later moved to 136 Radford Road in 1930, very close to where the University is today. John was surprised and possibly flattered that I and my readers of Model Engine World should still be sufficiently interested in Oliver Engines, I assured him we would be. The family finally moved down to Ringwood Road, Ferndown, Dorset in March of 1955, for the coastal sailing. Most of their engines were made at this address.
The upshot was that John provided sufficient family photographs, archive material and first-hand accounts that a book became inevitable and for me to attempt to record their fantastic accomplishments, became almost a duty. The book was called "The Oliver's and a Tiger" because it attempted to describe the family and also the engines they had made. Through this developed a strong friendship which lasted until the end.
John's father, had made his first engine after repairing a customer's engine and thinking he could do better. He then made several gradually improving model car engines. John retired from the RAF in 1947 joining his father in business and between them eventually developed a four port twin ball race Model Aero Engine that took the World by storm, The famous Oliver Tiger Mk3 introduced in 1954. If you wanted to win you had to have one and they reigned supreme far longer with their own subsequent development work, than any other engine either before, or since. The fact that copies were produced all over the world and still are today says far more than words can.
Through writing the book I became interested in Tether Model Cars myself because most of the early Oliver engines had been made for Tether cars and I was invited to launch my book in Sweden at a Model Car Club based at Orebro some 100kms from Stockholm. I had a great time and an exceptionally friendly reception, but they all wanted to meet John S. Oliver, so next year I persuaded John to join me and we both took cars to run and shared a room at a local Motel.

John was reliving his younger days and giving me excellent advice born of his vast experience at the same time. He thoroughly enjoyed the trip and we had a great many laughs and funny moments which cemented the friendship.
John accompanied me on two more trips to Sweden and we were joined on the last occasion by Tom Ridley who I had recently introduced to John and facilitated his take over of the manufacturing rights to John Oliver Engines, so that the line continued.
John was a most talented engineer, an original thinker, was exceptionally modest, was honest, never rude and a true English Gentleman. He will be sorely missed by his wife Iris, daughter Margaret, son Brian and his other family members and by all true Aero-modellers everywhere, it was a privilege to have known him.
John Goodall, May 2016
---
The Final Chapter
John S. Oliver Auction 20th January 2017
The 180 mile trip to Dorset and Charterhouse Auction Rooms situated in an old Church at Sherborne was uneventful unlike the drive back home which took the best part of five hours, due to the Satnav taking me through Bristol as the schools closed, followed by two crashes on the M42 and one on the A38 at Alrewas near my home, causing diversions and delays.
I travelled down on the Thursday prior to view the lots which seemed well presented, but not well described and in five notable cases wrongly so. The first was noticed when the catalogue was published and my eye fell on the Tiger Mk1 re-make which John had made from the solid with a screwed in venturi, whereas the original had a cast crank case with integral venturi. It was described as a prototype made in 1973!!, when the original was made in 1949?? The next most obvious error was in describing the Slabang a Swedish design for a dedicated Oliver based engine as a "Bottom's Up". I believe several people contacted the auctioneer's over this including myself. The other noticeable error was the second of two Battle Axe engines described as JSO original when it was a Dunham Replica, complete with Dunham RC throttle. I had not taken much notice of this until the day of the sale when I was asked by a friend if it was a Dunham? Confirming this, I then told the staff manning the exhibits expecting this to be passed to the auctioneer, it wasn't.
| | | |
| --- | --- | --- |
| | | |
| Auction in progress | Remodelled car with twin motor | Unique Tiger 'twin twinshaft' |
The auction day had dawned bright, but very cold with overnight frost and the auction started on time with almost 200 lots being hammered down in an hour!! The JSO lots started at 200 with three steam models followed by the first of three twins, the 5cc flat twin making £750 plus the very hefty 20% plus VAT. The second engine the 6.5cc Schnuerle port flat twin to my mind the most desirable of these twins made just £480 on the hammer. The inline 7cc twin made £920. There were two unused MVVS engines of 26 and 35cc capacity originally wrongly described as four strokes which I got corrected, they went for a miserly £110 and £100 respectively, exceedingly cheap for such superb modern R/C engines? Generally the prices fetched were less than I expected and I should have made more funds available.
The Battle Axe lot 237 came onto the display screen and it was apparent the auctioneer had not been passed the information that it was a Dunham, so I interjected and my hand signal was taken as a bid!! I managed to convey the message, to the auctioneer, but he replied that "as he had taken some bids he must complete the sale" and so carried on, it made £260?? I believe he should have started again with a correct description and it would have prevented possible problems later?
Getting to the three tether cars the first was the very desirable 5cc twin, but prior inspection had shown missing rear axle, missing fuel tank, missing cut offs and engine loose in chassis, not to mention rear wheels held in place with blue tack?? It was knocked down for £1500. The Slabang made £880 and the Shadow just £1200 leaving these shores for America unfortunately.
I had managed to secure the Slabang, John S. Oliver accompanying me to Orebro in Sweden when he bought the chassis castings and other parts off Ulf Ek for this car. Ulf Ek incidentally was co-driver to Stig Blomqvist when they won several World Rally Championships in the Audi Quattro. The significance of the Slabang is that it was the last car and also the last engine that John ever made! It was also the last car he would ever run, again at Orebro on his last visit with me to Sweden. The engine is made specially for the car with non standard mounting and a narrow track of 78mm, the production engines are 102mm track. I feel privileged to be its custodian for a while.
| | | |
| --- | --- | --- |
| | | |
| Selection of planes | The engine lots | 'Pathfinder' pedal car |
The sale of John's items ended with two Pedal Cars, the J40 making £1600 and the rare Pathfinder making £3000, all plus the very high commission rate plus the dreaded VAT. The JB Falcon kit car made by John did not sell reaching £4800 on the hammer which I thought was a fair bid?
John Goodall Feb 2017
---
Oliver Twinshaft Engine Survey
Unfortunately, the highly detailed production records kept by the late John Oliver have been mislaid somewhere leaving no way of referencing this vital information. To try and overcome this, John Goodall and OTW are trying to establish the production numbers of each of the types and the exact numbering sequence for the twinshaft motors produced by the Olivers. This does include Four Ports, Nine Ports, Battleaxes, Furys, Jaguars etc. please, which although not numbered would be of great assistance to know just how many have survived, and of course the prototype 'Tiger', still with U bolt mounting. Is it still in existence?
The models in question that should have serial numbers are:-

Disc valve motors. DI-
Tiger Mk I Now with shaft shaft induction. Identified by tapered cylinder fins and venturi on the right, may be ball raced or plain bearing. RV-
Tiger Mk II Shaft induction but venturi now on left and parallel cylinder fins. RVB-
Tiger Mk II Later limited production examples.
We would ask owners of any of these motors if they could identify the model and whether it is plain bearing or ball raced and locate the serial number and prefix DI, RV, RVB etc and email these directly to John or OTW otwmedia0@gmail.com
We would also be interested to know of replicas of each type and their origins please, commercial or otherwise.
It is important to note that this is a survey, not a register so will be completely anonymous, we are just concerned with establishing serial numbers for each Mk of the 'Tiger' and how many of each type of engine were produced. Engine types can be seen by reference to our article The Olivers Diesel Domination
Thank you for your cooperation in this venture. John Goodall and OTW