Who started it all?
100 years ago, Herbert Teague requested that he be allowed to run his entry for the 1908 Model Engineer Speedboat Competition on a circular course, 'to avoid the hull being dashed to pieces on the rocks that surrounded the water I am compelled to use'. The Editor of ME replied, "As his tethered circular course will operate rather to the disadvantage of the speed of his boat than otherwise, we do not see that any objection need be raised if he is willing and enthusiastic enough to compete under such adverse conditions".

On the 29th September 1908 at Crystal Palace Lake, the SS Folly, built by Teague and V.W Delves Broughton completed 3 laps at a speed of 13.917 mph to break the existing record by more than 4 mph. Racing boats on a tether as opposed to running them free had come into being, and as this very first run showed, was no disadvantage at all.
Peter Hill, the MPBA historian, has recorded the progress of tethered hydroplane racing over the following 100 years in some detail, but to celebrate the centenary, OTW has taken a look at those that 'Pioneered' this new form of racing.
Quite incredibly, The Folly, had been built in the 10 days leading up to Model Engineer's first ever speedboat regatta at Wembley on the 25th July 1908, but who were its constructors? The ME report suggests that Teague and Delves Broughton were 'old school chums' but the story is significantly more complicated than this statement would have us believe.
As is so often the case, establishing Teague's true identity was obscured by the fact that his full name turned out to be George Herbert Birrill Teague, and that he was, somewhat surprisingly, born in Geelong, Victoria, Australia. Teague's father James was a homeopathic surgeon who had emigrated to Australia from England in 1860, marrying Eliza Miller, a Canadian in 1862. Teague was born in 1864, to be followed by brothers Francis Miller, who died in infancy, and Daniel Gilbert Miller, and in 1872, by a sister, Violet Helen Evangeline. While relatively little is known about George (Herbert), Violet went on to become Australia's foremost female artist.
Teague's mother died in 1874, and in 1876 he gained a stepmother when his father married Sybella Elles, a half sister Una in 1878 and half brother Lionel in 1882. 1876 also saw Teague starting his secondary education at Melbourne Grammar School, and it was here that he was to meet Delves Broughton who was to become a lifelong friend. The 1880s was a period of severe financial depression in Australia, so in 1884 Sybella brought all the children over to England. Her aim was 'to deliver GHB a reputable career in engineering', and he got introduced to Messrs. Easton and Anderson, of Erith. Teague wrote that 'I was placed in rather an awkward position in the works, being neither pupil or apprentice or paid workman, but allowed to work there and roam over the works to see anything that was going on, the only condition being that I should always be there at 6am on pain of instant dismissal. Needless to mention , I kept time, and was never late once. However, owing to the long hours and the climate of Erith being very different to Australia, my health broke down. I was sent to San Remo for the winter, and on my return was put into the drawing office, as my health still remained unsatisfactory.' Teague made the decision to follow a career in art and went to the Slade School University College and then St. John's School of Art.
Teague's mother Eliza had been an artist so it seems to have run in the family. Violet meanwhile was pursuing her education in art both in England and around Europe. In 1889, George married Augusta Isabel Aspinall, and they left England for Italy. Teague spent much of his time living in Florence on the Pont d'Vecchio teaching art, as well as painting.

He established his own atelier specialising in watercolour and portraiture and his works include a landscape commissioned by Queen Victoria, which is believed to be in the Royal collection. Teague then had the misfortune to get run over by an omnibus which broke his humerus.

Whilst recuperating from the accident he started reading The Model Engineer and this sparked his interest in building model boats.
Vernon Warburton Delves-Broughton was born in 1865, but in England. He was part of an extended family, all of whom were either in the army or in some form of government service. His father, also Vernon, was employed by the treasury in a series of foreign postings with the result that the family would stay with relatives whilst they were in England. In 1878 the Delves-Broughtons found themselves in the state of Victoria in Australia and 13-year-old Vernon was enrolled at the Melbourne Grammar School. He became captain of the shooting team, of which his friend Teague was also a member. The friendship between Vernon and Herbert would develop over the next four years until in 1882, Delves-Broughton returned to England to take up an engineering apprenticeship at Easton and Anderson of Erith in Kent. Teague remained at the school until 1884 when he moved to England with his stepmother and joined Vernon at Erith.
As an engineer, Delves-Broughton would travel the world working on major Civil Engineering and engineering installation projects. This is how he came to be in Greece in 1896 for the Athens Olympics, where he acted as 'minder' for the Australian Edwin Flack during the marathon. He had been working on a pipeline project near Thebes, during which time he met and married Frangiski da Ponte, the ceremony taking place at the British Consulate in Piraeus in 1899. Delves-Broughton was a keen model engineer and in an article submitted to the Model Engineer in 1930, talks about building at least '6 electric dials' in the early 1890s, using a 3-½ inch Britannia lathe. At least one of these clocks was destroyed in an earthquake in 1896.
After another major project, this time in Brazil, Delves-Broughton returned to England, and Annerly Hill, Norwood. Around the 11th July 1908, Herbert Teague called on him and suggested that they should build a boat between them to compete in the Model Engineer regatta at Wembley, two weeks hence. If this was not a ludicrous timescale, it is alleged that the two of them then spent the next four days and most of the nights, discussing the design.

They decided to use the hydroplane design by W. Blaney of the Victoria Club that had been published earlier in the year in ME. Vernon concluded "Folly was a very appropriate name, when you consider what a pair of idiots we were to try and build a record breaker at ten days notice".

Even using some commercial hardware and a modified Stuart Turner twin high-speed steam engine, it was an amazing achievement that they should complete the boat in time for the regatta, and no real surprise when it failed to live up to expectation. Although demonstrating 'bursts of speed' the basic layout of the steam plant was wrong and the valve drive pinion failed, bringing to an end their attempt on the 'record.
With the boiler relocated to improve the riding and other minor alterations, The 'Folly' was taken to Crystal Palace Lake for a number of trials where it was run on a tether for the very first time. On 28th September 1908, Mr Maurice Wilson A.M.Inst.C.E timed the first ever official run of a hydroplane on a tethered line, and Graham Withers of Upper Norwood signed the certificate as witness. 'A 5ft long bamboo pole was stepped into a rowing boat and secured with three guys. About 16yds of strong fishing line was attached via a spring balance to a swivel on the top of the pole, and to a screw eye on the side of the boat. Owing to the depth of the water, the model was launched from the rowing boat and the tether line paid out until it was at full stretch, and then the timing of the laps could begin'. The run of 13.917 mph beat the existing record held by the Arkell brothers 50cc petrol engined 'Moraima' by 4.2 mph. This would be the last time for 28 years that a petrol engine would hold the speed record.
Shortly after this, Teague travelled back to Florence, and on 29th November broke the record yet again, but this time with his own 'B' class boat 'Incubus'. The speed of 15.05 mph was also achieved with the boat tethered and running on the river Arno. Herbert Teague and 'Incubus' would raise the record to 19.76 mph in 1909, 20.63 mph in 1910 and to 21.7 mph in 1911. The run on 16th May 1910 was fully documented, even down to the split times for the laps and the fact that it was timed on a stopwatch made by Tiffany of New York. James Cummings timed the run and a G.H Garraway was the witness
The 'Folly' was run on a straight course at Clapham Common Long Pond in 1909 and a report in ME concluded that there would be a time when 'all speed competitions would be held on the circular course'.

At the end of the season, the boat that started tethered racing was put into retirement and replaced with the single step 'Folly II', which won a certificate at the Model Engineer Exhibition in 1910.
'Folly II' under went a surgical operation and appeared later in the 1910 season as 'Folly III', breaking the 'C' class record set by the original 'Folly' with a run of 14.15 mph, but by this time Incubus held the outright record at over 20 mph.

At a speed trial on the Intermediate Lake at Crystal Palace on 13th August 1910 Folly III completed a run at 16.99 mph with a fastest lap at 17.84 for a class win in the 1911 Model Engineer Speedboat Competition.

Right: Original watercolour by Teague in 1910 of 'Folly III'. 'Getting on the plane.'
The main alteration was a shortening of the bow by about 6" and curving up the front plane in order to get the water line length below the one metre limit. The steam plant remained essentially the same as in the original 'Folly'. Behind the main step is another smaller step which enables the engine to be placed lower in the boat.
Both Herbert Teague and Vernon Delves-Broughton seem to have withdrawn from active participation at the end of the 1911 season having 'acquired a collection of medals and certificates'. In the 1912 ME Speedboat Competition, 'they swept the board completely' being the only entrants. Teague gained a silver medal in Class B with ' Incubus' and along with Delves Broughton another silver with 'Folly III'. The pair shared a bronze medal for a speed of 9.17mph with a boat called 'Owl'.
Although not competing any more, they both maintained an interest in hydroplanes with Vernon submitting articles and letters to the ME, as well as revising and editing various Marshall publications. In 1930 he produced a detailed treatise on propeller design including results of experiments carried out with the assistance of pupils at the Crystal Palace School of Engineering. This resulted in protracted correspondence from the likes of Lionel French and Edgar Westbury who had significantly different theories to propound. Teague was a regular visitor to the ME exhibitions on his visits from Florence and according to Percival Marshall ' usually had some ingenious ideas to discuss and to illustrate with his facile pencil'.
Teague's view on the advantage of circular course racing
The cartoons above appeared in Model Engineer in October 1911 where Teague was credited with originating circular course running. Three weeks later, the Editor of ME published an apology for this as Mr Stant, Chairman of the Manchester Society of Model Engineers where Fred Westmoreland was a prominent member, had written to the ME in 1903, proposing this form of running. This was in response to the newly created ME Speedboat Competition that required all runs to be taken on a 'straight course'. The Editor's apology goes on to point out that 'whether Teague devised the method independently or followed up Mr Stant's suggestion, he was the first speed boat builder to demonstrate the practicability of the idea'.
It is believed that Delves-Broughton had a son in Corfu soon after his marriage, but twin boys in 1916 must have been something of a shock to him and his wife. He had moved from Norwood to Croydon by this time, where he lived until his death in November 1936. His death certificate incorrectly records his age as 74 when he was actually, just 71.
Teague continued to split his time between England and Italy, working in munitions and artificial limb making and serving as a Special Constable in London during the First War, returning to Italy in 1919. In 1927 his stepmother Sybella died in London and his half sister Una returned to the family home at Trawalla near Melbourne to live with Violet and Dr Teague. Herbert travelled out to join them for his father's birthday in 1929 but in September of that year James Pascoe Teague died.
Teague was forced to return to England in the late 30s when the political situation in Italy under Mussolini became untenable. He chose to live in Devon where his father's family had originated. He had married again, this time to a Devon girl, Mollie Brown. His time was spent 'constantly engaged in planning and executing alterations to his new home'. It was there in Brixham that he died on the 5th March 1944, aged 79.
Thus it was that 100 years ago, an Australian artist living in Italy and an English civil engineer who also spent much of his working life abroad, built a boat in just 10 days that created tethered (circular course) hydroplane racing.
The man who did 'start it all'.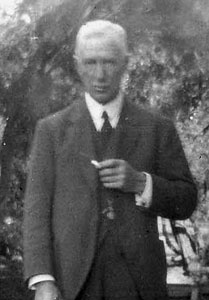 George Herbert Birrill Teague in 1929
Thanks go to Peter Hill for technical details. To Felicity Teague for information relating to the Teague family and the above photograph.
Also to Melbourne Grammar School.
©copyrightOTW2008