Jimmy Jones and 'Wee Gareth'.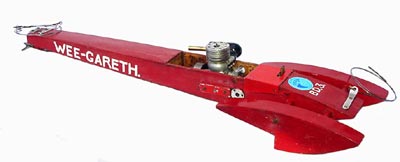 'Wee Gareth' is a very typical example of British 'C' class 10cc tethered hydroplanes from the 1960s, before aerodynamics, streamlining and tuned pipes became the norm. There are no concessions to beauty however, it is long, narrow, and simply constructed, with a view to producing maximum performance from the home built 10cc racing engine. 'Gareth' was built in the mid 1960s by one of the icons of the tethered hydroplane world, Jimmy Jones.
| | |
| --- | --- |
| Jimmy, like so many other hydroplane enthusiasts, was a toolmaker and worked for BICC in Liverpool from around 1955. He started his involvement with tethered boats in 1937 with the first of the 'Miss Fyre' series, a 9cc two-stroke engine in a kipper box hull. In 1946 he wrote an article in the Model Engineer featuring 'Miss Fyre II' that had gained him first prize at a civil defence exhibition in Liverpool. The hull was the 24" ME design published in 1939 with a Kittiwake engine that he built himself in the early years of the war. He thanked Edgar Westbury and the Model Engineer "For setting him on the way". Jimmy was a prolific builder with at least 4 'Miss Fyre' hulls and engines, no less than 10 hulls in the Mambo series, Sea Jay with its engine built as a joint project with Tom Clements and others as well. Jimmy with his 'trademark' beret and his wife Ethel competed across the country from 1946, right through to the 80s, racing their stable of 10 and 15cc boats. | |
As well as building his own boats and engines, Jimmy was responsible for encouraging and helping numerous other competitors, including Tom Clement who was to become a life-long friend. He provided 'enthusiastic guidance' for the current A/S record holder Bob Kirtley to develop his highly successful flash steam hydros. Two of his colleagues at work, Frank Burns and apprentice Don Mason, also built boats under his guidance.

Jimmy lived in Maghull just to the north of Liverpool and was founder member of the Maghull Model Engineering society in the late 30s as well as forming the Maghull Boys Club in 1945. He was also prominent in the Crosby Model Boat club that raced at Crosby lakes just a stones throw from his house. When the Maghull MES folded around 1950 he moved to the Birkenhead Club acquiring the registration BD3.
The bright red 'Wee Gareth' first appeared in 1966 with Jimmy fulfilling a promise to name it after his grandson. During its competitive career two very different engines were installed and it is seen here with one of a pair of home built engines, with distinctive square fins on the cylinder and cylinder head.

These motors had originally been built in the 50s and one had powered an early 'Mambo', while his wife, Ethel, had used the other identical motor in her own 10cc boat.
From Jimmy's own regatta book comes this record of 'Gareth' winning the 'C' class event at the Birkenhead Open Regatta in April 1969. This run of 56.51mph also gave Jimmy the Club Championship.

We are indebted to Alec Graham for the loan of Jimmy's Regatta Book.
The second 10cc motor was built from the same castings as the engine in Dick Phillips 'Foz II', one of the most consistently successful home built 10cc motors and one of only two home built 10cc motors ever to hold the outright British record. Similar in style to a Dooling 61, Jimmy's version of the motor produced initial runs in the mid 50s. Gradually the speed crept up in to the 60s, but Gareth was unable to compete directly with the McCoy and Dooling motors that were tending to dominate the class. By 1972 this engine had been removed for use in another boat.
| | | |
| --- | --- | --- |
| | | |
| Motor built from 'Philips' castings. | Components of 'Dooling' style motor. | Square fin engine in 'Scorpio'. |
The 'new boat' never materialised and so the 'best' Dooling style motor went back into Gareth for a while, before the boat was put into semi-retirement around 1975. One of Jimmy's original square fin 10cc motors is currently in R. Hymer's 'Scorpio' in the tethered hydroplane collection at The National Motor Boat Museum.
| | |
| --- | --- |
| In 1976 Gareth was loaned to the Heaton Model Boat Club where George Wade and his son Malcolm ran it for 3 seasons. Sadly, in 1979 at Birkenhead, the motor gave up the unequal struggle. George made a new crankshaft for the engine, but that was not the only damage the motor had sustained, as John Cherry discovered when he became involved with the boat. When he stripped the motor down, he found that the port bridges in the liner had all been broken in the 'blow up'. A colleague, Bob Fearnly, machined up a new liner which John then fitted, completely renovating the engine at the same time. He gave the boat a run at Jimmy's home club in May 1987 but did not record a speed in either round. | |
Gareth returned home around 1990 with the engine complete but the boat generally showing signs of age. By now Jimmy was in his late 80s but he restored and repainted the boat. In 1992 he passed 'Wee Gareth' to Stuart Robinson, another very well known and successful competitor, who intended to race the boat in 'vintage' competitions. It was given an airing at Welwyn on 6th June 1993, where it gained the MPBA badge seen on the foredeck.

The following weekend Jimmy Jones attended the Northern Area Championships at Hull, where Tom Clement ran 'Mambo X' for him, as he no longer felt himself to be safe in the water. It was to be his last hydroplane meeting as Jimmy died on the 28th June, 6 months short of his 90th birthday
| | |
| --- | --- |
| Long time friend and fellow Birkenhead member Alec Graham started running 'Mambo 8' with a class A/B commercial engine in 1988. Following Jimmy's death Alec also ran Mambo's 9 and 10 with the original 15cc class B motors. | |
In 2005 'Wee Gareth' was passed to a member of the Retro Racing Club for preservation. The 'knock off' mechanism had been removed at some stage leaving two aluminium bushes in the sides of the hull that had been plugged with fluted dowels The long aluminium cowl used with the 'Dooling' type engine had been shortened to match the one originally used with the square fin motor, which would leave the up swept venturi open to the elements. The rear half of the silencer was missing and a round head screw had been inserted into the end of the rear sponson bar for bungee launching that became standard practice. Otherwise 'Gareth' was just as it was built over 40 years ago. Apart from a clean and polish, nothing further has been done to the hull.
| | |
| --- | --- |
| | A new 'knock off' mechanism and cowl have been produced and fitted whilst the engine was stripped and checked over. The joint faces on the front and backplates just needed a very light skim to true them up and that was all that was required. After giving it a thorough clean and making new gaskets, the motor was reassembled. The machining and fits in the engine are amazing as it spins so easily and smoothly, yet with the plug in there is oodles of compression. A new silencer was 'reversed engineered' using the remaining part and existing photos, with new internals added to give an appropriate level of 'silencing'. |
| | |
| --- | --- |
| There are other examples of Jimmy's boats still in existence, but 'Wee Gareth' stands as a testament to the skill and enthusiasm he displayed throughout his 58 year involvement with tethered hydroplanes. There is every expectation that 'Gareth' will be run again at some stage as a fitting tribute to a man that helped and inspired so many others. | |
Grateful thanks to Peter Hill, Jim Hampton, Tom Clement, Alec Graham and John Cherry for providing information, racing records and photographs for this article.
©copyrightOTW2008