One of the greatest frustrations for tethered car enthusiasts has the lack of opportunity to run their cars in Britain. If you were a member of the BTCA and raced either a modern FEMA car or a more vintage model, then there were the European tracks, but for the collector, home builder and fun runner there was little opportunity, unless you were prepared to risk the compass circle at Old Warden, and its propensity for wrecking cars. It was something of a red-letter day then, when it was announced that the inaugural meeting of Peter Hill's Great Carlton Raceway would be on 12th June 2011.
| | | |
| --- | --- | --- |
| | | |
| Oliver putting the 'Goer' on the line | Oliver's 'school car' | PAW 'lightweight' |
The Retro Racing Club holds a unique position, having been set up by Peter Hill in 1996 to 'Encourage the building and running of tethered racing cars of the more traditional type.' This was later extended to include vintage tethered hydroplanes as well. Peter started by publishing a regular newsletter that ran to seventy issues over twenty two years and then expanded the club's activities by offering numerous drawings, castings, and a variety of tyres to assist those interested in building or restoring cars.
| | | |
| --- | --- | --- |
| | | |
| Almost a 1066 Conquest | Steve's 'Ollie's Rocket Racer' | Running as it used to be |
Conscious of the need for a facility to run cars, Peter built a track at his home, which became the regular venue for Retro Club members for fun competitions and thoroughly enjoyable 'days out'. Apart from the couple of portable poles that were set up on car parks in the South West, the track at Souldrop was the only permanent facility available in this country. This was used extensively until the end of the 90s, when a move to Lincolnshire brought an end to the 'Souldrop Speedway' and the opportunity to run cars.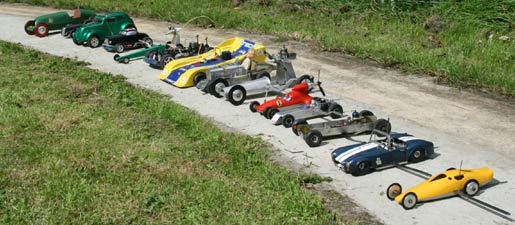 There were promises and hopes surrounding possible sites for new tracks which all come to nought and the BMCC portable track did offer some facility until that group imploded so spectacularly. The only prospect on the horizon was that Peter did intend to build a new track when time and money allowed. Eventually construction did start, but an unfortunate series of health problems and family tragedies meant that the track was not finished until 2010.
| | | |
| --- | --- | --- |
| | | |
| Dick Roberts' sidecar | Peter Hill's 1066 MRC | Faster than a speeding bullet? |
The track at Great Carlton is 7 laps to the ¼ mile and with the pouring of a wide apron during the 2013 season offers the ideal and unique opportunity to have a run with anything vintage or vintage style, as long as a certain degree of common sense is involved speed wise. Since the Retro Club has been in operation, members have build dozens of cars of amazing variety, as well as rescuing and restoring original models, and here is a chance to try them out.
| | | |
| --- | --- | --- |
| | | |
| Beautiful Cleveland air-car | Russian 'school car' | Cox 049 'flyer' |
The regular meetings have shown that the track is a viable proposition, and lets hope it encourages more people to run what they have, and build a few more suitable cars. If you have an interest in tethered cars, especially being able to run them, then it is certainly worth joining the Retro Racing Club. For further details of the Club and the long list of available plans, both for cars and tethered hydroplanes, contact Peter Hill by the power of electronic communication at arty.pole@gmail.com
| | |
| --- | --- |
| | |
| Wallace and Grommit car with Green Frog | Pumpkin with aero motor converted to a twinshaft |
New Class of car
Peter has proposed a new class for 2019 based on a direct drive 2.5cc motor, either one of the many commercial twinshafts or with wheels attached directly to the crankshaft of a single ender. A clutch can be be added between the motor and the wheel if desired. Rytm, Eureka and KMD twinshafts are freely available and there are regular ads for suitable cars from the Baltic States and beyond, such as these examples below.
Ready to run imports, plenty to chose from on eBay.com
Above left: various designs built on different home-made pans and bodies. Above right: the two readily available twinshaft motors, RYTM and Eureka plus a scale period Fl car. Oliver "Maserati" with a replica Jaguar twin-shaft fitted, plus a wooden bodied car that 'with a bit of detailing' could easily be turned into a 1950's Fl car. This has the cylinder to the rear and the small Tee-bar is used to adjust the compression.
Left, the standard Russian 'schools car' kit. The blue car is to the plan whilst the silver car has the top body cut out repositioned to allow better access to the compression screw and extended fuel pipes for easier fuelling.

The car number 4 on the kit box is a modified version with the engine flipped over so compression screw at the back, larger wheels and extended front axle

As long as you avoid the 'ever hopeful' vendors, it should be possible to be on the track for around £200 and a long lasting acquaintance with the push stick.

For a 'build it yourself' version for the new class, see Steve Betney's superb build article.
Meetings at Great Carlton, most are Sundays.

April 28th May 12th June 23rd July 28th

* note change Aug Friday 23rd Sept 15th Oct Friday 18th
---
Hannah Bypasses Gt Carlton
With the country in the grips of yet another storm, prospects for the first track day of the year did not seem too bright at one stage. Certainly, Saturday was wet, very cold and extremely windy but Hannah appeared to be wandering off up north leaving Sunday looking relatively dry. In the event, not only was it dry but warm and sunny by mid morning, sufficient to get the tables and chairs out. The chance to blow out the winter cobwebs and run a car was sufficient to ensure one of the largest turnouts for a very long while, with parking spaces at a premium. Only illness and ongoing domestic issues stopped it being the biggest ever. Lovely to see Keith Bragg back in action after a rough winter and the Monks, less than 24 hours after a long haul flight.
Enjoying the sun after Hannah left via the North Sea
Several new and refurbished cars on show that we could marvel at, vintage, modern and something never before seen in this country. John Goodall had his usual box full of goodies, including an original, series one Oliver 2.5 Tiger with a twinshaft motor that had us all guessing and an Eastern European aircar that adds a new dimension to those described in Steve Betney's article. Several of us had seen this particular device on ebay, but John pressed the buy button. Remembering Oliver's 'flying tail' car, John's with its distinctly powerful KMD motor would be interesting to say the least.
| | |
| --- | --- |
| | |
| Original Oliver Tiger 2.5 | Eastern European aircar |
The only true vintage cars were three that had belonged to the late Dr Rankin. Two of these he had built from scratch for DC Wildcat motors, as he lived just round the corner from the DC factory in Barnoldswick and the other a M&E Wasp in almost original condition. As none of these had been started in sixty years and were found completely gummed up and covered in muck, it was going to be a happy few minutes on a starting cord to get them fired up. Indeed, it was to be the firing up principle that caused the major frustrations of the day. Several of the cars for the new direct drive class had new TMP or RYTM motors that refused to run, even if they could be turned over. The motor in the lovely Ferrari 312 started OK, but a split fuel tank had that back in the car. Steve Betney had his Lotus and Cooper cars that he has described, but again the motors proved reluctant. His new weapon was an RC motor bike, converted for tether use, which would have been fun to get away, if the motor could be persuaded into life. Something of a pattern emerging here.
| | | |
| --- | --- | --- |
| | | |
| Oliver and John with Steve's bike | Starting the Ensign in Doc 2 | Doc 1 after its first run in 60 years |
Dick Roberts was first up with his 'sidecar' and the newly rebored Oliver motor. Jan Hunning did the honours with his non-electric finger, Hugh horsed it off and various stopwatches agreed that it was going fast, new track record, but still not leaned out fully. Jan then put his Russian car on the line with its RYTM that starts perfectly and reeled off the laps in the low 50s using larger tyres than the standard ones. Next up was Doc 1 with its DC Wildcat motor. Once Jan realised which way it went, sixty years just rolled away as it ran happily in the mid 30s until the tank was dry.
More frustrations and swearing in the pit area as diesels refused to run so back on the line for Dick, with Jan giving the motor a little tweak. It was still not completely clean, but was noticeably quicker for another new record and the first recorded run at Gt Carlton over 70mph. Congratulations to Dick for persevering with this radical design. Unfortunately, John Goodall's KMD motor refused to run cleanly so that we never got a chance to see how this type of car would handle the track. It does have suspension on the coupled front wheels but relies on the prop thrust line, vestigial wing and centrifugal force from the cable to keep it all balanced.
| | | |
| --- | --- | --- |
| | | |
| Steve and Babs make tank repairs | Dick supervises Jan | Two new track records |
Two diversions on the day were a viewing of Peter Hill's marvellous O gauge railway layout that would put many club railways to shame. Dozens of locos, wagons, buildings and accessories, all landscaped with hundreds of feet of Hornby track, points, crossing and turntables, all nicely ballasted. If that was not enough to keep us amused, he has also built a boating lake so that if the cars don't run, we can revert to steam, clockwork or electricity for a bit of fun.
| | | |
| --- | --- | --- |
| | | |
| Twinshaft motor, Elfin based? | Part of the O gauge layout | Pete Hughes testing the pond |
Thanks to Peter for hosting the day and Anne for the copious quantities of tea, and great to see so many people turning up. Just a pity that too many motors refused to join in the fun. Bit like hydro racing really? More new cars in the offing for the next meeting, scheduled for May 12th
---
May Track Day
With the May meeting following so close to the April one, it was decided to use it as a practice day for those who attended. Only a few runs were timed and those included my Layat, which recorded just under 35mph. The Russian diesel now fitted seems to be running in gradually and it now completes a run without slowing down.

Pete Hughes 1.5cc Glo Cat aircar made a 34.8 mph run and both his Cox Prop-Rod and all alloy .049 wheel driven car was stable at 30mph, which is more than can be said for the Wallace and Grommit special. After fitting a new prop it started to go faster until a transverse oscillation started bending the alloy pan-handle. "A steel one will be fitted before it's next outing". Dave Coe had brought some spares along and Keith Bragg's, ex-radio stockcar, also changed hands. However, the highlight of the day was viewing the new Redfin twinshaft motor, which Pete Hughes had brought along, and yes, the Club Raylites fitted perfectly.
Thanks to Peter Hill for the report.
---
Track Day 23rd June
Despite the havoc that the rainstorms had wreaked, just south of Gt Carlton the previous week, the track and surrounding areas were absolutely fine and the prospect of reasonable weather ensured another excellent turn out on the day. Several new cars to investigate and a few that had been re-engineered since the previous meet. It was lovely to see Jack and Gill Bell up from Essex. Jack had a stable of cars to try out, including only the second Eastern European aircar that we have seen in the flesh.
Steve Betney 'enjoyed' another torrid day of engineering and modelling mishaps, a great pity as he always brings some lovely models along. Biggest disappointment was his brand new version of Dick Roberts 'sidecar' design. Steve had taken the concept one stage further in adding fully damped suspension front and rear and upped the 'power race' significantly by bolting a Parra motor into the beautifully sculpted nacelle. Unfortunately the fuel pipe came off from deep within the nacelle and could not be reattached without major surgery. Steve's fuel proofer also proved wanting, a sad debut for what could be an exceedingly fast model.
| | | |
| --- | --- | --- |
| | | |
| Parra powered aircar | Russian aicar | Fuel proofer that isn't |
An early runner was Pete Hughes with his 'Testors Special' and a Prop Rod. He does seem to have the mastery of these little motors, whether they are of Cox, Wen Mac or Testors parentage. The Prop Rod always makes me nervous with the whirly bit right where the fingers are, and all too often, whirly bit and fingers coincide with the resultant bloodletting. The wheel driven and air car recorded almost identical speeds at 29mph. Dick Roberts was on hand with Kevin Richards as pit crew to give the record holding 'sidecar' a run. Now totally stable it went off well, close to its record, if not faster, but then slowed down to around 65/66 for lap after lap, ending up very hot. One of the two variables of a diesel was either too much or too little, but as always, the question is, which? For the second run twiddling was done but the fuel tank parted company before the timed run could be completed. Rumours of at least two other 'extreme aircars' means there could be some serious competition. Mmm, that MDS piped glow in the drawer?
| | | |
| --- | --- | --- |
| | | |
| Clipping on Dick's 'sidecar' | Neat 2.5 ZN car with PAW power | Oliver on horsing duties |
The first of Jack Bell's cars was an AM 10 powered pusher that kept turning sharp left and hurling itself onto the infield until a slight adjustment (a hefty bend) to the tether arm had it running happily around 40mph. Pretty impressive for 1cc of diesel power. Jack's Russian aircar was a different kettle of fish as I had no real idea how to horse one of these. This one had been fitted with an extended front axle with the two wheels separated, but there is still no fore and aft stability apart from the prop thrust. After a couple of tries we did get it away, only for the rear induction diesel to run out of go.
| | | |
| --- | --- | --- |
| | | |
| Assimilating proposals for Buckminster | Jack's aircar | King Cat |
Next up was Pete Hughes' King Kat air car, which is very short and top heavy, but now gets away but enjoys some very lively laps in the mid 30s. Jack had a most unusual model with a Gilbert motor driving the front wheels through a clutch. It took a while to get it started and find a suitable needle setting and after one false launch it was away, screaming its little heart out. Before it could be timed, one of the plastic wheels hubs succumbed and it fell off the track. Slightly larger tyres should see it going even faster.
Oliver Monk had his Eureka powered Cobra on hand, one of the few twinshaft motors that starts easily. A simple plate chassis and a pressed steel scale body is an ideal route to a very useable car for the track. This one runs happily and looks the part as well. A new visitor to Gt Carlton was Alex Phin, supplier of the new 'Redfin' twinshaft we commented on previously. Boxes were seen to change hands on the day, so there is the prospect of more of these seeing track action in the future. The car project to go with these motors now seems likely towards the end of the year. Alex is planning to be able to offer a complete kit that will allow you to be on the track with minimal engineering and sourcing of parts. Oliver also gave us all an update on the proposed track at Buckminster. Most of what has been written has now been superseded and an entirely new plan is up for consideration, which should be much more practical for running tethered cars.
| | | |
| --- | --- | --- |
| | | |
| Oliver starting Jack's 'Gilbert' | Peter, Pete and Alex | Ferrari 312 T |
Several cars have come in from Russia and the Baltic states, both scale racing cars and more functional designs. Oliver Monk persuaded Hugh to give his Ferrari 312T its first run after the failed debut last time when a large hole opened up in the fuel tank. No such problems this time and a few minutes finding a setting had it running happily at just on 50mph. There is more speed to come, and at the price Pavel is charging it is a bargain way to get under way if modelling skills are lacking.
Somehow, five hours of running and chatting had flown by so it was back on the road with everyone facing fairly long journeys, although the A47/17 for once was relatively quiet, it was the M1 that proved less than enjoyable for those headed south. Thanks to Steve Betney for the additional photos and we would like to think he has a bit more joy on his next venture up to Lincolnshire. Talking of which, after deciding that the next meeting would be on the 21st July, a discussion amongst those present revealed a preference for the following Sunday the 28th, so please note, that's when it is.