One of the greatest frustrations for tethered car enthusiasts has the lack of opportunity to run their cars in Britain. If you were a member of the BTCA and raced either a modern FEMA car or a more vintage model, then there were the European tracks, but for the collector, home builder and fun runner there was little opportunity, unless you were prepared to risk the compass circle at Old Warden, and its propensity for wrecking cars. It was something of a red-letter day then, when it was announced that the inaugural meeting of Peter Hill's Great Carlton Raceway would be on 12th June 2011. Initially though, the track would only be open to members of the Retro Racing Club.
| | | |
| --- | --- | --- |
| | | |
| Oliver putting the 'Goer' on the line | Oliver's 'school car' post run | The 'lightweight' flying high |
The Retro Racing Club holds a unique position, having been set up by Peter Hill in 1996 to 'Encourage the building and running of tethered racing cars of the more traditional type.' This was later extended to include vintage tethered hydroplanes as well. Peter started by publishing a regular newsletter, which he is still producing, and then expanded the club's activities by offering numerous drawings, castings, and a variety of tyres to assist those interested in building or restoring cars.
| | | |
| --- | --- | --- |
| | | |
| Almost a 1066 Conquest | Steve's 'Ollie's Rocket Racer' | Running as it used to be |
Conscious of the need for a facility to run cars, Peter built a track at his home, which became the regular venue for Retro Club members for fun competitions and thoroughly enjoyable 'days out'. Apart from the couple of portable poles that were set up on car parks in the South West, the track at Souldrop was the only permanent facility available in this country. This was used extensively until the end of the 90s, when a move to Lincolnshire brought an end to the 'Souldrop Speedway' and the opportunity to run cars.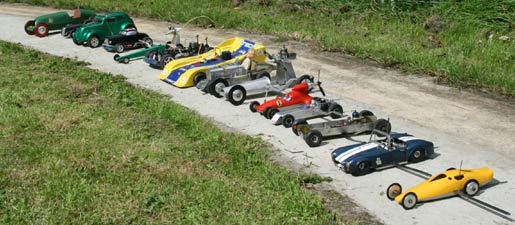 There were promises and hopes surrounding possible sites for new tracks which all come to nought and the BMCC portable track did offer some facility until that group imploded so spectacularly. The only prospect on the horizon was that Peter did intend to build a new track when time and money allowed. Eventually construction did start, but an unfortunate series of health problems and family tragedies meant that the track was not finished until 2010.
| | | |
| --- | --- | --- |
| | | |
| Dick Roberts' sidecar | Peter Hill's 1066 MRC | Faster than a speeding bullet? |
The track at Great Carlton is 7 laps to the ¼ mile and with the pouring of a wide apron during the 2013 season offers the ideal and unique opportunity to have a run with anything vintage or vintage style, as long as a certain degree of common sense is involved speedwise. Since the Retro Club has been in operation, members have build dozens of cars of amazing variety, as well as rescuing and restoring original models, and here is a chance to try them out.
| | | |
| --- | --- | --- |
| | | |
| Beautiful Cleveland air-car | Steve Betney starts the 'proper' way | Hugh Blowers' Cox offering |
The regular meetings have shown that the track is a viable proposition, and lets hope it encourages more people to run what they have, and build a few more suitable cars. To this end, Peter has opened the meetings to interested people outside the Retro Club. There will obviously be a charge for non-members that Peter will refund if they subsequently join the Club. If you have an interest in tethered cars, especially being able to run them, then it is certainly worth joining the Retro Racing Club. The quarterly magazine has a mix of new and old material, and probably most useful, an extensive 'for sale' and 'wants' section, a facility that we are unable to offer on the website. For further details of the Club and the long list of available plans, both for cars and tethered hydroplanes, contact Peter Hill by the power of electronic communication at arty.pole@gmail.com
---
2017 Track Days at Gt Carlton (revised)
30th April. 28th May. Sat 17th June. 16th July. 20th Aug. 3rd Sept. Sat 30th Sept.
Please check on the dates nearer the time before making a trip as events sometimes conspire to require changes.
---
A couple of current projects.
The first of these cars is based on what was going to be a Pitbox item, but in the meantime it has been sold on and a body added. The original chassis was built in the 1940s by the then owner's father and featured a most unusual clutch arrangement for the ED 'Penny slot' motor. The new ply and balsa body is in the style of 1930's Brooklands aero engined cars and has yet to have exhausts an other accessories added. The other car is very much a 'retro repro' with Retro Club Oliver castings and an Ian Russell 'Rustler' Oliver Jaguar reproduction motor. Tyres are modern 'Raylite' style with correct lettering that are produced to order in Hungary.
1940's chassis, gearbox and ED motor with new body

Reproduction Oliver
---
Springtime in the Wolds
April Track Day
Sting sung about his 'Walk through fields of gold', but for us it was a drive through unending fields of the 'orrible yellow stuff. Even with pollen filters in the car the smell is all pervading, even overpowering the diesel fumes on the way home. First meeting of the season and a chance to see all the work done on the track over the winter in lowering the infield and how that would affect the running. What we were not aware of was the progress Peter had made on putting a wooden barrier around the track edge to contain errant cars and departing bits thereof. Not all the way round yet but getting there. Also in the spirit of the retro theme was a scale section of fifties pits on the far side of the circle. Not often a candidate in a general election spends a day at a tethered car meeting yet the Iconic R T Pole, candidate in the Louth and Horncastle constituency, was on hand all day. If this alone was not sufficient enticement, it was by far the nicest day of the Bank Holiday weekend.
To mark the occasion, the venerable OTW Speedster was brought out of retirement. This car was run regularly at Souldrop and not in its first flush of youth then, which gives some indication of its age, though the design dates back to the 40s and the ED Comp Special is definitely from that era. A tweak on the twiddly bits seemed to give it more urge than ever before, so even more tweaking resulted in what for that car must be a record run at 34mph, probably for a seventy year old engine as well.
| | | |
| --- | --- | --- |
| | | |
| Vintage Speedster & ED MKII | Lightweight flyer | 'Modern' 1066 MRC |
The 'Goer' reeled off its customary fifty or so laps at a steady 42mph, but was soundly beaten in the marathon stakes by Peter Hill's ED Racer aircar named after the four office chair wheels it runs on. After a couple of false starts it set off on a run of epic proportions primarily due to the endurance sized tank.

At around 25mph it must have completed about five miles, just as well Peter did not fill the tank.

Right: The two 'marathon' runners
Pete Hughes had lengthened the chassis of his beautiful little aircar to try and make it a bit more stable, but at 42mph it looked like an accident waiting to happen so a further extension is planned. A second run added to the work list when the commercial engine mount gave up the ghost leaving the engine with variable down thrust, only limited by the prop hitting the pylon. The very rare and British made King Cat diesel is a powerful little motor, although Pete would like to source another as a back up. It is Pete's little 049 cars that have really benefited from the infield being excavated, as the very low tether arms are now not being snagged by grass. His Prop Rod ran lap after lap without any signs of falling off, and at 30mph as fast as I have seen it go. Just shows what these freely available cars will do. Pete has also become something of an expert at grafting Testors running gear into his own chassis, his latest being a Bill Bannister style channel section. The little Wen Mac trundled round at 30mph and we are promised a body for the next meeting.
| | | |
| --- | --- | --- |
| | | |
| Prop Rod running well | Transplanted Testors | King Cat air car |
One of the newest member John Huntley all the way from Aldershot had been busy over the winter building a Vic Smeed based Scuttler aircar. This 1954 design was intended for motors of the period from 0.5-1.0cc so a modern and poky PAW 1.49 might prove interesting? Once the engine was persuaded into life, the effects of such a short wheelbase and powerful motor were evident as it was incredibly lively, falling off the track within yards of launching. The tether system on these fun designs are not really suitable for a full sized track, so although the potential is there a bit of work is needed. Much like the E type Jaguar there is the standard 'Goer' and its lightweight stable mate still with a 249 PAW of similar vintage. A pleasant surprise to see it lapping at over 50mph for the first time and wondering what might be the result if a more modern product from Macclesfield was fitted?
Earlier in the year, Peter Hill obtained the parts for a true retro replica, a set of castings for an Oliver Maserati and an Ian Russell Jaguar twinshaft. It sat on the table for several hours before the urge to give it a run overcame him. It took a while on the starter before a suitable compression and fuel setting was arrived at, but then it was down to a push stick and a horser. A quick shove and a couple of laps horsing and it was away quite happily. Some things are best left unsaid as Peter found out to his cost after commenting that none of the cars had yet lost a wheel. So would the stop boards work? Well, yes they did but on the next lap the car hit the missing wheel flipping it into the undergrowth where it almost defied a mass search. A second run produced the same result in almost the same area, Loctite needed, but the Jaguar proved to be an eminently suitable unit for the track, pity I sold mine?
| | | |
| --- | --- | --- |
| | | |
| John Huntley's 'Scuttler' | Peter & Hugh assist John | Jaguar powered 'Oliver Maserati' |
So that was about it, several sparkling runs, a couple of cars that show real promise and the work on the track paying dividends.