Meetings at Great Carlton, most are Sundays.

April 28th May 12th June 23rd July 28th

Aug Friday 23rd Sept 15th Oct Friday 18th
---
Hannah Bypasses Gt Carlton
With the country in the grips of yet another storm, prospects for the first track day of the year did not seem too bright at one stage. Certainly, Saturday was wet, very cold and extremely windy but Hannah appeared to be wandering off up north leaving Sunday looking relatively dry. In the event, not only was it dry but warm and sunny by mid morning, sufficient to get the tables and chairs out. The chance to blow out the winter cobwebs and run a car was sufficient to ensure one of the largest turnouts for a very long while, with parking spaces at a premium. Only illness and ongoing domestic issues stopped it being the biggest ever. Lovely to see Keith Bragg back in action after a rough winter and the Monks, less than 24 hours after a long haul flight.
Enjoying the sun after Hannah left via the North Sea
Several new and refurbished cars on show that we could marvel at, vintage, modern and something never before seen in this country. John Goodall had his usual box full of goodies, including an original, series one Oliver 2.5 Tiger with a twinshaft motor that had us all guessing and an Eastern European aircar that adds a new dimension to those described in Steve Betney's article. Several of us had seen this particular device on ebay, but John pressed the buy button. Remembering Oliver's 'flying tail' car, John's with its distinctly powerful KMD motor would be interesting to say the least.
| | |
| --- | --- |
| | |
| Original Oliver Tiger 2.5 | Eastern European aircar |
The only true vintage cars were three that had belonged to the late Dr Rankin. Two of these he had built from scratch for DC Wildcat motors, as he lived just round the corner from the DC factory in Barnoldswick and the other a M&E Wasp in almost original condition. As none of these had been started in seventy years and were found completely gummed up and covered in muck, it was going to be a happy few minutes on a starting cord to get them fired up. Indeed, it was to be the firing up principle that caused the major frustrations of the day. Several of the cars for the new direct drive class had new TMP or RYTM motors that refused to run, even if they could be turned over. The motor in the lovely Ferrari 312 started OK, but a split fuel tank had that back in the car. Steve Betney had his Lotus and Cooper cars that he has described, but again the motors proved reluctant. His new weapon was an RC motor bike, converted for tether use, which would have been fun to get away, if the motor could be persuaded into life. Something of a pattern emerging here.
| | | |
| --- | --- | --- |
| | | |
| Oliver and John with Steve's bike | Starting the Ensign in Doc 2 | Doc 1 after its first run in 70 years |
Dick Roberts was first up with his 'sidecar' and the newly rebored Oliver motor. Jan Hunning did the honours with his non-electric finger, Hugh horsed it off and various stopwatches agreed that it was going fast, new track record, but still not leaned out fully. Jan then put his Russian car on the line with its RYTM that starts perfectly and reeled off the laps in the low 50s using larger tyres than the standard ones. Next up was Doc 1 with its DC Wildcat motor. Once Jan realised which way it went, sixty years just rolled away as it ran happily in the mid 30s until the tank was dry.
More frustrations and swearing in the pit area as diesels refused to run so back on the line for Dick, with Jan giving the motor a little tweak. It was still not completely clean, but was noticeably quicker for another new record and the first recorded run at Gt Carlton over 70mph. Congratulations to Dick for persevering with this radical design. Unfortunately, John Goodall's KMD motor refused to run cleanly so that we never got a chance to see how this type of car would handle the track. It does have suspension on the coupled front wheels but relies on the prop thrust line, vestigial wing and centrifugal force from the cable to keep it all balanced.
| | | |
| --- | --- | --- |
| | | |
| Steve and Babs make tank repairs | Dick supervises Jan | Two new track records |
Two diversions on the day were a viewing of Peter Hill's marvellous O gauge railway layout that would put many club railways to shame. Dozens of locos, wagons, buildings and accessories, all landscaped with hundreds of feet of Hornby track, points, crossing and turntables, all nicely ballasted. If that was not enough to keep us amused, he has also built a boating lake so that if the cars don't run, we can revert to steam, clockwork or electricity for a bit of fun.
| | | |
| --- | --- | --- |
| | | |
| Twinshaft motor, Elfin based? | Part of the O gauge layout | Pete Hughes testing the pond |
Thanks to Peter for hosting the day and Anne for the copious quantities of tea, and great to see so many people turning up. Just a pity that too many motors refused to join in the fun. Bit like hydro racing really? More new cars in the offing for the next meeting, scheduled for May 12th
---
May Track Day
With the May meeting following so close to the April one, it was decided to use it as a practice day for those who attended. Only a few runs were timed and those included my Layat, which recorded just under 35mph. The Russian diesel now fitted seems to be running in gradually and it now completes a run without slowing down.

Pete Hughes 1.5cc Glo Cat aircar made a 34.8 mph run and both his Cox Prop-Rod and all alloy .049 wheel driven car was stable at 30mph, which is more than can be said for the Wallace and Grommit special. After fitting a new prop it started to go faster until a transverse oscillation started bending the alloy pan-handle. "A steel one will be fitted before it's next outing". Dave Coe had brought some spares along and Keith Bragg's, ex-radio stockcar, also changed hands. However, the highlight of the day was viewing the new Redfin twinshaft motor, which Pete Hughes had brought along, and yes, the Club Raylites fitted perfectly.
Thanks to Peter Hill for the report.
---
Track Day 23rd June
Despite the havoc that the rainstorms had wreaked, just south of Gt Carlton the previous week, the track and surrounding areas were absolutely fine and the prospect of reasonable weather ensured another excellent turn out on the day. Several new cars to investigate and a few that had been re-engineered since the previous meet. It was lovely to see Jack and Gill Bell up from Essex. Jack had a stable of cars to try out, including only the second Eastern European aircar that we have seen in the flesh.
Steve Betney 'enjoyed' another torrid day of engineering and modelling mishaps, a great pity as he always brings some lovely models along. Biggest disappointment was his brand new version of Dick Roberts 'sidecar' design. Steve had taken the concept one stage further in adding fully damped suspension front and rear and upped the 'power race' significantly by bolting a Parra motor into the beautifully sculpted nacelle. Unfortunately the fuel pipe came off from deep within the nacelle and could not be reattached without major surgery. Steve's fuel proofer also proved wanting, a sad debut for what could be an exceedingly fast model.
| | | |
| --- | --- | --- |
| | | |
| Parra powered aircar | Russian aicar | Fuel proofer that isn't |
An early runner was Pete Hughes with his 'Testors Special' and a Prop Rod. He does seem to have the mastery of these little motors, whether they are of Cox, Wen Mac or Testors parentage. The Prop Rod always makes me nervous with the whirly bit right where the fingers are, and all too often, whirly bit and fingers coincide with the resultant bloodletting. The wheel driven and air car recorded almost identical speeds at 29mph. Dick Roberts was on hand with Kevin Richards as pit crew to give the record holding 'sidecar' a run. Now totally stable it went off well, close to its record, if not faster, but then slowed down to around 65/66 for lap after lap, ending up very hot. One of the two variables of a diesel was either too much or too little, but as always, the question is, which? For the second run twiddling was done but the fuel tank parted company before the timed run could be completed. Rumours of at least two other 'extreme aircars' means there could be some serious competition. Mmm, that MDS piped glow in the drawer?
| | | |
| --- | --- | --- |
| | | |
| Clipping on Dick's 'sidecar' | Neat 2.5 ZN car with PAW power | Oliver on horsing duties |
The first of Jack Bell's cars was an AM 10 powered pusher that kept turning sharp left and hurling itself onto the infield until a slight adjustment (a hefty bend) to the tether arm had it running happily around 40mph. Pretty impressive for 1cc of diesel power. Jack's Russian aircar was a different kettle of fish as I had no real idea how to horse one of these. This one had been fitted with an extended front axle with the two wheels separated, but there is still no fore and aft stability apart from the prop thrust. After a couple of tries we did get it away, only for the rear induction diesel to run out of go.
| | | |
| --- | --- | --- |
| | | |
| Assimilating proposals for Buckminster | Jack's aircar | King Cat |
Next up was Pete Hughes' King Kat air car, which is very short and top heavy, but now gets away but enjoys some very lively laps in the mid 30s. Jack had a most unusual model with a Gilbert motor driving the front wheels through a clutch. It took a while to get it started and find a suitable needle setting and after one false launch it was away, screaming its little heart out. Before it could be timed, one of the plastic wheels hubs succumbed and it fell off the track. Slightly larger tyres should see it going even faster.
Oliver Monk had his Eureka powered Cobra on hand, one of the few twinshaft motors that starts easily. A simple plate chassis and a pressed steel scale body is an ideal route to a very useable car for the track. This one runs happily and looks the part as well. A new visitor to Gt Carlton was Alex Phin, supplier of the new 'Redfin' twinshaft we commented on previously. Boxes were seen to change hands on the day, so there is the prospect of more of these seeing track action in the future. The car project to go with these motors now seems likely towards the end of the year. Alex is planning to be able to offer a complete kit that will allow you to be on the track with minimal engineering and sourcing of parts. Oliver also gave us all an update on the proposed track at Buckminster. Most of what has been written has now been superseded and an entirely new plan is up for consideration, which should be much more practical for running tethered cars.
| | | |
| --- | --- | --- |
| | | |
| Oliver starting Jack's 'Gilbert' | Peter, Pete and Alex | Ferrari 312 T |
Several cars have come in from Russia and the Baltic states, both scale racing cars and more functional designs. Oliver Monk persuaded Hugh to give his Ferrari 312T its first run after the failed debut last time when a large hole opened up in the fuel tank. No such problems this time and a few minutes finding a setting had it running happily at just on 50mph. There is more speed to come, and at the price Pavel is charging it is a bargain way to get under way if modelling skills are lacking.
Somehow, five hours of running and chatting had flown by so it was back on the road with everyone facing fairly long journeys, although the A47/17 for once was relatively quiet, it was the M1 that proved less than enjoyable for those headed south. Thanks to Steve Betney for the additional photos and we would like to think he has a bit more joy on his next venture up to Lincolnshire. Talking of which, after deciding that the next meeting would be on the 21st July, a discussion amongst those present revealed a preference for the following Sunday the 28th, so please note, that's when it is.
---
A treatise on tractors. Retro Club Track day 23rd August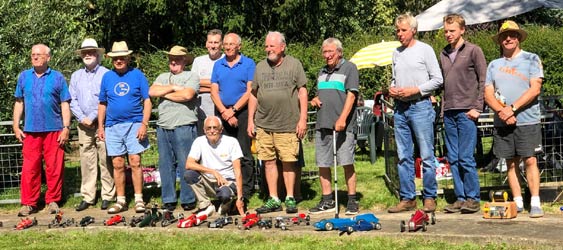 Why tractors? Well, in our round trip we must have seen examples of every make and model of tractor currently on the market, most of them going slowly and thereby causing maximum traffic congestion. The crowning moment though was actually within sight of the track. We had followed one huge tractor towing and even larger bailer, a MF 8700S pulling a MF 2370 Ultra HD for those of a technical bent, that took up most of the road all the way from Little Carlton, no problem as we were turning off in a couple of hundred yards, until he met an equally large New Holland TD5 towing a bulk grain trailer. Total impasse and all attempts for them to pass each other just left them locked in an even tighter mechanical embrace. Only alternative was to explore the side roads of the area until we saw a sign back to Great Carlton. Organising the meeting on the Friday gave many of us the chance to do double headers with other events, leading to probably the biggest turnout ever at the track, which included Salvi Angelloni and Gianmauro Castagnetti with their wives, all the way from Italy.
It was not however the track that was the source of so much interest, although there were new cars on show and one spectacular debut, but what was on the tables, either as items of interest or potential sales. John Goodall had brought along a number of his cars including a Slabang and his version of 'Busy' as well as a box of engines for sale. Amongst these was the first of the rarities, a 10cc Vega GP 3 car motor from around 1960. There were a raft of repros made a few years ago, but this was an original and the only one that has ever come to our attention. A truly unique motor came by courtesy of Dave Coe and this was the original Oliver twin from the car they built and raced briefly. The engine, which Dave obtained from the Oliver auction along with most of the second car that it was mounted in, is based on two extensively machined and remodelled Tiger twin shafts.
| | | |
| --- | --- | --- |
| | | |
| Tasty treats on sale | Original Oliver twin | 'Busy' and a Slabang |
The items kept coming, Gianmauro had a genuine Ken Procter Beretta Rosso with a geared, single ended Oliver motor, sans lugs, along with another absolute rarity, a 1.5cc conversion kit, the factory Oliver items produced after Alec Snelling linered down a 2.5 motor so successfully. Continuing the theme was a Tiger two-five car with an exact copy of a Tiger RVB twinshaft. A conversation regarding this car established that one person present had an original RV and another an RVB, quite an incredible coincidence, as these are so rare, only a handful ever being made before the more common MkII arrived. The 1961/62 Italian record holder of Guiseppe Zana had a MkII with a 'curly carb' and a large lump of lead in the nose. A very big thank you to Salvi Angelloni for bringing these pieces of history along. Olivers did not totally dominate, although Dave Coe did have a part finished Mercedes and twinshaft on show as well. From 1954 came a teardrop with an ED Racer, but unlike the Padda, this had the drive wheel fitted directly to the crankshaft and both exhaust stacks still in place along with a hole in the pan to exhaust straight onto the track, not allowed in this country.
| | | |
| --- | --- | --- |
| | | |
| Ken Procter 'Beretta Rosso' | Oliver 1.5cc conversion kit | 'Tiger Two Five' with repro RVB motor |
| | |
| --- | --- |
| | |
| ED Racer powered 'teardrop' 1954 | Tiger MkII Italian record holder 1961/2 |
Castings, Russian cars, kits and motors, 1066 bits and a plethora of miniature repros kept the cash changing hands at regular intervals, between bouts of action on the track, ah yes, the purpose of the day, or was it. Steve Betney was still having trouble getting his Parra motor to run cleanly in his new aircar despite numerous, very noisy starts in the pits, although after a change in fuel he did attempt a couple of launches that ended in trimmed props as it fell over each time. His 'Speedster' performed faultlessly as it always does, it is the faster cars that cause the problems. Jack Bell suffered another series of problems with his cars, engines not running properly and minor other aggravations. The happiest chappy on the day was Dave Coe with a new car built by his son Martin, an ace combat flyer. They had run up the Rytm engine previously but it was still a bit tight so we said we would give it a go. Started OK but on each push it stopped as the Oliver style cutout kept triggering. Simple remedy, remove and replace with a straight piece of fuel tube, problem solved. Lynn was being introduced to the art of push starts and got it away for a somewhat rich run, given that it was a new motor.
| | | |
| --- | --- | --- |
| | | |
| Steve Betney 'tuning' | Dave Coe's Rytm | Brace of exotic aircars, new build on left |
Lunch was something of a leisurely affair as everyone sought out some shade. The Italian contingent put the rest of us to shame with their large table and tablecloth, a stark contrast to the usual garage sandwiches and pork pies with the tang of ether and castor oil that is the more staple diet. Anne was doing sterling service on tea duties, needing a double run for each session with the varied orders. Conscious of the passage of time and that most had longish onward journeys, it was back to the track and another new and somewhat radical aircar.
We have seen a couple of the eastern pod and boom, single wheel European aircars already including a brand new Oliver engined version from John Goodall. The motors in the European cars are proving baulky and launching them has yet to be mastered so it would be interesting to see what the KMD in Hugh's version would do. This car has four wheels with fully damped independent suspension so is much easier to launch. The motor started almost instantly with MkI finger and set off happily at around 35mph although very rich, but then it leaned out and everyone took a step back behind the barrier as it started lapping at just under 70mph threatening Dick Roberts' record. Still more to go on the needle, so battle is joined. Peter Hill intended to put a new engine in his Green Frog but had to revert to the old motor as the parts proved not to be interchangeable, but a busted pull start brought his day to a premature end.
| | | |
| --- | --- | --- |
| | | |
| New aircar design from Latvia | First run | John Goodall, Estonian design |
The disappointment of the day was Salvi's little Cox aircar. This was essentially an aircraft speed pan with wheels and a bridle attached but prop torque took it off the track instantly each time he tried to launch it. Unfortunate when you have built it specially and driven from Italy to try it out? A very late arrival was Paul Harris and pit crew from Bristol, possibly underestimating where Gt Carlton was in relation to where they started? Paul has run his Bluebird replica at Old Warden, but this was its first go on a full sized track and it relished the freedom on a couple of good runs. The Bristol contingent also brought a very nice looking F1 car with a RYTM motor but this time with the cylinder facing forward and concealed by the bodywork.
| | | |
| --- | --- | --- |
| | | |
| Peter with Jack Morgan's 'Fox' | Gianmauro and Salvi | Paul's 'Bluebird' |
A last call for a group photo and then a frenzied session of packing up before heading of for all points and another adventure into 'tractors we have known'. The next one was even bigger, if that was possible, a crawler and attached machine that filled three parts of the A46 and the oddest, one with a snow plough. Now, where is my Observer book of tractors? Thanks to Peter and Anne for hosting a brilliant day and all those that turned up and brought such fascinating and rare items for us all to salivate over.
Thanks to Jack and Jill Bell and Steve Betney for additional photos
---
A gentle day out. September track day
After the 'excitement' of the 'International' meeting three weeks previously it was a somewhat more leisurely day out at Gt Carlton for the September track day. It was a delight to welcome Dave Smith and Tony Goodger up from darkest Essex. Dave is a renowned speed flyer and specialised in the F21 sports class. He announced his retirement at the Barkston nationals, signing off with a flight a smidgeon short of 280kph and a silver medal. Should be up for horsing a tethered car, given how fast these guys have to run round a pylon at 300kph and controlling a plane as well.
High pressure and low temperature meant that everything put on the track ran much faster than previously, which resulted in a lot of 'air time' and a couple of major upsets dictating that discretion overcame enthusiasm before more damage was done. Don't know if there is any fracking going on in the area, but the track has definitely suffered in the last three weeks with a transverse crack and step opening in the course of the day.
First off was the venerable AG Speedster, with an equally ancient ED motor that just about gets this heavy car round, but even that seemed to have grown wings, although excessive avoirdupois ensured that it stayed on the track. The PAW powered 'Goer' took to lapping at under three seconds, faster than it had ever gone before at 45mph and spending more time in the air than was comfortable, but again it is a heavy old beast so did not come to any harm. Its lightweight cousin was a different story as that was well over 50mph and definitely skittish, a portent of what was to come.
| | | |
| --- | --- | --- |
| | | |
| The AG Speedster stays on the ground | Hugh pushing off the 'Conqueror' | The 'Goer' low flying |
Oliver Monk had brought along his customised 2CV with a RYTM motor lurking under the bodywork. After a session in the workshop, the motor was now starting and running happily, but as a precaution, justified as it transpired, it was set off very rich and the lowest setting that would enable it to run. Even so it was skipping all over the show and being so short there was also the question of where it would be pointing when it came down. Not only did it survive its maiden run, but two more as Oliver continued to tempt fate although it did perform some interesting antics. He had also brought along his lovely Class 4 car that he set a new British record with in Basel, which generated a great deal of interest and exploration of its design and engineering.
| | |
| --- | --- |
| | |
| Oliver Monk | Picco Profi 5cc car 293.458kph |
Having enjoyed lunch in the sun and a decent helping of Parkin, Peter decided to give his Green Frog project car a run. Even after an engine transplant and several hours of workshop (swearing) time, it resolutely refused to fire up so he put that to one side and dug out his ED Racer aircar that runs on ex office chair wheels. This refused to run at all last time out, but fired up easily in the cooler conditions, yet even this solidly built car was performing impressive wheelies at a particular point on the track. It was this same point that spelled the end of the Latvian air car for the day, suitably leaned out with a view to giving the record a nudge it was getting a serious move on when the bump launched it into the air, coming down nose first on the spinner and then somersaulting completely before coming to rest on its wheels, but with the prop still intact. Investigation of the track showed the paint marks where the tail hit halfway through the 360-degree loop.
| | | |
| --- | --- | --- |
| | | |
| Oliver with 2CV | Most un-2CV like antics | Ready for take off? |
It seemed only fair that Dave Smith should have a run and get that authentic diesel effect so he was set up with the PAW Lightweight that he launched perfectly. Heading for its fastest run ever, it too fell victim to the bump but this time turning the compression screw into a lever, shredding the prop and putting a serious bend in the chassis. With the repair list growing it was decided not to risk any more cars, leaving those assembled to head off in various directions after a very gentle day's sport. Thanks as always to Peter for hosting the event.
---
Season Finale 18th October
If you subscribe to the conspiracy theory then there was definitely one afoot for the last hurrah of the season at Gt Carlton. It was expected to be a large turnout, so we were on the road early, but not before the traffic news had alerted us to a serious accident in Boston that was causing problems. Sutton Bridge was experiencing major delays for resurfacing, requiring a twenty mile diversion and then a major accident on the route to the diversion had us heading westwards instead of northwards. Many miles later we were back on the right road only to experience the carrot cruncher's game across the Fens of I can get more cars backed up behind my tractor than you can, not once but three times. Happily, the problems in Boston were westbound but it does illustrate how few crossings of the Ouse, Nene and Welland there are. In the event, it took us over four hours so much of the excitement was over before we even dragged into Carlton.
The interest centred on the aircars, with Steve Betney finally getting his Parra running sweetly, only for it to have an upset at a goodly speed that did it the power of no good. A similar fate befell his beautifully made Cleveland aircar, which came to grief and tore off one of the wheels and its complex spat. John Goodall had done another incredible piece of sheet metalwork in building a cowl for his exotic European style version, but with its two closely spaced front wheels fell over shortly after launching. Martin Coe had built a relatively simple, four-wheeled aircar but atop the pylon was a pristine and powerful K12 Oliver replica. Even with it still four stroking at times it still equalled the track record, but after years of combat flying, Martin is the master of twiddling compression and needle screws on diesels to get the best out of them. So a little tweak here and there and a new track record to Martin to add to his achievements.
| | | |
| --- | --- | --- |
| | | |
| Martin Coe launching aircar | Martin getting to grips with a push stick | More work for Steve Betney |
Martin was not done as he had previously built a RYTM twinshaft car for father Dave that Lynn had run for him at a previous meeting. It was now down to Martin to master the art of the push stick, which he managed after a few false starts, but then he is young. This car has a fairly soft front suspension and was leaning out nicely at the end of each run, still needed a few more laps to achieve top speed, but still very fast. He adapted very quickly as well to the use of the 'smother blanket', actually a small towel, in order to stop the car and make adjustments, a real tether car man in the making.
Incredible example of sheet metal from John Goodall. A work of art by any standard
Pete Hughes now has his Cox and Wen Mac derivative air and wheel driven cars performing at their best, probably more so than anyone else, judging by the number that appear on ebay. His King Cat aircar is still lively, but does start and run very nicely, and quietly, with its factory exhaust system. We were then treated to a true 'Basil Fawlty' moment from Peter, who had given his Green Frog car the final ultimatum, which it failed to heed, so it was treated to a 'real good thrashing' from a willow branch. Presumably its next stop is the scrap bin?
| | | |
| --- | --- | --- |
| | | |
| Pete's 049 'flying' | The Frog gets a 'good thrashing' | King Cat aircar |
As OTW was heading onward, there was no room for cars, but just enough to enable Hugh to try out his Old Warden find on Peter's lake. Hanging on to a clockwork Hornby speedboat is a little less daunting than an A3 hydro, but at least it did get away and complete a full circuit of the pond on each attempt, almost a record this season. Back to the track for a prophesy from Dave Coe that sadly came to pass. Martin decided to have one last run with the aircar, at which Dave said it is a rule never to have a 'last run' as it all too often turns out to be true, and indeed it did. With screws twiddled to perfection it was running well in excess of record speed when it came off the track, snapping the crankshaft of the engine clean off, as well as other mechanical damage. When cars start to exceed a gentle trundle round, attention has to be paid to bridles, attachments, clips and cables and as speeds increase as they have, it becomes ever more vital.
| | | |
| --- | --- | --- |
| | | |
| New track record | A gentle cruise | Never have a 'last run' though |
So ended the 2019 season at Gt Carlton, not quite as many people as promised through various maladies and unforeseen circumstances, but a thoroughly enjoyable day, with just one short sharp shower just after we had all enjoyed our al fresco lunches. Having seen the queues in Boston that stretched right out on to the A16 we were glad that we were headed elsewhere, otherwise we would have to have found an alternative way to cross the river and face another huge detour. Thanks to Peter for his hospitality throughout the year and to Clare for tea duties, which she probably hadn't expected?