One of the greatest frustrations for tethered car enthusiasts has been the lack of opportunity to run their cars in Britain. If you were a member of the BTCA and raced either a modern FEMA car or a more recent vintage model, then there were the European tracks, but for the collector, home builder and fun runner there was little opportunity, unless you were prepared to risk the compass circle at Old Warden, and its propensity for wrecking cars. It was something of a red-letter day then, when it was announced that the inaugural meeting of Peter Hill's Great Carlton Raceway would be on 12th June 2011.
| | | |
| --- | --- | --- |
| | | |
| Amazing metal work by John Goodall | Oliver Monk's 'school car' | PAW 'lightweight' |
The Retro Racing Club holds a unique position, having been set up by Peter Hill in 1996 to 'Encourage the building and running of tethered racing cars of the more traditional type.' This was later extended to include vintage tethered hydroplanes as well. Peter started by publishing a regular newsletter that ran to seventy issues over twenty two years and then expanded the club's activities by offering numerous drawings, castings, and a variety of tyres to assist those interested in building or restoring cars.
| | | |
| --- | --- | --- |
| | | |
| Almost a 1066 Conquest | Doc 2 from 1948 | Running as it used to be |
Conscious of the need for a facility to run cars, Peter built a track at his home, which became the regular venue for Retro Club members for fun competitions and thoroughly enjoyable 'days out'. Apart from the couple of portable poles that were set up on car parks in the South West, the track at Souldrop was the only permanent facility available in this country. This was used extensively until the end of the 90s, when a move to Lincolnshire brought an end to the 'Souldrop Speedway' and the opportunity to run cars.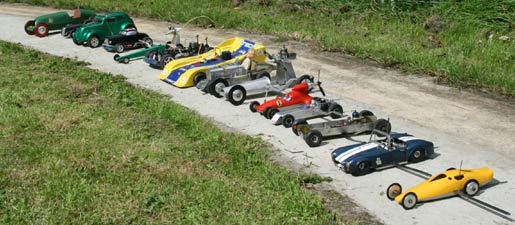 There were promises and hopes surrounding possible sites for new tracks which all come to nought and the BMCC portable track did offer some facility until that group imploded so spectacularly. The only prospect on the horizon was that Peter did intend to build a new track when time and money allowed. Eventually construction did start, but an unfortunate series of health problems and family tragedies meant that the track was not finished until 2010.
| | | |
| --- | --- | --- |
| | | |
| Dick Roberts' sidecar | Peter Hill's 1066 MRC | Galeota 'Speedster' |
The track at Great Carlton is 7 laps to the ¼ mile and with the pouring of a wide apron during the 2013 season offers the ideal and unique opportunity to have a run with anything vintage or vintage style, as long as a certain degree of common sense is involved, speed wise. Since the Retro Club has been in operation, members have build dozens of cars of amazing variety, as well as rescuing and restoring original models, and here is a chance to try them out.
| | | |
| --- | --- | --- |
| | | |
| Beautiful Cleveland air-car | Rytm powered Ferrari 312T | Cox 049 'flyer' |
The track can clearly be seen on Google earth, but more recently, the photos below were taken from a drone.
If you have an interest in tethered cars, especially being able to run them, then it is certainly worth joining the Retro Racing Club. For further details of the Club and the long list of available plans, both for cars and tethered hydroplanes, contact Peter Hill by the power of electronic communication at arty.pole@gmail.com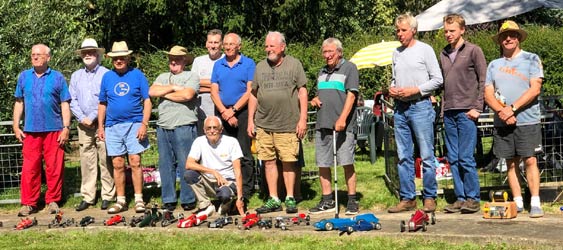 ---
2020 Track day Sept 6th
Average speed for 7 laps 1.38mph 2.22kph
The relaxation of CV restrictions allowed Peter Hill to schedule the first Retro Club track day of the season for early September. A double header with Buckminster the previous day did reduce attendance somewhat but this did allow more time for the long postponed tabletop sale of a portion of the late Keith Bragg's modelling items. Everyone present went home with cars significantly more full than when we arrived and wallets commensurately less full. When activity finally got underway, the venerable 'Goer' was hooked on to the line to blow the track dry. Unfortunately, the itinerant gardener did not notice the line tipping the car over, neatly removing the fuel tank in the process. As the old saying goes 'if it's lose and shouldn't be, use Duct tape' so it reeled of its first 50 laps at a regular 3 seconds per lap with the tank taped on, a true bodge.
Another 50 laps were completed while Pete Hughes persuaded his 049 into life and then it was on to horsing duties for this little special that uses commercial parts in an aluminium chassis. Starts and runs well after the winter muck was cleared out of the system. Pete is a great enthusiast for these 049s and was seen secreting a box of engines in the back of his car, along with a chassis and wheels that should appear united before too long. His Prop Rod is probably the most lethal car on the track with its pusher prop exactly where the fingers tend to be but on this occasion apart from a slight nip it started easily and ran out a full tank at around 25mph, possibly the longest run it has ever had? By way of remembering Keith, his HB engined, all aluminium aircar was given a run. The first time he put it on the track it was quite quick and so it proved this time, until it performed a complete somersault, splitting the tank in the process.
| | | |
| --- | --- | --- |
| | | |
| Preferred material, aluminium | Pete Hughes 049 Special | Prop Rod circulating |
Dave Coe has a mantra that says 'never have a last run' and so it proved for the 'Goer'. After eight years and something like 3,500 laps of the track in that time, metal fatigue finally won after a further 40 laps, with one wheel and the part of the chassis it was attached to vanishing into the undergrowth but even this did not stop it. Sadly the 'Goer' is no more but like a Phoenix, it will rise again, but as with Dr Who, in a different form.
| | | |
| --- | --- | --- |
| | | |
| Pete Hughes and Kingcat | Keith Bragg's last aircar | The demise of the 'Goer' |
A very pleasurable lunch break with discussion on the merits of various pork pies took us into the afternoon and a series of cars from our host, starting with the Green Frog. Well, when I say starting, that was the intention, but it wouldn't, even after 'the jolly good thrashing' it received last time out. Neither would the famous Leyat, but that was down to the needle valve that had been lost last October and inadvertently not replaced. That just left the ED Racer, office chair special, which last time out refused point blank to start, but this time fired up and trolleyed off happily for far more laps than anyone could be bothered counting. With just 'yours truly' fit for horsing, it was down to doing a Lembit for a last run with the PAW Lightweight. Herself was tasked with holding and launching it, only to complain about the fine mist of burnt paraffin, castor oil and ether emanating from the exhaust that spread itself liberally over her. That heady aroma is what we go for isn't it?
| | | |
| --- | --- | --- |
| | | |
| Leyat with well oiled pilot | Uncooperative Green Frog | ED 2.46 Racer power |
Beans, pears and withies gleaned, assorted boxes loaded and off just before the promised rain arrived after a second great day, made even better by the relative lack of traffic on either occasion. Peter has scheduled the next meeting for the Friday preceding the SAM October Fest, Friday 16th October. Thanks to Anne for the copious supplies of tea and coffee throughout the day and to Peter for all the work in preparing the track eleven months on from the last time we enjoyed running cars there.