One of the greatest frustrations for tethered car enthusiasts has been the lack of opportunity to run their cars in Britain. If you were a member of the BTCA and raced either a modern FEMA car or a more recent vintage model, then there were the European tracks, but for the collector, home builder and fun runner there was little opportunity, unless you were prepared to risk the compass circle at Old Warden, and its propensity for wrecking cars. It was something of a red-letter day then, when it was announced that the inaugural meeting of Peter Hill's Great Carlton Raceway would be on 12th June 2011.
| | | |
| --- | --- | --- |
| | | |
| Amazing metal work by John Goodall | Oliver Monk's 'school car' | PAW 'lightweight' |
The Retro Racing Club holds a unique position, having been set up by Peter Hill in 1996 to 'Encourage the building and running of tethered racing cars of the more traditional type.' This was later extended to include vintage tethered hydroplanes as well. Peter started by publishing a regular newsletter that ran to seventy issues over twenty two years and then expanded the club's activities by offering numerous drawings, castings, and a variety of tyres to assist those interested in building or restoring cars.
| | | |
| --- | --- | --- |
| | | |
| Almost a 1066 Conquest | Doc 2 from 1948 | Running as it used to be |
Conscious of the need for a facility to run cars, Peter built a track at his home, which became the regular venue for Retro Club members for fun competitions and thoroughly enjoyable 'days out'. Apart from the couple of portable poles that were set up on car parks in the South West, the track at Souldrop was the only permanent facility available in this country. This was used extensively until the end of the 90s, when a move to Lincolnshire brought an end to the 'Souldrop Speedway' and the opportunity to run cars.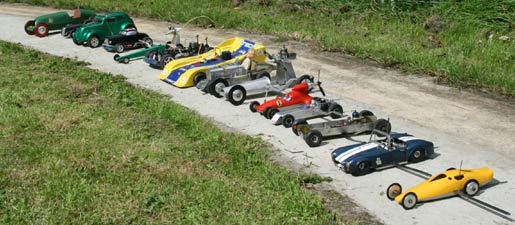 There were promises and hopes surrounding possible sites for new tracks which all come to nought and the BMCC portable track did offer some facility until that group imploded so spectacularly. The only prospect on the horizon was that Peter did intend to build a new track when time and money allowed. Eventually construction did start, but an unfortunate series of health problems and family tragedies meant that the track was not finished until 2010.
| | | |
| --- | --- | --- |
| | | |
| Dick Roberts' sidecar | Peter Hill's 1066 MRC | Galeota 'Speedster' |
The track at Great Carlton is 7 laps to the ¼ mile and with the pouring of a wide apron during the 2013 season offers the ideal and unique opportunity to have a run with anything vintage or vintage style, as long as a certain degree of common sense is involved speed wise. Since the Retro Club has been in operation, members have build dozens of cars of amazing variety, as well as rescuing and restoring original models, and here is a chance to try them out.
| | | |
| --- | --- | --- |
| | | |
| Beautiful Cleveland air-car | Rytm powered Ferrari 312T | Cox 049 'flyer' |
The track can clearly be seen on Google earth, but more recently, the photos below were taken from a drone, presumably with a view to a pre-emptive strike from an opposing candidate?
If you have an interest in tethered cars, especially being able to run them, then it is certainly worth joining the Retro Racing Club. For further details of the Club and the long list of available plans, both for cars and tethered hydroplanes, contact Peter Hill by the power of electronic communication at arty.pole@gmail.com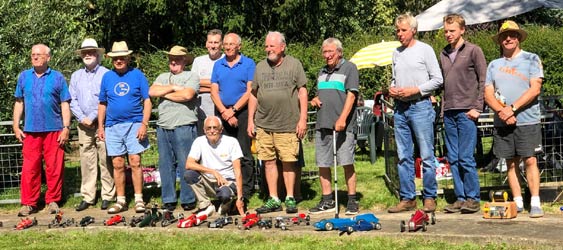 Exotica on Display in 2019
| | | |
| --- | --- | --- |
| | | |
| Tasty treats on sale | Original Oliver twin | 'Busy' and a Slabang |
| | |
| --- | --- |
| | |
| Original Oliver Tiger 2.5 | Eastern European aircar |
| | | |
| --- | --- | --- |
| | | |
| Ken Procter 'Beretta Rosso' | Oliver 1.5cc conversion kit | 'Tiger Two Five' with repro RVB motor |
| | |
| --- | --- |
| | |
| ED Racer powered 'teardrop' 1954 | Tiger Mk II Italian record holder 1961/2 |
| | | |
| --- | --- | --- |
| | | |
| Parra powered aircar | Russian aircar | K12 powered record holder |
| | | |
| --- | --- | --- |
| | | |
| Eastern aircars | Neat 2.5 ZN car with PAW power | Latvian KMD powered aircar |
Cars in the pipeline for 2020
A K12 powered proa and potential record breaker. More superb work from John Goodall
Original Pratley ERA, engine as yet unidentified
| | | |
| --- | --- | --- |
| | | |
| Eureka powered 'skeleton' | Complete Russian E1 lurking in a box of bits | 5cc ETA ZN, John Goodall body |
| | |
| --- | --- |
| | |
| Plate chassis with damped front suspension | Awaiting warmer weather and epoxy delivery |
Mills 1.3cc Aircar
Russian 1.5cc with full suspension. Note total lack of exhaust or stub
KMD powered Chaparal 2F Can Am car, Denneler type sprung gearbox, sorted and painted
Vanwall on Redfin chassis by John Goodall
Russian 2.5cc again no exhaust or pipe
---
Lament from a locked down workshop
Planning for the 2020 season started way back in November, as there was so much in the offing. Retro Club track days, Opening of the Buckminster track, swap meets, Old Warden, International tethered car and hydroplane events and then some normal family pursuits. All hotels and travel booked by the end of Boxing Day and a whole list of jobs to finish before it all started, rather than a last minute rush. Get stuck in early and get everything prepared, projects completed and any outstanding 'roundtuits' knocked off. A degree of self-satisfaction was in order when the list was cleared, although there was a last minute addition with the news of the official opening of the Buckminster track scheduled for May. The kits for the Redfin car were still not available but the engine bought some months before had to go into something for that event, so a quick distillation of ideas and a few sketches and that was on the way. News started filtering through about the northward track of the virus and as the spread worsened there was advice from BMFA and MPBA that flying and boating could still go ahead, but no mass gatherings, and then the news from all the national and international authorities that every model activity was to cease. On top of this the lockdown put the kybosh on the last remaining plans, leaving the bench clear, the list clear and nothing on the horizon. No builds, repairs or renovations in prospect, all cupboards and shelves cleared, tidied, parts sorted, and er nothing, and with the ban on travel, no possibility either of helping out fellow enthusiasts by relieving them of some of their unwanted stock.
With no prospect of any activity for the foreseeable future, no projects lurking and ebay not providing any opportunities it was time for desperate measures and a search of all the boxes and drawers in the garage, loft and workshop to see if there was anything that could be pressed into service? What an odd selection of unrelated parts that have been gathered over the years? A genuine ZN 5cc car with so many holes, splits and patches that even the Repair Shop could not have resuscitated it and another, as yet unidentified, but equally moth eaten bottom and top, neither a realistic prospect. What about the chassis drawer then, and here was an odd coincidence.
My foray into tethered cars started back in the late 60s with an M&E chassis that was missing its entire back suspension and steering and had three odd wheels. After five M&Es and fifty years, all I had left was an M&E chassis missing its rear suspension and steering, (not the same one though) but four wheels this time. Except that there were three with right hand threads and only one left hand and no tyres. Plenty of 1066 chassis parts, wheels and tyres galore but no gearboxes, motors or bodies left.

The gearbox and clutch drawer offered all sorts of intriguing possibilities if any two parts could be paired up, but no chance, and anyway, none of them matched any of the other parts I had come across. Excellent selection of magnetos if ever I find anything or anyone that needs one and a well made spur mount that does not fit any engine that I have access to, going well so far.
Last port of call was the wheel and tyre depot and a wondrous selection from the very common to the more obscure. If any Grenwyn wheels turn up then I do have the flinging tyres and this seems to be the general principle through all the drawers. The pairs of wheels that do have tyres I have nothing to put them on and the tyres that I could use I have no wheels for and similarly for the wheels with no matching tyres. The only real prospect were a number of the late Mike Day's Wasp sized Dunlop Fort tyres and some machined aluminium hubs that had been made by his contact in China, which also did not seem to fit any available tyres.
The solid Dunlop tyres could not be fitted onto these hubs because the tyre could not be forced over the rims, but with judicious use of a hacksaw and some jig drilling, the hubs could be cut in half and then the tyres fit perfectly. Well it's a start, occupies a few hours, and allows the mind to wander as to further possibilities, something along the Wasp lines perhaps?

Amongst the miscellaneous body parts was a well-made aluminium scuttle about Wasp size and in the aluminium store the beginnings of a sheet chassis from someone's long forgotten project. This was all looking promising, especially as there was a Comp Special with most of an ED clutch at the back of the shelf. This had been bought for an engineless Wasp until it was realised that only a Penny Slot will fit and that the ED clutch is too large a diameter anyway. Another session at the lathe had the missing parts made, and another 'roundtuit' that had escaped notice completed.
The Wasp does not have a conventional gearbox just a simple series of blocks bolted to the chassis that has the one driven axle with a bevel gear and an input shaft with the pinion. The second axle and mounting block is entirely separate. Lurking in the loft was a similar device carved out of aluminium with a solid axle in ball races and an odd shallow angle bevel gear but no input shaft or pinion, kept on the off chance, and here was that chance. This is where it gets slightly unbelievable, because in a packet containing two odd gears that had been passed round at least three Club members was a shallow angle pinion with an integral, hardened, shaft that matched the bevel.

Even better, a quick eyeballing revealed that it would mesh perfectly if a housing was made to fit the hole already in the gear frame. A few hours and a 1066 ball joint later, there was a complete gearbox to fit to the chassis. Next, line up the engine and machine up a couple of spacers, drilled to accept the massive screws to match the equally massive holes drilled in the ED lugs. Could happily run a modern 10cc motor with these sized screws, heavens knows why someone had drilled a lowly 2cc diesel out to that size?
Bit like my M&E chassis, no back ends of any sort, but unlike the larger cars the Wasp has an axle mount machined from the solid, rather than a casting or manufactured item. Another couple of hours with a four-jaw chuck and lots of sparkly bits on the carpet and there was a chassis with two axles, a motor, clutch and gearbox.
Axles are recycled propshafts from long departed hydros that also used 3/16th piano wire, as does the Wasp. On a roll now, but then the announcement that there was to be another three weeks of lockdown, can't work slower and more time than ever available for building so press on and worry about that later. With a live front axle some cunning method of securely attaching the wheels with ¼" bore hubs was needed and equally bearings for the rear so the wheels would run on the axle, and some method of stopping them falling off.

M&E used grooves in the axles and circlips for all but the one driven wheel, and even that had a circlip to keep things uniform, although it did not do anything. In the end I annealed the ends of the axles and reduced the diameter for 4BA nuts to hold the wheels on and made brass bushes, plain for the rear and stepped at the front with grub screws on to he axle.
Chassis completed, now my favourite job, bodywork, although the most difficult bit was already to hand. This did need reducing in height a bit as it could have covered an ETA 5 and still have room to spare. A radiator cowl from brass strip and a bit of brass mesh looks the part and then a bonnet, although I did make a pattern for this as it is tapered.

Odd thing about the Wasp is that the bonnet fits inside the chassis behind the front axle, but the bit in front has to sit on the top so it has to have a subtle nudge. The rear end has proved a little more difficult as there is no possibility of any welding so it has to be formed from one piece.
Now John Goodall is an ace with a bossing mallet and a dinging hammer but anything with compound curves drives me to distraction but time is not a problem at present. Hammering sheet metal is not the most popular pursuit in the domestic situation and annealing using the old soap technique has a habit of setting off the smoke alarm that can lead to even more stern looks, so when it looked about right, then it was.

Fitting the three elements together took a bit of nadgering but the gaps are minimal compared with a Wasp. Used Oliver Monk's brilliant suggestion of a green scourer with Solvol to give it a brushed finish and me some very black hands. Popularity was not improved when much of the black was transferred to the white sink and surround.
On a roll now with just a lot of holes to drill in the chassis to hold the body and tether brackets on and that was more or less it. In keeping with the spirit of the project, all the fixings were sourced by wading through the tubs of odds and ends, suitably whittled down to similar sizes for uniformity. Last job was the bridle, Bowden cable or piano wire but even the thinnest cable that could be gleaned from the cycle shop dustbin was 10cc size so it was a standard piano wire job with washers securing the connections.

So, in the same vein as the RVS motor cycle that never existed yet is now in a private collection and posing as genuine, here is a SBS (scrap box special) or is it a LDS (lock down special). Well, as the final design was dictated entirely by what was in the scrap box, that is what it has to be and so it will remain until circumstances change and there is a serious influx of bits, preferably that are in some way related to each other.
Not the finest piece of model making but soundly engineered and a few more parts used up that might otherwise have ended up in the bin. Now what we need is an event where we could all put out our unwanted parts and exchange them for other enthusiast's equally unwanted items, or even exchange for coin of the realm, now that's an idea. But of course, we can't.