One of the greatest frustrations for tethered car enthusiasts has the lack of opportunity to run their cars in Britain. If you were a member of the BTCA and raced either a modern FEMA car or a more vintage model, then there were the European tracks, but for the collector, home builder and fun runner there was little opportunity, unless you were prepared to risk the compass circle at Old Warden, and its propensity for wrecking cars. It was something of a red-letter day then, when it was announced that the inaugural meeting of Peter Hill's Great Carlton Raceway would be on 12th June 2011. Initially though, the track would only be open to members of the Retro Racing Club.
| | | |
| --- | --- | --- |
| | | |
| Oliver putting the 'Goer' on the line | Oliver's 'school car' post run | The 'lightweight' flying high |
The Retro Racing Club holds a unique position, having been set up by Peter Hill in 1996 to 'Encourage the building and running of tethered racing cars of the more traditional type.' This was later extended to include vintage tethered hydroplanes as well. Peter started by publishing a regular newsletter, which he is still producing, and then expanded the club's activities by offering numerous drawings, castings, and a variety of tyres to assist those interested in building or restoring cars.
| | | |
| --- | --- | --- |
| | | |
| Almost a 1066 Conquest | Steve's 'Ollie's Rocket Racer' | Running as it used to be |
Conscious of the need for a facility to run cars, Peter built a track at his home, which became the regular venue for Retro Club members for fun competitions and thoroughly enjoyable 'days out'. Apart from the couple of portable poles that were set up on car parks in the South West, the track at Souldrop was the only permanent facility available in this country. This was used extensively until the end of the 90s, when a move to Lincolnshire brought an end to the 'Souldrop Speedway' and the opportunity to run cars.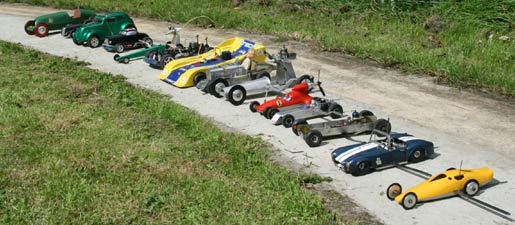 There were promises and hopes surrounding possible sites for new tracks which all come to nought and the BMCC portable track did offer some facility until that group imploded so spectacularly. The only prospect on the horizon was that Peter did intend to build a new track when time and money allowed. Eventually construction did start, but an unfortunate series of health problems and family tragedies meant that the track was not finished until 2010.
| | | |
| --- | --- | --- |
| | | |
| Dick Roberts' sidecar | Peter Hill's 1066 MRC | Faster than a speeding bullet? |
The track at Great Carlton is 7 laps to the ¼ mile and with the pouring of a wide apron during the 2013 season offers the ideal and unique opportunity to have a run with anything vintage or vintage style, as long as a certain degree of common sense is involved speedwise. Since the Retro Club has been in operation, members have build dozens of cars of amazing variety, as well as rescuing and restoring original models, and here is a chance to try them out.
| | | |
| --- | --- | --- |
| | | |
| Beautiful Cleveland air-car | Steve Betney starts the 'proper' way | Hugh Blowers' Cox offering |
The regular meetings have shown that the track is a viable proposition, and lets hope it encourages more people to run what they have, and build a few more suitable cars. To this end, Peter has opened the meetings to interested people outside the Retro Club. There will obviously be a charge for non-members that Peter will refund if they subsequently join the Club. If you have an interest in tethered cars, especially being able to run them, then it is certainly worth joining the Retro Racing Club. The quarterly magazine has a mix of new and old material, and probably most useful, an extensive 'for sale' and 'wants' section, a facility that we are unable to offer on the website. For further details of the Club and the long list of available plans, both for cars and tethered hydroplanes, contact Peter Hill by the power of electronic communication at arty.pole@gmail.com
---
Proposed Track Dates 2018
After canvassing members, Peter has come up with the following dates for the coming year that avoid conflicting with most other events. They are not cast in stone, so circumstances may require changes, please check before travelling.
Saturday 14th April. Saturday 12th May. Sunday 24th June. Sunday 29th July. Friday 17th August. Sunday 16th September. Sunday 14th October.