Celebrating 100 years of tethered hydroplane racing
Fred Westmoreland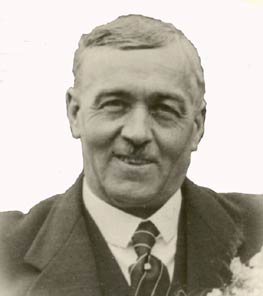 Fred Westmoreland. June 1930.
A 91 year old boat led me back to an era before the Wright brothers first flew, before Rolls met Royce and steam was still king. The boat was 'Evil Spirit' a flash steam hydroplane built in 1915 by Fred Westmoreland. Although not as well known as his friend H.H Groves, Fred Westmoreland was also an early exponent of flash steam hydroplanes. 'Evil Spirit' was based on Groves' Irene III and achieved 26.9mph in 1915, to take the British record, earning Fred a Model Engineer silver medal and certificate. The record set was not to be beaten until 1922.
However this was not the first boat to carry the name 'Evil Spirit' as I discovered when exploring the life and modelling career of Fred Westmoreland.
Fred was born on 17th March 1878 in Spalding in Lincolnshire, a town dominated by steam power. From an early age he was interested in mechanical things and used to truant from school to watch the traction engines at work. He started by producing rough patterns that he would cast in lead and this led to the construction of a model horizontal engine that was instrumental in Fred obtaining an apprenticeship. A local doctor attending his father saw his handy work and recommended him to Henry B Massey, an engineer, machine tool maker and manufacturer of ornamental lathes in Spalding.

Right: Engine was sold to Leslie Thornhill of Saxmundham, Suffolk in July 1916.
Henry Massey worked on a variety of projects, and Fred gained valuable experience in several engineering disciplines including electrical work. Massey encouraged Fred to carry on with his model building, working after hours in the workshop, and making everything down to the last nut and bolt. After six years training, at the age of 20 he was ready to widen his horizons, and Manchester beckoned.

Twin-cylinder built by Massey for small steam yachts.
Manchester in 1897/98 was the industrial centre of the world and jobs were plentiful. Fred worked for several companies in a short space of time, keen to gain as much experience as he could. This included a stint at F.H. Royce & Company before it had joined with C.S. Rolls to become Rolls Royce. The Company were making electric motors, cranes, and electric doorbells. Steam gave Fred another nudge and in 1899 he moved down to Birmingham and Bellis & Morcom, working in a new department on compound and triple-expansion engines. Promotion came when installing a new generating station at Middleton and the Corporation asked him to stay on as 'Engineer in charge'. Having more spare time, he rented a workshop to make model engines, and also build a motorcycle.

Right: Fred in 1904 with 'motorised bicycle'.
1902/03 saw him back in Manchester at a new British Westinghouse plant in Trafford Park. The next move, prompted by a desire to have more internal combustion engine experience, took him to Coventry and Daimler. While delivering Daimlers in Salford to a wealthy manufacturing chemist, Mr Thomas Ansdell of Hope Avenue, Pendleton, he was offered the job of motor engineer, looking after the family's fleet of cars. With better wages, Fairhope Cottage for accommodation, a fully equipped garage and workshop, it was an offer few could refuse.
| | | |
| --- | --- | --- |
| | | |
| The garage at Fairhope. | Fred with Daimler 'Landaulet'. | 3,000 mile service? |
Fred completed the change by getting married in 1907 to Emily Bourne, also from Spalding, and having two children, Edna in 1908 and Frederick William in 1910.

Now that he was settled and with a very well appointed workshop, Fred was able to indulge in his passion for model engineering, building around 23 model engines. As well as steam engines he produced a number of advanced IC engines and other mechanical and electrical items. His work was of such high standard that he would win some 32 awards, including seven Model Engineer, silver medals. He was a well-respected and active member of the Manchester Society of Model Engineers, and became its President in 1921 and 22.
The high speed, reversing steam engine shown below brought Fred his first major awards including winning the 'Rose Bowl' at the Edinburgh Industrial Exhibition in 1910.
| | | | |
| --- | --- | --- | --- |
| | | | |
| Edinburgh Rose bowl | High speed engine and awards. | M E Exhibition 1911 | Fred in 1913 with Evil Spirit |
Fred's involvement with hydroplanes started around 1911/12 after winning a launch style hull made of tinplate as a prize at one of the many model engineering exhibitions he entered. He is seen seated above right with members of the Manchester Society of Model Engineers, speed boat section in 1913, holding the first petrol powered boat that he called 'Evil Spirit'. The first 'Evil Spirit' was equipped with a very early IC petrol engine. The 1 3/8th inch bore and stroke horizontal single cylinder motor with atmospheric induction was similar to that used by Ted Vanner in the 'Leda' boats and almost certainly derived from the 'Belvedere'.
Fred used his own idea of a combined carburettor and water cooling device, which aided evaporation of fuel from the surface carburettor. Two ounces of fuel and five ounces of cooling water were sufficient for a run of around a mile. In November 1913, Henry Greenly reported in Model railways and Locomotives that- "The present record run of this boat was made on Trafford Lake last February, when on a circular course it did 300yards (part of a 1000 yards trip) in 42 seconds, a speed of practically 15mph". The boat was later sold to Herbert Waller of Farningham in Kent who fitted a steam plant and renamed it 'Darenth'. By 1923, it was in Scotland, having been sold to the manager of The Shale Oil Works up there.
The period leading up to the first world war was a time for innovation and experiment as internal combustion engines were still in their infancy and tethered hydroplane racing was just beginning. Fred joined the pioneers and soon formed friendships and working relationships with other modellers who were to become household names in many different aspects of model engineering. As well as Ted Vanner and George Noble it was to be his good friend H H Groves who proved to be most influential in the way Fred's boats developed.
The launch type hull of 'Evil Spirit' was outpaced by the functional hydroplane hulls such as the 'Follys' and 'Irenes' and it was this style of hull that Fred adopted for his second boat that he named 'Fairhope' after where he lived in Pendleton. The hull design was a direct copy of Groves' 'Irene II' but with an IC engine and associated equipment replacing the flash steam plant of the original.
'Fairhope' in its first incarnation with the motor from the original 'Evil Spirit'.
Atmospheric induction and ignition by accumulator and trembler coil.
With a bore and stroke of 1⅜" giving a capacity of just under 34cc, the engine that had seen service in Fred's original metre boat propelled the newer style hull to a speed of 15.59mph in Class D of the 1914 speed boat competition.

The IC engine however was proving no match for the flash steamers being run by Groves and Noble which prompted Fred to adopt this type of power plant for his next and best known boat also given the name 'Evil Spirit'.
'Evil Spirit' was again a direct copy of 'Irene II/III', even down to the twin cylinder rotary valve flash steam motor. In the Model Engineer speed boat competition for 1915 the boat recorded a speed of 25.06mph to claim a British and World record, ironically beating the mark set the previous year by Herbert Groves and 'Irene'.

Fred with 'Evil Spirit' in 1916.
This period was an extremely productive time for Fred as he was working on at least four different IC motors, developing and rebuilding the 'Spirit's flash steam plant and presumably doing his paid work as well. Even though he had broken the record with steam, he wanted to approach that speed with a petrol motor. To this end he built an entirely new engine and hull.

'Lap Dog' was boat shaped rather than rectangular but had no less than three steps. It may well be that the boat was never run and that the 1. 3/16" bore and stroke engine eventually found its way into 'Fairhope'.
©copyrightOTW2008