Flash Steam Engines from the Poyser Family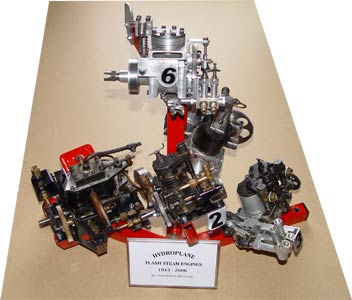 Engine display created by Steve Poyser
These engines represent sixty plus years of work and development in the field of flash steam, starting in 1943.
No1: Built in 1943 by Harry Poyser. Twin cylinder ⅞th inches bore and stroke slide valve engine fabricated from steel and bronze. All components were cut and fashioned by hand, with the exception of the pistons, cylinders and flywheel. This plant was installed in an 'A' Class, single step, submerged propeller hydroplane. Steam for the motor was provided by 30ft of ¼ inch dia x 20 swg mild steel tube fired by two pressurized burners. It was never very successful as it failed to complete the three laps required to record a time, the best speed being about 40 mph.
| | | |
| --- | --- | --- |
| | | |
| Twin eccentric driven oil pumps | Scotch crank valve drive | Water and oil pump reduction gears |
No2: Built in 1944 by Stan Poyser. ¾ inch bore and stroke poppet valve, single cylinder engine fabricated on the same principle as engine No 1 and installed in an 'A' Class hydroplane as described above.
Inlet cam on crankshaft

Open crank design

Spur gear, worm and wheel double reduction oil pump drive
No3: Built in 1948 by Stan Poyser Twin cylinder ¾ inch bore and stroke with poppet valves controlling steam inlet and exhaust. This unit is fitted with an automatic advance to the inlet valve by a tapered wedge between the cam and valve. This reduced the valve clearance and increased the lift, thus adjusting the opening and closing period of the valve. This unit was installed in an 'A' Class boat following the layout of the previous models.
| | | |
| --- | --- | --- |
| | | |
| Four cams, four poppet valves | Variable throw eccentric for pumps | Mechanism for varying vale timing |
No4: Built in 1988 by Stan Poyser on his return to flash steam competition. 1¼ inch bore, ¾ inch stroke single cylinder engine with poppet valve for steam admission and uniflow exhaust. Steam generated by 30ft of ¼ dia x 20 swg stainless steel tube, fired by three burners fuelled by an engine driven fuel pump. This plant was the first of the series of 'Phoenix' hydroplanes, and achieved a best performance of 86 mph.
| | | |
| --- | --- | --- |
| | | |
| Pumps on drive side of motor | Manual fuel and water pumps | Micrometer adjustable pump throws |
No5: Built in 1992 by Stan Poyser and currently installed in 'Phoenix 6'. 1 inch bore, 5/8th inch stroke, poppet valve steam inlet, uniflow exhaust single cylinder engine. Installed in a 'B' Class, surface propellor hydroplane and powered by 18ft of 20 swg stainless steel tube, fired by three burners fuelled by and engine driven pump. 'Phoenix 6' currently holds the British B/S class record at 96 mph.
Small toggle disconnects fuel pump to allow manual operation during boiler pre heating operation. Seen directly above
No6: Built in 1998 by Stan Poyser. 1 inch bore, 5/8th stroke horizontal single cylinder with poppet valve steam inlet and uniflow exhaust based on the design of the engine in 'Phoenix 6'. Intended to be installed in the stern of a 'B' Class hydro with the burners and boiler at the front in order to improve the airflow.
Pumps and reduction gears have been turned 90 degrees relative to the engine. Monobloc crankcase used in this motor for first time
In 2007 Stan Poyser wrote a superb article for OTW detailing his long career in tethered hydroplane racing and the development of his highly successful 'Phoenix' series of flash steam boats.
Thanks to Stan and Steve Poyser for the loan of this wonderful display and for the accompanying notes
©copyrightOTW2010