'The Floyd'
"B" class flash steamers, the last of an era.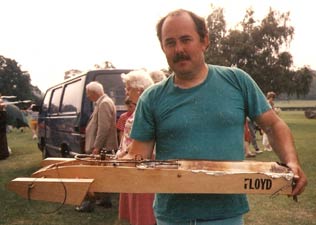 Oliver Monk
I have always had an interest in things fast and an interest in steam engines and had just started to run tethered hydro's.

At work they decided it would be a good idea if I had some formal training in engineering, not just self taught, so I had a year at Coalville tech learning how to use lathes etc and how to measure. I needed a project as part of the course.

Over the year of the course I built a copy of Frank Jutton's "B" class engine TNT from the sectioned drawing in the book "Flash Steam". (Benson and Rayman 1973)
The boiler was made from 16 feet of ¼" tube. It was the longest length I could tie to the roof of the car and 6 feet of 3/16" tube.

At this stage weight was already becoming a concern, the boiler was cased in a sandwich of 4 thou stainless shim with a ceramic fabric in the middle, which proved to be very good at keeping the heat in.
At this time I was working as a quality engineer on a project building the first GRP lifeboat for the RNLI. We were making the cabin and I had a lot of dealings with company who did the design work for the boat. The chief designer was into fast full-size boats, he told me the strongest lightest structure was wooden. The hull for Floyd was built from 1/32" marine ply with local reinforcing as required. The sponsons were made from structural foam skinned with marine ply.

Floyd was completed in July 1990 and had a dry weight of 7lb 14 oz
( 8lb maximum weight for B Class at the time)
I spent the whole of the summer trying to make the boat run, the piston valve would seize up if it was a good fit and leak steam like mad if it was a bit looser. The timing also seemed to be very critical. I never did get this engine to run successfully. It now sits in a cabinet at home waiting for me to build a straight runner to put it in.
That summer I met Frank Jutton at St Albans and I was asking about suitable sized propellers. He initially offered to lend me the one from TNT, but had second thoughts and said I could have TNT. I went and collected it later that summer on a business trip to Farnborough air show. I never did use the propeller but built a modern shaped one from steel. I had learnt a lot that season.
Frank Jutton
TNT with surface drive, now standard on most off-shore racing power boats
From October 1990 Model Engineer published a series of articles written by Bob Kirtley on how to build his "A" class flash steam hydroplane, complete with drawings.
Over the winter I built a scaled down version of his engine with a bore of 1" and a stroke of ¾", this engine was about an ounce and half lighter.

The new engine was fitted to the old hull and boiler and first ran in June 91 at Kingsbury, not very fast but it went round the pole and I got 1st place for B/Steam.
The second photo below shows Steve Turley with the blowlamp along with Bob Kirtley and I, who probably at the time couldn't believe it was all working.
During that summer a new hull was made as the old one was falling to bits. The boiler went from one big burner to three small ones.

With the big burner most of the flame came out of the back of the boiler. A new water tank was made from brass as the old tin plate one developed a leak.
Over the summer this new hydro was run at various regattas. Lots of minor modifications, new propellers, repairs to bits that broke, and lots of help and advice from Bob Kirtley and Ian Berne. On August 26th 1991, Floyd 2 achieved a speed of 79.723 mph at Kingsbury. The thing I remember most from the day is Ian squirting me with a water bottle, at the time I couldn't understand why. It transpired that I had broken Frank Jutton's record by nearly 10mph.
That autumn I also won the Windermere Trophy for breaking a record by the largest amount for that season.
After that it was run a few more times, I think the last outing was at Amiens in France, 75.40mph ( photos below).
| | | |
| --- | --- | --- |
| | | |
| Olly, Terry Everitt and John Hyder | Arthur Wall, Roger James & Olly | Swan song for 'Floyd' in Amiens |
Floyd II as it is now
This boat is the last of a long line of record holding 8lb "B" Class flash steamers. A couple of years later the weight was changed to 9lbs as it was alleged it was too difficult to achieve the lower weight, and by increasing it, more people would build hydro's and race this class.
I went on to run A3 hydro's and Floyd was retired. One day perhaps I will build a new boat with a bigger boiler as a pound is a lot of stainless tube.
After several years of pursuing other interests Olly returned to tethered racing in 2008 but with cars rather than boats.
©copyrightOllyMonk2010
Many thanks to Olly Monk for this fascinating article and photographs. Thanks also to Jim Free, Terry Everitt and David Giles for the additional photos used.