Tethered Car And Hydroplane Engines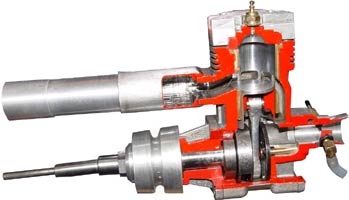 OPS 60 sectioned by Steve Poyser

It is not the intention of this page to provide an in depth history of the development of engines used in tethered cars and boats as that subject has been covered extensively in numerous books and periodicals over the years. It should however serve to give a flavour of the way that motors, both commercial and home built, have shaped these two intensely competitive disciplines.

Whether it is a tethered car or hydroplane, the one essential ingredient for a successful run is an appropriately powerful engine. The design of hull or chassis must not be underestimated and the ability of the builder to establish a set up which has all the elements working together perfectly is vitally important. However, it will ultimately be the performance of the engine which determines the success or otherwise of the boat or car. Tethered hydroplane and tethered car racing began in very different eras, which in many ways dictated the way the sports progressed. Internal combustion engines were still in their infancy when first put into model or full sized boat hulls. By the time tethered cars became popular in the early 1940s, the miniature IC engine was firmly established with a thriving commercial market directed primarily to aeromodelling.

Cars

One of the major attractions of tethered car racing was that there were numerous small English and American IC engines already available. Several companies also produced casting kits for those that wanted to do their own thing, but this was no longer a necessity, hence the relative popularity of cars. With the flying of models being banned during the war, there was also a large number of engines for which there was no immediate use. The 40s saw huge strides in engine development, especially in the States where racing continued throughout the war years. The decade started with coils, batteries, magnetos and spark plugs and finished with the ubiquitous glow plug, another American innovation.
The Hornet was the first mass produced motor to make an impact in Britain, quickly followed by the McCoy and the Dooling, that between them would dominate tethered car and hydroplane racing for many years to come. Each of these motors were the result of competitors developing their own potent engine and then going into production for the benefit of all.

Right: Ian Moore car with Dooling 61 and magneto
Britain lagged someway behind, especially with the larger capacity motors, where several manufacturers, large and small, tried to produce engines to compete with the American products. Wilf Rowell up in Dundee, North Downs Engineering (NORDEC), Sid Smith from Chatham (Pioneer), Geoffrey Hastings in Worcester (1066 Products) and Ken Robinson (Speedwell) were just a few of those that produced 10cc motors to compete against the imports. The only real advantage that they held was that of availability, in the light of currency restrictions. With so many American servicemen travelling across the Atlantic, this did not pose too much of a problem for those determined enough. Ultimately, the British motors were never quite powerful enough to beat the McCoys and Doolings, but did find willing customers, but not in sufficient numbers to sustain most of the companies.
| | | | | |
| --- | --- | --- | --- | --- |
| | | | | |
| Rowell Mk I | Pioneer IGN | NORDEC Mk I | 1066 Conqueror | Speedwell |
The 5cc class was again dominated by Dooling, and to a lesser extent the McCoy although the British ETA found favour with many, particularly as Ken Bedford of ETA was closely involved in the racing. There were other manufactures producing engines for this class, but they were almost relics of an earlier age and far from competitive.

Right: 5cc ETA 29
It was the smaller 2.5cc and 1.5cc class where the British did make their mark, and this was almost entirely due to the efforts of the Olivers, father and son, from Nottingham. By the early 1950s, the conventional and twinshaft motors they produced totally dominated these two classes. With the decline of car racing in Britain though, the few concerns that were still in business concentrated on the aeromodelling market, with ETA and Oliver having the same impact on the competition classes there as they did with tethered cars.

Left: 2.5cc Oliver Tiger Twin-shaft
The motors used in cars today present an interesting contrast. Because of the very specialised nature of the sport, most of the engines are 'volume home produced', which does sound a trifle strange. Several of the international competitors design and build their own engines, but have either sufficient manufacturing capacity at 'home' or as part of an existing company that allows them to build batches of engines for their own use and for limited sale to others. Stelling in Lithuania and Karpusikov in Russia both used to run and sell their own engines. The Kapu still dominates the 1.5cc class, but with the death of Karpusikov, spares are unobtainable. Mats Bohlin of Sweden used an engine that he designed and built to win European and World Championships whilst fellow Swede Nils Bjork has produced an incredibly powerful 5cc motor that surprisingly is almost entirely built from steel, rather that aluminium castings.
The late Gualtiero Picco, apart from being the 'P' in OPS that was so successful in the past owned the Picco factory, which produces almost half the engines in use at any competition. Only the 3.5cc open wheel class uses a commercially mass produced motor as they have a spur drive installation so that they do not need extensive engineering to turn the crankcases round so that the exhaust exits over the flywheel .

Right: PICCO 60. Far Right: MB 10
Hydroplanes
It is well accepted that going quickly on water is much more difficult than on land. It took from 1908 to 1972 to exceed 100mph with a tethered hydroplane, yet in less than 10 years from the first car appearing in Britain, Gerry Buck had exceeded 100mph with an engine that he had built himself. Apart from the fact that it took nearly 50 years to develop a reliable and stable hull form, in the early 1900s tethered hydroplane builders were dealing with a power source that had only been in existence for such a very short time. What engines were available were crude, very large and heavy, slow revving and required ancillaries that were also in their first throes of development. Many persevered with IC motors, yet flash steam would remain dominant into the 1930s. This did not stop commercial involvement from the very earliest days with Stuart Turner and W.J. 'Belvedere' Smith both producing four-stroke motors that were in use well before the First War. Very quickly, Bond's 'O' Euston Road, Economic Electric, Gray's of Clerkenwell, Gamages and even Bassett Lowke had motors suitable for hydroplanes. Several of these motors were early examples of 'badge engineering' being variations of the same design by F.N. Sharpe of the South London Experimental and Model Powerboat Club.
| | | | |
| --- | --- | --- | --- |
| | | | |
| Smith 'Belvedere' 1910/11 | Stuart Turner AE 1913 | F.N. Sharpe original1928 | Bond's Simplex 1931 |
It was however the designs and home built motors of the Innocent Brothers, Ken Williams, Stan Clifford and George Noble that would break the flash steam domination. All these motors were 30cc single cylinder four-strokes, yet these in turn would be eclipsed by the more simple and lighter two-stroke. Andrew Rankine from Ayr showed the capability of this type of engine from the 1930s, yet it was George Lines and his 'Sparky' design that was to finally seal the fate of the four-stroke. The 15cc 'Lines' engine was probably the most copied design of all times with many motors being built in 10cc and 30cc versions as well.
Mid 1930s four-strokes from the Innocent Brothers, Ken Williams and George Noble
George Lines' original engine
Building a two-stroke was significantly quicker than a similar sized four-stroke and soon castings were coming out of garden sheds, kitchens and even lounges and living rooms all around the country.
Many of those producing the castings would pass sets on to other club members or sell them on a semi commercial basis. Notable amongst those was Norman Hodges from Orpington with his 'Tiger 30' and a Mr Swanston from Mansfield with his 30cc 'Saturn'.

Right: Tiger 30 Far right: Saturn, no examples found of this so far
The American influence was not far away in hydroplanes either as casting sets for 10, 15 and 30cc motors were available from Tom Perzentka under the well established Octura name. Commercially the Hornet, followed by Dooling and finally McCoy motors would soon prove to be virtually unbeatable through to 1968. Since then, with the notable exception of Terry Everitt's record in 1970 with his own motor, it has been Italian motors that have powered most boats.
Rossi, SuperTigre and then OPS have been the standard ware for most competitors setting many records although the PICCO EXR is now the most competitive motor in the 10cc Class. The later Series 8 PICCOs have yet to be proved in hydroplanes as their power characteristics are not suitable for boats.

Right: 'Red-head' OPS and PICCO EXR
The availability of powerful 10cc motors 'off the shelf' involved many who would otherwise have passed the sport by, yet there were still those who either through shear determination, unshakeable believe or shear cussedness continued to build and develop their own engines. Throughout the 50s and 60s and into the 70s there were many examples of home built motors on the circuit, but numbers pursuing this course have dwindled, leaving John DeMott as the only person currently running home built 10cc motors competitively.
The 30cc 'A' and 15cc 'B' Classes continue to be the province of the 'home built' engines as this requirement is incorporated in the rules for British classes. Some have proved incredibly powerful such as the record breaking 15cc motor by John Rose that held the record for so many years and the 30s built by John Hyder and John DeMott, while numerous others continue to support these classes with superbly engineered engines and boats.
Not every motor is destined to be successful, and there have been some wonderful flights of fancy and engineering exercises that have given builders and other competitors immense pleasure. Many of these engines now rate as collectors items in their own right, such as the supercharged twins of Basil Miles and Bert Stalham and the supercharged two-stroke of John Duffield, that was still being run some 60 years after it was built.
Basil Miles OHC supercharged
30cc twin from 'Barracuda'
Bert Stalham supercharged
15cc V twin
John Duffield supercharged
15cc two stroke
Twin OHC mag ign by Bert Fort of the VMSC
For those that wanted to run the larger engines, but preferred to use commercial motors, a new 'A/B' class was created that utilised suitably modified multi race and RC hydroplane motors. Indeed, a 90 sized OPS run By Ron Hankins broke the outright British Hydroplane record in 2014
An omission from any of the above is flash steam as this has almost entirely been the province of the highly committed and enthusiastic engineers, with virtually no commercial input. For this reason it has its own place on the website and is being continually expanded as more material becomes available.

Right: Stan Poyser's record holding B Class flash steam motor
The 'B' series of airscrew hydro's present a somewhat different case as these are all powered by 2.5cc motors taken directly from the competitive classes of aeromodelling with no modifications of any sort being required. What works in an F2A speed plane is equally at home in a 'B1' hydroplane, so the output of Rossi, Irvine, Profi and Cyclon have all found favour in this class. Even the cheap and plentiful Utckam and MDS motors from Russia can produce very acceptable performances, often able to beat the more exotic motors if they are not at their best.
Left: Irvine 15R tuned for speed by Paul Gibeneau
The pages of On The Wire provide an ever growing number of articles looking at some of the more notable, influential, successful, and mechanically beautiful engines used in tethered cars and hydroplanes. To use a well known quote from motor racing though, "it's first under the linen that counts", and that is as true in the model disciplines as it is in full sized racing. The winner is the person that achieves the highest speed on the day, irrespective of whether they bought their engines, built or borrowed them, paid pence or a fortune and that is the way it should be and part of the fascination and frustration that tethered cars and hydroplanes hold.
©copyrightOTW2014