Frank Jutton and Flash Steam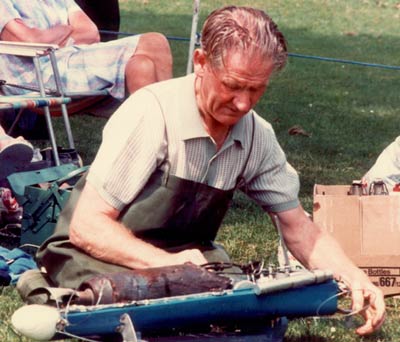 The two decades following the end of the second war were a 'golden age' in the world of flash steam tethered hydroplanes. Whilst not numerous, there were a hard core of dedicated and innovative enthusiasts continually striving to master this most notoriously fickle of model engineering disciplines. There seemed no limit to the time and ingenuity spent in trying to get flash steam hydroplanes reliable and fast. Amongst them was Frank Jutton who would eventually set a speed record that would take nigh on 20 years and modern technology to beat. Not only did Frank have a career with tethered hydroplanes that spanned well over 50 years, but he also produced one of the most spectacular and radical flash steamers ever seen. In 2010 Frank and his wife Mary very kindly produced this wonderful account of his life an involvement with tethered hydro's. Details of boats and regattas have been added by OTW
What started Frank on flash steam?
Frank was bought a Gamages lathe, and rigged it up in the shed at the bottom of the garden. It was driven by an old two-stroke engine, which he was given by the garage owner he worked for. Unfortunately, the noise of the two-stroke was so bad that the neighbours complained, and he had to get an electric motor to take its place. From then on, he made models, which finished up being internal combustion two-stroke engines, which were small enough to go in a model boat and this was what started him off on model boat racing. Frank built several boats with internal combustion engines, but none of them were a big success and so he changed to flash steam. This decision was probably influenced by the better success Bernard Pilliner was having with flash steam. He gradually developed the boats he built until they were fast enough to come in second or third place (except the times when they didn't finish the course!)
Frank's background
Frank learned about engines from engineering books/magazines he bought every week. His first job was working in a garage where he initially did repair work, then moved on to "tin bashing" – bodywork, until the war. He then joined the RAF and worked as an engineer in West Africa and India.
The Juttons and Pilliners
Frank and Bernard met when they both joined Guildford Model Powerboat Club before the war; Frank already knew Mary as a friend of his mother. Bernard had an old Rudge motor bike and used to take Frank on the pillion; every now and again the spark plug connection would pull off and Bernard became skilled at reconnecting it while they were still going along! Before the war, the two men would go to meetings at the pond at Stoke Park, Guildford to run their boats, but this stopped when the war began. At this time, Frank was still powering his boats with internal combustion engines, but Bernard never ran anything but flash steamers from the start. Even when they were both running flash steam they were never direct competitors, as Bernard always ran A- Class boats and Frank ran B-Class. There was a very practical reason for this: Frank's brother Will used to accompany him to regattas and help with the boat in the pond. They would travel on Frank's motorbike, with Will carrying the boat strapped across his back. A-Class boats were too big and heavy for this, weighing around 16lbs – hence Frank's choice of B-Class, which weighed about 8lbs.
The Jutton and Pilliner families continued to be friends, and got together regularly at regattas, until Bernard had to step back in the late 1950s in order to concentrate on the new business he had started up. Enthusiasts would talk very openly and generously at meetings about modifications to their boats and how they overcame various problems.

There was no secretiveness, despite the competition – it was as though they were all in it together, trying to push the limits and find out what flash steam could achieve.

Left: Frank at St Albans with Mary Jutton (Pilliner) and Peggy Bamford in 1985
Boats: L-R Bob Kirtley's Pisces I. John Benson's 'B' Steamer. Frank's 'A' Class XI
Frank remembers conducting one bit of research with Bernard to establish the speed at which air-flow would close the engine cover; this was important to establish at what point to let the boat go when launching, as letting go at the wrong moment could result in the lamps being put out. The experiment involved Frank hanging out of the car window holding Bernard's boat as he drove along, and logging the speed at which the cover closed. It wasn't very fast – about 5-10 mph – but it must have been an interesting sight! He also recalls that on occasions when he shared a car with the Pilliners, Mary and Bernard's children Tony and Loraine, would be trying to tickle him and he would be helpless in the back of the car.
The first flash steam boat Frank made was a flat twin, not very successful, so he went over to a single cylinder engine which greatly improved the performance. It was a very time-consuming hobby and took up all his spare time, but he never found it dull and there was always something new to learn, to try, or to adjust, to get more out of the boat. Sometimes he or Bernard and their families would travel a long distance to a regatta, after weeks of tinkering with their boats, only for the boat to dive or misbehave on the first lap; frustrating but sometimes quite spectacular, and somehow it never put them off. On one occasion Frank and Will travelled all the way to Manchester on his 250cc Velocette, put up at a hotel overnight, and then it poured with rain all the following day so none of the boats were able to run.
It wasn't unknown for boats to slip their tether on their way round the pond; the marshals found it difficult to stop the public sitting at the water's edge with their feet in the water, and the prop on a loose boat could be a real hazard. But accidents could also lead to some unlooked-for modifications in design. On one occasion when Frank's boat came off the line, it hit the bank hard and the impact flattened the nose. He subsequently cut the nose back about 3 inches, making a flat front to it and fitting a brass fuel tank soldered together to fit the new shape, and used that until he build another boat.
It was easy even for engineers to forget the potential dangers of running model boats: Bernard had a much smaller model he had made for Mary and was running it at Southampton Common. Because it was so small, when he wanted to stop it he unthinkingly scooped it up with his hand and it ran up his arm, the prop cutting his thumb badly.
Diversification
In later years, Frank wasn't only interested in model boats. His friend Bill Maloney, who had started out designing model boats, went on to design full-size power boats. He and Frank built his first design in Bill's garage in about 1965; it was a Sorcerer and was named 'Merlin'. They ran power boats together for about four years and Merlin won many national prizes; in fact, Frank can't recall them ever losing a race. One of the reasons they did so well was their professionalism. While everyone else was having a night out before the race, Frank would be going over the boat from top to tail, ensuring that everything was fully ready for the race.
Frank started building his own boats for water ski-ing and also for sailing in the late 1950s, although he never took up sailing seriously. He continued to run his flash steamer until about 1990.
The Boats

The pond at Stoke Park, Guildford opened in 1937 when Edgar Westbury with 'Golly' and Mr Ripper and 'Happy Days' put on a demonstration of circular course running. This is probably what inspired Frank and Bernard to start competing. Frank's first boat was 'Umph', which appeared at the Club regatta two years later.

The single step hull was reminiscent of the basic Westbury pattern but fitted with an 'original design of flat-top two-stroke with a rotary inlet valve'. On its very first launch as a new boat, it completed a run, which as ETW put it, 'though lacking in fireworks, was quite promising for a first run'. Although Frank and Bernard would travel to other regattas, there would be little chance to sort the boats before the outbreak of war and cessation of organised model boating.
When Frank returned to the world of tethered hydroplanes after the war, he joined the flash steam fraternity with the first of the 'Vesta' series. This would give him a very quick introduction to the frustrations of running a flash steam hydro. 'Vesta' was again a simple single step hull originally with a flat twin motor mounted horizontally in the front of the boat, which was later replaced with a single cylinder uniflow engine. A conventional twin blowlamp heated the boiler tubes contained in a carefully shaped casing. Regatta reports dwell on the problems that Frank had with this boat rather than the successes, including it breaking away and hitting the bank at Victoria Park and Frank being awarded the 'hard luck prize' at the Blackheath regatta. There were some good runs with the boat, including one at the International regatta that won him the Crebbin Cup for the first time. Rather than continue with this somewhat outdated hull design though, Frank appeared for the 1948 season with 'Vesta II'.
For 'Vesta II' he adopted the more current idea of a step-less hull with two narrow aluminium running planes at the front of the boat, allied to a surface propeller. These planes would soon be changed for much wider and more curved versions. The steam plant was of the same configuration as the earlier boat. At Brockwell Park it was described as a 'highly interesting boat, which showed great promise'. This was to be something of an understatement as 'Vesta II' would establish Frank as one of the most consistent and successful flash steam competitors for many years to come.

At the Victoria regatta 'The event provided more thrills when Mr Jutton with 'Vesta II' set up a record with a speed of 43.95mph'. He could not quite repeat this speed at the International Regatta, but his run would win him the International and see him awarded the Crebbin Trophy for the second time.
The boat provided the biggest thrill of the day back at Brockwell Park later in the year when after completing one lap it leapt into the air, turned a complete somersault and finished the remaining laps in fine style to win the class.

The 1949 season was a very busy one for Frank and Bernard as they attended virtually every regatta in Southern England. 'Vesta II' was proving not only relatively reliable for a steamer, but fast as well. At the Grand Regatta Frank beat his own record with a run at 48mph, which would also win him the Crebbin Cup again.
It did not always quite go according to plan though, after a disastrous crash at the Malden regatta left the boat in two parts. A quick repair saw the boat in action again for the International where it managed one slow lap and then two at over 50mph. A full run at 51mph would win Frank the class in the Model Engineer Speedboat competition for the second year as well.

It was through a visit to the Guildford regatta that Jim Bamford would become a great friend of Frank's and be inspired to spend so much time and effort on furthering the progress of flash steam.

Right: Vesta II with post-accident modifications to bow. Box by right-hand plane is the silencer.
The successes continued through 1950 and 1951 with 'Vesta II' consistently running around the 50mph mark. Hull design was moving on, so for 1952 an entirely new boat was built but still carrying the 'Vesta' name.
'Vesta III' was the first of Frank's boat to feature a hull of semi-circular cross section. It retained the two curved planes at the front rather than sponsons as were becoming the norm. The steam plant was radically different as well. The conventional steam generator and burners were gone to be replaced with a massive circular venturi boiler with flame tube and 'primus' type burner that had the vaporising coils inside the boiler casing.

With various modifications along the way, this would be the basic design that Frank would persist with, almost to the end of his racing career.
With Bernard Pilliner living on the South Coast and no other hydroplane interest in the Guildford Club, Frank moved to Jim Bamford's home club Aldershot that ran at Fleet Pond. As well as doing a great deal of experimentation with steamers, Jim also ran IC engines and soon Frank was campaigning a 15cc boat called 'NIKE'. From its first run in 1956, NIKE was very competitive and for four years Frank would be nip and tuck with the best in the class.

In 1958 at Wicksteed Frank broke the 'B' Class record at 66.84mph, but fell foul of a new rule requiring records to be exceeded by more than 1/10th of a second.

Right: Frank assisted by John Benson works on NIKE at the Grand Regatta, Victoria Park
As he related in the earlier part of the article, during the 1960s Frank exchanged the racing of tethered boats for the full sized variety, winning the National Class III championship in 1967.
©copyrightOTW2011